If you think books about time travel are all nerdy sci-fi and not enough passion, think again! This hand-picked selection of novels explores the romantic possibilities — and complexities — that arise when past, present, and future collide. While the methods of transportation vary from stone pillars to malevolent houses to good old unexplained authorial magic, you're guaranteed to swoon in delight as these chronologically challenged lovers find each other across time.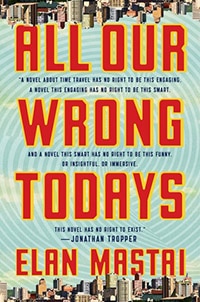 All Our Wrong Todays

Author: Elan Mastai
Technically, I guess this is more of an alternate-timeline book than time travel, but it's so fun and cleverly executed, who cares? In the 2016 of Tom Barren's universe, life is like a Jetsons cartoon, thanks to a marvelous invention back in 1965. Tom has spent his life being compared to his time-machine-inventing, famous-scientist dad — both by coasting on his dad's reputation and suffering the silent judgment of people who expect him to be a chip off the old block. When a trip back to 1965 to observe the creation of the marvelous invention results in a colossal fuckup, Tom returns to a horrible, war-torn, dystopian nightmare version of his reality: namely, our world. In that world, Tom was never born, which creates its own alternate-universe problems… especially when he decides to return to 1965 again to try to fix his mistakes. Does Tom get his girl? And which version of Tom should we even be rooting for? A delightfully whirlwind and witty thought experiment.
The Jane Austen Project

Author: Kathleen A. Flynn
This book had me at "Jane Austen and time travel." Rachel Katzman and Liam Finucane are time-traveling researchers who go back to nineteenth-century England with a very special mission: to find, befriend, and steal from Jane Austen. Posing as siblings — a wealthy plantation owner from the West Indies and his spinster sister — their goal is to diagnose the illness that caused Austen's death and to take possession of a mysterious unpublished novel that Austen mentioned in her letters. But as the travelers make their way into Austen's social circle, their deception gets more difficult, and Rachel struggles with society's expectations for women. Will they pull off their mission and return to the present, or will they succumb to the temptation to meddle with the timeline? (And don't forget to check out these new books about Jane Austen while you're at it.)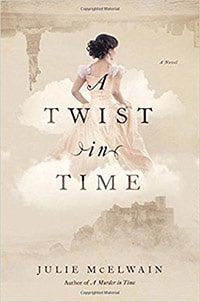 A Twist in Time

Author: Julie McElwain
This is actually book 2 in a series, so this is more of a slow-burning romance. Kendra Donovan is a former FBI agent, zapped back in time through a mysterious portal in a castle to 1815 England. Desperate to get back to the 21st century, Kendra needs to stay close in case the portal opens up again — and the Duke of Aldridge is happy to have her, because his nephew Alec is a suspect in the violent stabbing of Lady Dover, who was his former mistress. Oh, and did I mention that Alec wants to marry Kendra and keep her in the 19th century? The plot thickens as Kendra works to find the murderer, shocking and offending Victorian sensibilities at every turn… and determinedly trying to ignore her growing feelings for Alec.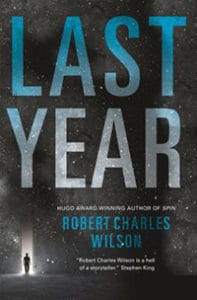 Last Year
, Robert Charles Wilson
What if you could visit America's past like a tourist attraction? That's the grim scenario played out in Last Year, where a tech mastermind has introduced "The Mirror," a mysterious portal that takes travelers to alternate versions of our past. To maximize quaint olde-tyme charm (and profits) without straying too far into the multiverse, the portal opens to… 19th-century Ohio. But the longer it stays open, the more 21st-century culture inevitably bleeds into the past, spoiling its authenticity with smartphones, iPods, and guns. Jesse Cullum is a local, hired on as security and eventually entrusted with more of the dark secrets surrounding the Mirror. But when his dark past threatens the 21st-century woman he's falling for, Jesse has to make an unimaginable choice.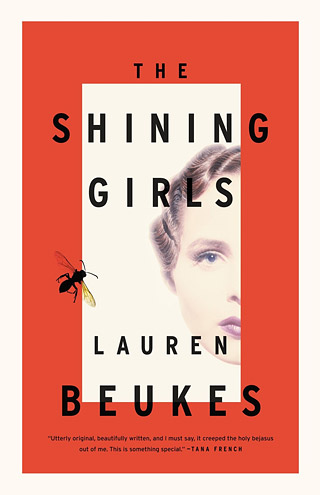 The Shining Girls
, Lauren Beukes
This literary thriller is a twist on the serial-killer theme: a would-be victim goes on the hunt for her attacker. Harper Curtis is a time-traveling Depression-era killer who is driven to murder the "shining girls" — young women from each decade of the 20th century whose bright, promising lives could change the world. In the 1990s, Kirby Mazrachi is the only "shining girl" to escape death. Determined to bring her assailant to justice after the attack, she joins the Chicago Sun-Times to work with Dan Velasquez, the jaded ex-homicide reporter who covered her years-old cold case. While the mechanics of Harper's time travel aren't particularly well thought out or satisfying (see our full review), the vivid characterizations of the victims will stay with you long after their brief lives are snuffed out. Likewise, the love story in this book comes to a slow boil, with an ending that's open to interpretation.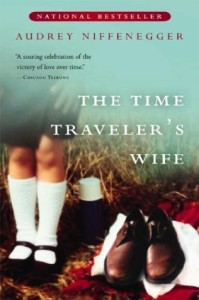 The Time Traveler's Wife
, Audrey Niffenegger
Never mind that disappointing movie: the original book is a smart, genuinely moving modern classic. Henry De Tamble is a librarian in Chicago who suffers from "chrono-displacement disorder," i.e., he suddenly and randomly (and nakedly!) time-travels to various points in his own life. In this universe, there's no paradox with Henry seeing his past and future selves, since he already knows he's a time traveler, and he and his other selves frequently cover for each other — with varying degrees of success. From his point of view, he first meets his wife Clare when he's 28 and she's 20; she recognizes him and greets him warmly, but he's never seen her before. From her point of view, she's grown up knowing Henry from earliest childhood (don't worry, it's not creepy), and is long since accustomed to his ever-changing appearance and age. The story alternates between their perspectives as their relationship grows, deepens, and suffers blows, like any other. Whether you read it as a literal time-travel fantasy or a metaphor for how people change over time within a long-term relationship, it's a beautifully written and deeply moving tale with one heck of a tearjerker ending.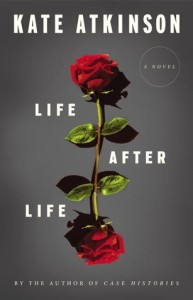 Life After Life
, Kate Atkinson
What if you could live your life again and again, until you got it right? That's the intriguing question posed by Life After Life. On a snowy winter's night in 1910, Ursula Todd is born to an upper-class English family, but asphyxiates before she can draw her first breath. On the second try, Ursula's mother cuts the umbilical cord wrapped around the baby's neck, and she survives… for now. Ursula lives again and again, suffering some impressively grisly deaths before finally making it to adolescence and a new, more adult range of possible futures, building up to the all-time time-travel debate: what if you had the chance to go back and kill Hitler? (Not a spoiler: it's introduced in the opening pages.) WWI and WWII shape Ursula's character and circumstances, but no more so than her own choices and personal relationships. It's a dazzling, complicated portrait of 20th-century England and an engaging thought experiment into the alternate lives we all might have led.
The Winter Sea
, Susanna Kearsley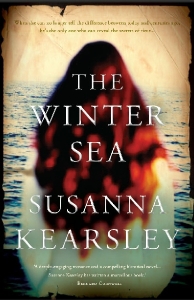 The Winter Sea properly falls more within the modern-gothic-romance genre, but since it does technically involve time travel, I'm including it here. Carrie McClelland is a historical fiction writer researching Scottish history for a book about the Pretender's (James Stuart) 18th-century attempted uprising against England's Queen Anne. Carrie decides to tell her story from the viewpoint of a distant ancestor, Sophia Paterson, in the setting of New Slains Castle, in Aberdeenshire; she rents a small country cottage to focus on her writing, but finds herself mysteriously drawn to the castle over and over. Meanwhile, there are a couple of delightful distractions in the form of her landlord's two handsome sons: frivolous, womanizing Stuie and quiet, intense Graham. As Carrie plunges deeper into history, she discovers that her connection with the past is stronger than she ever suspected.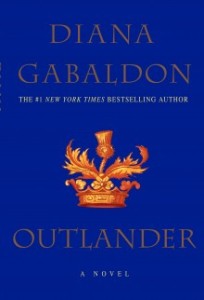 Outlander
, Diana Gabaldon
Diana Gabaldon is assuredly the grande dame of time-travel romances, and where better to start than the first volume of her epic romance series: Outlander. Although it's a hefty 600 pages, it works quite well as a stand-alone, although you may not be able to resist finding out what happens to her surprisingly charismatic characters! Just after WWII, Claire Randall is a combat nurse back from the war and newly reunited with her husband Frank; while they're on vacation in rural Scotland, she goes exploring one day and unknowingly touches an ancient stone circle that's actually a time-travel portal. BOOM she's in 18th-century Scotland that's torn apart by fighting clans and religious war. Soon, Claire is swept off her feet by a passionate romance with Scottish warrior Jamie Fraser, using her 20th-century medical expertise to help her new friends, and adjusting to how vastly different life was three centuries ago. Over time, she braves hardship and cultural differences to carve out a place for herself… but when the stone circle reappears and offers a way back home, will Claire take it?
You might also like:

Latest posts by Stephanie Perry
(see all)