The holidays may be over, but we're about to start on a whole new year of reading! Just in case you didn't get all the books you wanted this year, our winter 2020 book preview is your guide to some of the most buzzed-about and exciting books coming this winter, from thrillers to true crime and memoir. Drop some hints to your loved ones, or just treat yourself to a stack of new reads. With our winter 2020 book preview, it'll be a happy new year for book lovers!
OUT NOW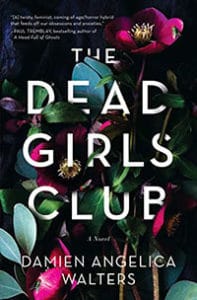 The Dead Girls Club
Author: Damien Angelica Walters  
There's no better time than the darkest days of winter for a creepy thriller! Back in the '90s, Heather and her friends created the Dead Girls Club. They would tell each other scary stories about serial killers and supernatural monsters, like the "Red Lady," the ghost of a vengeful witch who was killed hundreds of years ago. It was all in good, spooky fun — until Heather's best friend Becca became obsessed with the Red Lady, saying she was real. Becca's obsession was the reason she was killed, and Heather has tried to forget the terrible night that Becca died. That is, until Heather receives a necklace in the mail: the same necklace Becca was wearing the night she was killed. Someone out there knows the truth about what happened to Becca, and they want revenge against Heather.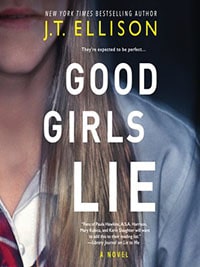 Good Girls Lie
Author: J.T. Ellison
Have you ever heard of the Goode School? Of course not, you're not rich or powerful enough. This elite prep school takes only the daughters of the wealthiest and most influential people, grooming them for Ivy League schools and a charmed life. But behind the lofty talk of traditions and honor, the girls get away with a whole lot… as long as they look and act respectable. Like the bad behavior of the secret societies, and the awful things that girls have to do to join them. When a popular student is found dead, the gossip begins to swirl. Rumor has it that she had a terrible secret that led her to suicide. But there's a lot more to these Goode girls than meets the eye, and someone's determined to expose them.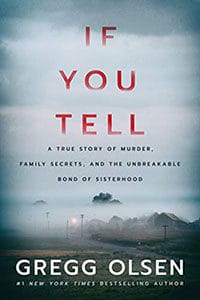 If You Tell: A True Story of Murder, Family Secrets, and the Unbreakable Bond of Sisterhood
Author: Gregg Olsen
This shocking true story takes place in Washington state, where I live, but even I had to look up where Raymond is. It's a small coastal town, southwest of Olympia, with about 3,000 people and not near anything. That's where sisters Nikki, Sami, and Tori Knotek grew up, being tormented and abused for years by their mother, Shelly. Behind the doors of their farmhouse, Shelly forced the sisters to endure constant physical and emotional abuse, humiliation and degradation. Despite the horrors they experienced, the daughters formed a close emotional bond, determined to survive. As the abuse became worse, the sisters found the courage to escape a nightmare that would end in multiple murders. This is a dark and disturbing story, but also an inspiring look at the strength and bravery that helped Nikki, Sami, and Tori survive and go on to find happiness and a better life today.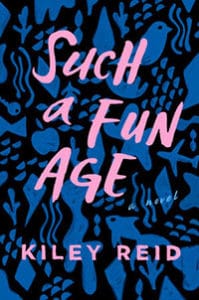 Such a Fun Age
Author: Kiley Reid
Everyone's talking about this timely, buzzy book that explores race, class and privilege through an all-too-familiar story in the age of BBQ Beckys and Permit Pattys. Alix Chamberlain is a wealthy and successful woman who's made a career out of inspiring women to be assertive and confident. But she's shocked when her 25-year-old babysitter, Emira Tucker, is accosted by a security guard at their local high-end grocery store. The security guard sees a young black women with a white toddler late at night and assumes that Emira has kidnapped her. A crowd of gawkers gathers, some filming the action on their phones, and Emira is humiliated and infuriated. Alix, deeply apologetic, wants to make things right, but Emira is suspicious of her motives. Broke, unsure what she wants to do with her life, and about to lose her health insurance, Emira has her own problems. But when that grocery-store video reveals someone from Alix's past, life is about to get turned upside-down — and the two women's assumptions about each other may turn out to be completely wrong.
JANUARY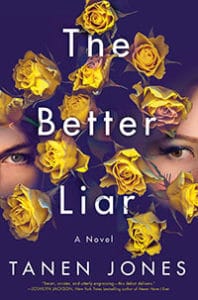 The Better Liar (available January 14)
Author: Tanen Jones
Leslie Voigt is in urgent need of a sister. She hasn't seen her actual sister, Robin, for a decade, when Robin ran away from home as a teenager, leaving Leslie to care for their dying father. Now their father is dead — and according to his will, the two sisters receive his inheritance together or not at all. But much to Leslie's dismay, she discovers that Robin died just hours before their reunion. And Leslie really needs that money — more than even her husband knows. So when she encounters a young woman who looks eerily similar to Robin, a light bulb goes off. Before she knows it, they've hatched a plan: Mary will impersonate Robin for a week, and once the check clears, she'll get Robin's half of the inheritance. But Mary soon suspects Leslie is hiding other secrets, and Leslie starts to have second thoughts about the stranger she's invited into her home. As Robin's own secrets start to come to light, how far will these two women have to go to get what they want?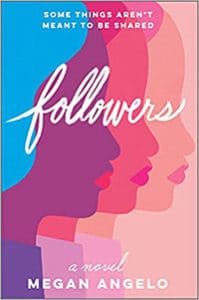 Followers (available January 14)
Author: Megan Angelo
What would you do to become famous? Orla Cadden is an aspiring novelist stuck in a dead-end job writing pop culture clickbait about celebrity gossip and "wellness." That's when she meets Floss, who's hungry for fame and comes up with a clever, and somewhat unethical, plan for getting them both into the spotlight. Meanwhile, 35 years later, in an enclosed California town where government-appointed celebrities live lives of constant surveillance, a woman named Marlow learns a shocking secret about her own past. Marlow has millions of followers, but her biggest dream is to run away from the corporate sponsors who control every aspect of her life. When she discovers that her entire family history is built on a lie, she decides to risk it all to find out the truth about who she is. Slowly, the three women's stories close in on each other — and on a disaster that will change the course of American history. This is a darkly satirical comedy about paying the ultimate price for social-media celebrity.
Cat Tale: The Wild, Weird Battle to Save the Florida Panther (available January 21)
Author: Craig Pittman
Most things that take place in Florida seem like fiction, but this wild tale is actually true. Not long ago, most people thought the Florida panther was extinct… and they were almost right. This is the crazy, only-in-Florida true story of the people who pushed the Florida panther to the edge of extinction, those who were determined to rescue the big cat, and the panthers that got caught in the middle. You'll learn what it takes to bring a species back — and the unexpected effects of doing so. It's the most remarkable comeback tale in the history of the Endangered Species Act, but the story has never been fully told until now. The perfect book for your favorite nature lover or cat aficionado!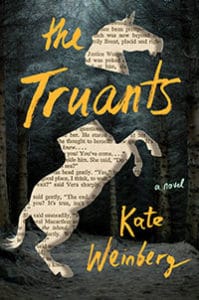 The Truants (available January 28)
Author: Kate Weinberg
This twisty detective tale is snatching up all the UK's mystery awards, so if you love clever thrillers, this is one not to miss! Jess Walker goes to an East Anglia college to study with the charismatic Dr. Lorna Clay, whose most famous book was life-changing for a young Jess. Lorna believes that artists must be willing to destroy their personal lives in order to create art. Soon, Jess makes a group of unconventional friends: Alec, a South African journalist; Georgie, a sexy aristocrat with a pill addiction; and Nick, a handsome but mysterious geologist. Lorna crosses boundaries and gets entangled with all of them, especially Jess, whom she sees as her protegee. But their intense relationships quickly become complicated, until a tragedy explodes their social group and forces Jess to confront how much one person can ever really know another.
FEBRUARY
All the Stars and Teeth (available February 4)
Author: Adalyn Grace
This highly anticipated fantasy novel sparked a bidding war, so I'm curious to see what all the fuss was about! The first half of a duology, this is the story of Amora Montara, princess of the island kingdom of Visidia. She has spent her whole life preparing to become High Animancer, the master of souls; by proving her skill with soul magic, she will earn her place as heir to the throne. But when she flunks her examination, she's forced to flee, and encounters the pirate Bastian. Soon, they make a deal: he'll help her prove that she's the rightful heir if she'll help him regain his stolen magic. They set sail on the magical seas, but Amora soon discovers that a strange new magic has entered the land. To protect her kingdom and ascend to the throne, she'll have to defend her realm from this dangerous force, encountering monsters and magical creatures — and lots of danger — along the way.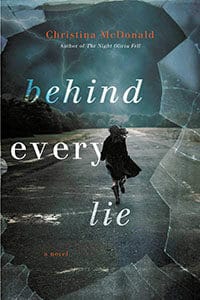 Behind Every Lie (available February 4)
Author: Christina McDonald
When it comes to thrillers, the more ridiculous the setup, the better. So lightning-induced amnesia is absolutely perfect! Eva Hansen wakes up in a Seattle hospital and is told that she was struck by lightning; her mother, Kat, has been murdered, and Eva herself was found unconscious down the street. Thanks to the highly convenient amnesia, Eva can't remember what happened, but she is definitely a "person of interest" to the police. Bitten by the amateur-detective bug, Eva jets off to London, her mother's former home, to see what she can discover. But as she begins to learn about her mother's secret past — and as she starts to recover violent, disturbing memories — she also realizes that someone doesn't want her to find out the truth. The story alternates between Eva's sleuthing and Kat's flashbacks, and in a story that gives us lightning-strike amnesia on page 1, I'm expecting only the most absurd and amazing final twist.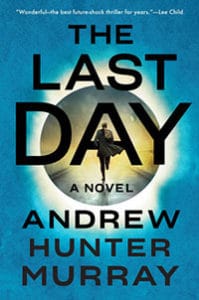 The Last Day (available February 4)
Author: Andrew Hunter Murray
Oh, you know I wouldn't put together a preview list without at least one apocalypse novel! And there are so many of them to choose from nowadays. In this one, it's the year 2059, 40 years since a solar disaster caused Earth's rotation to slowly stop. Now, half the planet is permanently in daytime, and the other half stuck in permanent night. The U.S. has colonized southern Great Britain, and both countries have narrowly managed to hang on by isolating themselves from the rest of the world. Meanwhile, Ellen Hopper, a scientist stationed on a ship in the Atlantic, has no interest in returning to the scary, authoritarian new England. But when two government officials visit, insisting that she come back to London with them to see her dying university mentor, she reluctantly agrees — and quickly learns a secret that will threaten the already-fragile future of the entire human race.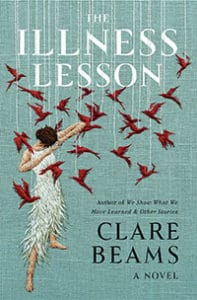 The Illness Lesson (available February 11)
Author: Clare Beams
This eerily suspenseful historical novel is set in 19th-century New England, where Samuel Hood and his daughter Caroline have founded a new school for young women. But Caroline has her doubts about this undertaking — after all, her own education has left her an unmarriageable spinster. Her anxiety grows when a flock of strange red birds appears all over town, and soon afterward, the school's students begin experiencing everything from headaches and rashes to seizures and sleepwalking. To preserve the school's reputation, Samuel calls in a sinister local doctor whose treatments are appalling to Caroline. As the men continue to control the young women's bodies, Caroline starts to feel symptoms beginning in herself. Can she protect the other students — and defy her father, medical science and the whole damn patriarchy?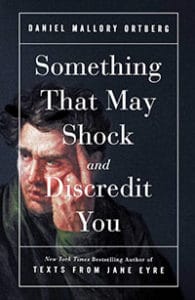 Something That May Shock and Discredit You (available February 11)
Author: Daniel Mallory Ortberg
Even if you don't recognize the name (Ortberg has also gone by Mallory Ortberg and Daniel M. Lavery), you've probably encountered Ortberg's hilarious pop-culture commentary on The Toast or in his book Texts from Jane Eyre. Now, in this new essay collection, Ortberg discusses everything from the beauty of William Shatner to a dark reimagining of HGTV's House Hunters. On a more serious note, it's also part-memoir, exploring Ortberg's own transition as a trans man, and what that's meant for him and his relationships with the women in his life. This collection is sure to be funny, clever and thought-provoking in all the best ways.
The Other Mrs.: A Novel (available February 18)
Author: Mary Kubica
And back to the tawdry thrillers! In this new one by Mary Kubicka (The Good Girl), Sadie and Will Foust have just moved their family from Chicago to small-town Maine when their neighbor, Morgan Baines, is found dead at home. Everyone on the tiny island is shaken by the murder, but especially Sadie — although she has her own reasons for being afraid. As suspicion inevitably settles on the family of strangers, Sadie finds herself being drawn into the mystery of exactly what happened to Morgan on that fateful night. But the more Sadie learns about Morgan, the more she realizes how much her own family — and life — are at risk.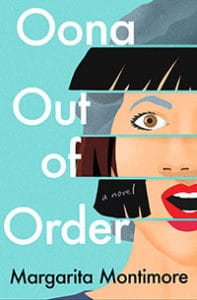 Oona Out of Order (available February 25)
Author: Margarita Montimore
How about a time-travel novel to start the new year off with? It's New Year's Eve in 1982, and Oona Lockhart is about to turn 19. She's trying to decide what to do with her life: go to London to study economics, or stay at home in Brooklyn to follow her passion for music and be with her boyfriend? As the countdown begins, Oona suddenly faints — and wakes up decades in the future as her 51-year-old self. She learns that every year, she'll jump randomly to another age in her lifetime. Jumping from decade to decade, always looking different on the outside but feeling like a young woman inside, Oona is forced to experience her life in starts and stops, and quickly learns to roll with the punches and live in the moment like a champ. A little magical and a little tear-jerking, this inventive story is sure to be a hit with fans of The Time Traveler's Wife or Netflix's "Russian Doll."
You might also like:

Latest posts by Stephanie Perry
(see all)