It's fall — otherwise known as the best season of the year — and whenever I'm not chugging PSLs or dragging out my sweaters from their summer storage tubs, I'm adding new books to my fall reading list! Our fall 2019 book preview has some awesome selections for you, ranging from haunting thrillers to edgy dystopians and the occasional rockstar memoir. So put on some layers, heat up your beverage of choice, and fill your cozy autumn evenings with everything on our fall 2019 book preview list!
SEPTEMBER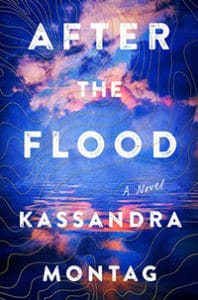 After the Flood (available now)
Author: Kassandra Montag  
Dystopian fiction meets cli-fi in this excitingly bleak novel. A hundred years from now, our planet looks totally different: floods have drowned most of America, leaving only a string of mountaintop colonies in a vast new ocean. Myra and her seven-year-old daughter Pearl live in their small boat, the Bird, fishing to feed themselves and only visiting land to barter for supplies and learn news. One day, they learn something shocking: Myra's first daughter Row, kidnapped by her father seven years ago when a storm destroyed their house in Nebraska, has been seen in a remote encampment in the Arctic Circle. Wild with hope, Myra sets off with Pearl to rescue Row. Along the way, they join up with a bigger ship, but when disaster strikes, Myra must face the hardest question of her life: whether the dream of finding Row again is worth risking the lives of her fellow shipmates.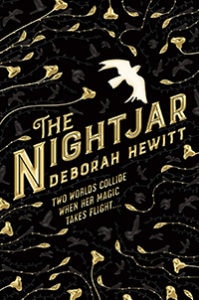 The Nightjar (available now)
Author: Deborah Hewitt  
Alice Wyndham has always been troubled by mysterious visions of birds: birds sitting on people's heads, birds standing on chairs and sulking in corners. But she's always assumed this was some sort of crazy hallucination to be hidden and never, ever spoken about… until some mysterious strangers appear in her life and assure her that there's much more going on. Alice is an aviarist, a mage capable of seeing human souls, which appear as large birds tethered to them by ethereal cords. And when Alice's best friend is hit by a car and left comatose, it's because her soul-bird has gotten confused and flown off to Death's domain. With the help of one of the mysterious strangers, Crowley, Alice travels to the Rookery, a magical alternate London where mages live. But is Crowley really her friend? Who can she trust in her quest — and who will stop at nothing to gain access to her rare magical powers?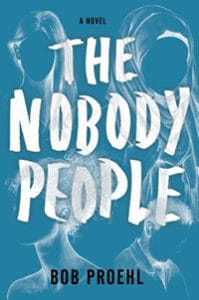 The Nobody People (available now)
Author: Bob Proehl  
Avi Hirsch knows his daughter Emmeline is… different. And he's always tried his best to protect her and keep her safe in a society that doesn't prize difference. But Emmeline is growing up, and when she meets other superhumans — like Carrie, a teenage girl who can turn invisible, or Fahima, who has uncanny skills with machinery — she realizes that they are "nobody people," regular Americans with superhuman gifts that make the rest of America very, very frightened and angry. The government begins passing discriminatory laws to restrict them, and violent mobs stage riots against them. The political tension rises when a superhuman, consumed with rage and self-hatred, commits an act of mass violence that only breeds more suspicion and bigotry against them. The time for laying low and trying to stay safely hidden is over. If the nobody people are to survive, they must band together and defend their rights — and their future.
To Be Taught, If Fortunate (available now)
Author: Becky Chambers  
Fans of "The Expanse" will enjoy this galaxy-roaming sci-fi tale set in the 22nd century. Scientists have come up with a process called somaforming, which allows astronauts to survive in unimaginably harsh conditions by taking synthetic supplements. Now, they can endure subzero temperatures, absorb space radiation and turn it into food, and be comfortable in high-gravity or low-gravity environments. These superhuman astronauts are now free to blast off to neighboring planets known to have life, and Ariadne O'Neill and her three crewmates are one of these teams. But they're 15 light-years from home, and things have been changing pretty drastically on Earth while they've been gone. As they begin to wonder what Earth's reaction to their return will be — and if their fellow humans even remember them — Ariadne decides to chronicle the story of their mission for anyone back home who might one day hear it.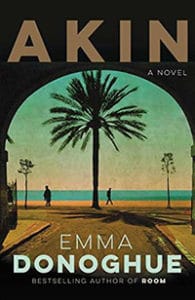 Akin (available now)
Author: Emma Donoghue
Fans of Emma Donoghue's Room know how sharply observed and subtly rendered her characters' relationships can be. In this novel, Noah Selvaggio is a widowed and retired chemistry professor now living in New York, but originally from France. He's just a few days away from leaving on his first trip back home since childhood, where he intends to bring a cache of mysterious photos he found among his mother's wartime keepsakes. Then, he gets a surprising call from social services — he's the next-of-kin to an 11-year-old great-nephew he's never met, and they need Noah to take custody of the boy. Reluctantly, Noah decides to bring young Michael with him to France, and things get off to a rocky start. Soon enough, Michael lends his investigative eye and tech know-how to Noah's family history project. But are they ready for the disturbing discoveries about their not-so-distant ancestors?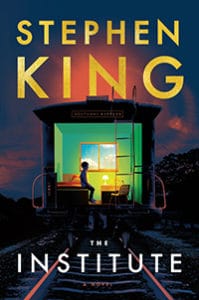 The Institute (available now)
Author: Stephen King  
Just in time for chilly fall nights, there's a new Stephen King book out to haunt you! Luke Ellis' normal, suburban life gets turned upside down one night when a gang of intruders kill his parents and throw him into the back of a black van. When Luke wakes up, he's at the Institute, in a room that looks exactly like his old bedroom — except there's no window. Soon, he learns that there are other kids at the Institute, kids with unusual gifts like telekinesis and telepathy. They're all in the Front Half; the Back Half is a sinister, mysterious place that no one seems to know anything about… except that you never come back from there. The staff mercilessly push the children into strengthening their paranormal skills, and one by one, they slowly disappear into the Back Half. Can Luke escape from the Institute and warn the world about what's going on there before he, too, disappears into the Back Half?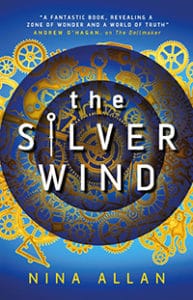 The Silver Wind (available now)
Author: Nina Allan  
If you enjoyed David Mitchell's Cloud Atlas, then this book may be right up your alley. It's less a novel and more a collection of loosely linked short stories that take place in separate, but somehow connected, universes. Each of the stories is about time, and in each iteration, the characters have the same names but different identities and relationships to each other. Meeting them again and again in different timelines and plots creates a layered, mysterious, and thought-provoking experience for the reader, and an intriguing exploration into the nature of time.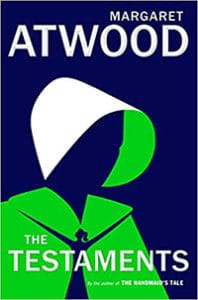 The Testaments: The Sequel to The Handmaid's Tale (available now)
Author: Margaret Atwood  
You probably already know whether you're interested in this sequel to The Handmaid's Tale without me telling you anything about it. But what you may not know — no spoilers — is that this book is set 15-plus years after the end of the first book, and Offred isn't the narrator. Instead, we meet several other female characters, some old and some new, whose personal testimonies shed more light on the modern, forced-breeding dystopia of Gilead. You'll get some answers about what happened to Offred, but it's more of a fleshing out of the world than straight-up fan service. Either way, if you're a fan of the book or the TV series, you probably can't wait to read this sequel. Blessed be!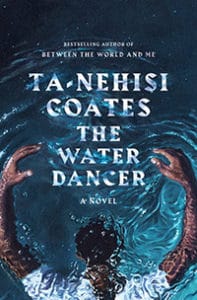 The Water Dancer (available now)
Author: Ta-Nehisi Coates  
Ta-Nehisi Coates' new novel is a mysterious and occasionally magical work of speculative fiction. Hiram Walker, born a slave, lost his mother early when she was sold away to a different owner — but he received a strange power instead. Years later, he nearly drowns in a river, but the mysterious power saves him. Having narrowly escaped death, Hiram is filled with the desperate urge for freedom and decides to run away. On the run, forced to trust strangers and at the mercy of those who want to assert control over him to further their own agendas, Hiram finally escapes the dangerous South, only to risk his life fighting for the liberation of those he loves and left behind.
OCTOBER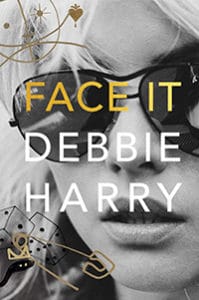 Face It (available October 1)
Author: Debbie Harry 
If you love rock star memoirs, you won't want to miss this new autobiography by Debbie Harry, the singer of Blondie. With a mix of text, archival photos and illustrations, she brings to life the gritty glamour of the 1970s punk scene in New York, dishing about everyone from the Ramones to Iggy Pop to David Bowie. Harry rises to riches and celebrity before spiraling into heroin addiction, bankruptcy, and the near-death of her partner, not to mention the breakup of her band. But she pulls it back together, becoming a solo artist, actor, and advocate for LGBTQ rights. I mean, if this memoir tells even a fraction of the crazy stuff she's seen, it will be well worth your time! Crack open a can of wine and get ready to enjoy some juicy gossip.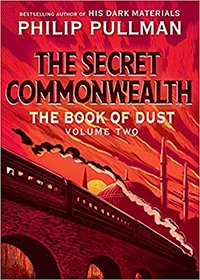 The Book of Dust: The Secret Commonwealth (Volume 2) (available October 3)
Author: Philip Pullman 
Fans of the His Dark Materials series are sure to be excited for this further chapter in the adventures of Lyra Silvertongue. The story picks up several years after the end of the original trilogy; Lyra is now 20 and an undergraduate at St. Sophia's College. Although she still has the wondrous truth-telling device known as the alethiometer, she doesn't know the full story behind it — or how Dr. Malcolm Polstead brought her and the device safely to Oxford years ago. But when Lyra's daemon Pantalaimon witnesses a violent murder, the dying victim shares a secret that awakens ghosts from their shared past. A city haunted by daemons… a desert that contains the secret of Dust… Lyra and Malcolm are fated to join up again on another quest into the unknown.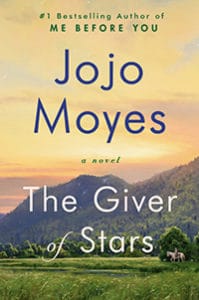 The Giver of Stars (available October 8)
Author: Jojo Moyes  
Jojo Moyes, master tearjerker, returns with another story that will get you right in the feels. In Depression-era America, Alice Wright marries a handsome American, mainly to escape a suuuper boring life in England. Little does she realize that small-town Kentucky can be just as stifling and tedious as English village life — especially when you have to deal with your in-laws every day. So when she hears that women are being recruited to deliver books as part of Eleanor Roosevelt's new traveling library, Alice signs up in a hurry, eager for adventure. Four other women soon join her, and the five become known as the Horseback Librarians of Kentucky. They face danger and hardship on the road, all for the goal of bringing books and sharing knowledge with their fellow citizens, while discovering friendship and love along the way. Based on a true story, this will be coming soon to a book club near you.
The Grace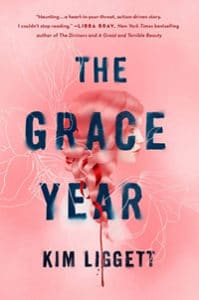 Year (available October 8)
Author: Kim Liggett  
Once you're done with The Testaments, you may as well proceed directly to its spiritual successor, The Grace Year. In this grim world, teenage girls are told that they're full of a toxic, seductive power — that their skin literally radiates a powerful aphrodisiac that drives men insane with lust and women mad with envy. That's why every sixteen-year-old is banished to the wilderness for a year until it wears off, and they can come back home pure and ready for (ugh) marriage. Tierney James has just turned 16, and as she prepares for her "grace year," she starts to question the necessity of the system. Although there are plenty of dangers out in the wild, from the harsh elements to wild animals to human traffickers who would gladly abduct and sell a teenage girl, the greatest danger a 16-year-old girl faces is from the other girls and women around her. Can Tierney survive long enough to come up with a way to tear this hateful society down?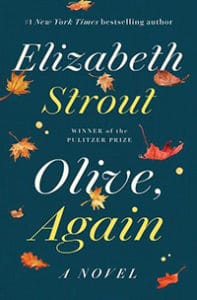 Olive, Again (available October 15)
Author: Elizabeth Strout  
Fans of the Pulitzer Prize-winning short story collection Olive Kitteridge will be delighted to see author Elizabeth Strout return with another installment in the remarkably ordinary life of Olive. In the first book, Olive is a grouchy retired teacher who reflects on the lives of the fellow residents of her small town in a series of moving vignettes. She's still striving to understand herself and relate to those around her, whether it's a troubled teenager struggling with the death of her father or a lawyer who grapples with an unwanted inheritance. Grumpy and short-tempered, but also deeply compassionate and empathetic, Olive may just find her way into your heart.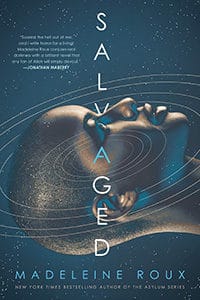 Salvaged (available October 15)
Author: Madeleine Roux  
Buckle up for a dark and scary sci-fi thriller. Rosalyn Devar is fleeing the wreckage of her life: her hated bioengineering job, her famous family, and everything else that's gone wrong. In an attempt to hide, she's taken a job as a "space janitor," cleaning up the biohazardous messes of outer-space research expeditions gone wrong. But after one too many mistakes, she's this close to getting fired, and her last chance is salvaging the research vessel Brigantine, which has mysteriously gone silent. The entire crew is presumed dead, but much to Rosalyn's surprise, they are quite alive… if not exactly human anymore. Stuck on a spaceship with a creepy crew that's been possessed by a parasitic alien, Rosalyn's only hope is to somehow defeat the alien parasite before it can swallow the entire human race.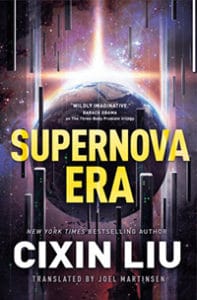 Supernova Era (available October 22)
Author: Cixin Liu, Translator: Joel Martinsen 
Chinese sci-fi author Cixin Liu (The Three-Body Problem) returns with a terrifying new peek into an apocalyptic future. One night, eight light-years away, a star goes supernova, blasting Earth with deadly showers of radiation. Within a year, everyone over the age of 13 will be dead. Parents and adults panic, trying to pass on all their knowledge before they die in a last-ditch effort to keep the world running. But when the adults are all gone, who's to say that the children will want to keep running the world the way it has been? With the freedom to shape their world exactly as they please, will the last generation of humanity create a wonderful new future — or a grim hellscape that will mean the end of society and civilization?
NOVEMBER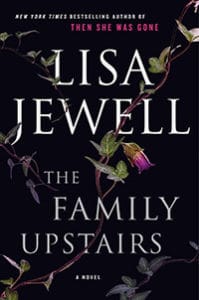 The Family Upstairs (available November 5)
Author: Lisa Jewell  
A chilly fall night is the perfect time for a dark and spooky gothic thriller, and this one has it all: hidden identities, a mysterious inheritance, an abandoned mansion and some scary secrets. Libby Jones has just turned 25 when she receives a letter she's been waiting for all her life. The letter tells her the long-awaited identity of her birth parents — and that she's unexpectedly inherited an enormous London mansion worth millions of pounds. Libby is stunned, but there are more surprises in her future. Twenty-five years ago, you see, police came to that same mansion after neighbors reported a crying baby. They found a baby in her crib in the bedroom… and three dead bodies, dressed in black, with a scribbled note. But worst of all, perhaps, is who wasn't there: the four other children who lived in the mansion until that day. Hide under some blankets and get ready to scare yourself silly!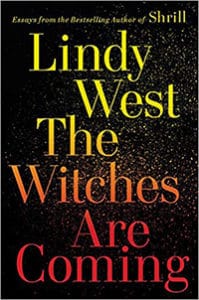 The Witches Are Coming (available November 5)
Author: Lindy West  
The bold, derisive, divisive Lindy West (Shrill) returns, reclaiming the tainted phrase "witch hunt" from the mouths of entitled white men. In her trademark style, West breaks down the misogyny and intolerance baked into American culture, politics, and the media, analyzing exactly how we got to this mind-boggling moment in history. In an effort to understand the toxic patriarchal stew that gave rise to the #MeToo movement, she explores how pop culture has validated and rewarded white male mediocrity at the expense, and minimization, of everyone else. Like, literally everyone else. For every enraged white male who sputters "witch hunt" when he's forced to be held accountable for his actions, West has just one thing to say: "Yep, I'm a witch — and I'm hunting you."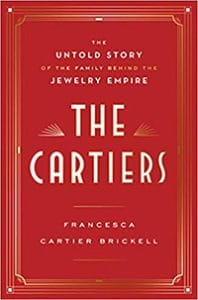 The Cartiers: The Untold Story of the Family Behind the Jewelry Empire (available November 26)
Author: Francesca Cartier Brickell
Personally, I like my history draped in jewels, with a side of celebrity and the occasional curse. If you do too, then step right this way! A great-granddaughter of the Cartier jewelry dynasty digs into the family archives (my God, can you imagine their jewelry boxes) to tell their astonishing story. At the turn of the 20th century, three Cartier brothers established the family name: Louis, the visionary watch designer; Pierre, the expert business negotiator; and Jacques, the gemstone aficionado who traveled to India to source the finest rubies, emeralds, and sapphires for their candy-colored jewels. Jam-packed with romance, riches, intrigue, betrayal, and gossip, this account includes some behind-the-scenes glimpses at some of Cartier's most legendary pieces, including the Hope Diamond and the Romanov emeralds. Not to mention all the royalty and celebrities who have worn Cartier designs over the decades! A thrillingly glamorous look at a legendary company from someone who's uniquely qualified to tell it.
You might also like:

Latest posts by Stephanie Perry
(see all)