With so many books already written about Jane Austen, you might think there would be nothing left to say about the author and her six classic novels. But you would be wrong! These new Jane Austen books, including fiction and nonfiction, explore Austen's life as well as the society she lived in, and even explore what must be the #1 Austenite fantasy: traveling back in time to meet the author herself. Ring the servant for some tea and settle in for a very civilized afternoon.
Jane Austen, the Secret Radical

Author: Helena Kelly
Jane Austen's novels are such delightfully fluffy romances… aren't they? Helena Kelly, a professor of English literature at Oxford, argues that there's much more subversive stuff going on in these books — slavery, poverty and class conflict, feminism, inheritance law, and criticism of the church — that goes right over twenty-first-century readers' heads because we don't know what to look for. She expertly explains how subtle turns of phrase or breaches of etiquette (that most modern readers wouldn't pick up on) come with huge amounts of social subtext, often critical of the establishment and of the empire. While her theories can occasionally get a little implausible, most of Kelly's explanations and information is persuasive and adds a new dimension on why Austen's characters behave the ways they do. I gained a new appreciation for Mansfield Park, previously my least favorite Austen novel precisely because there were religious and political angles I'd missed. Recommended for Austen scholars who want to dive deeper into the context.
The Jane Austen Project

Author: Kathleen A. Flynn
This book had me at "Jane Austen and time travel." Rachel Katzman and Liam Finucane are time-traveling researchers who go back to nineteenth-century England with a very special mission: to find, befriend, and steal from Jane Austen. Posing as siblings — a wealthy plantation owner from the West Indies and his spinster sister — their goal is to diagnose the illness that caused Austen's death and to take possession of a mysterious unpublished novel that Austen mentioned in her letters. But as the travelers make their way into Austen's social circle, their deception gets more difficult, and Rachel struggles with society's expectations for women. Will they pull off their mission and return to the present, or will they succumb to the temptation to meddle with the timeline?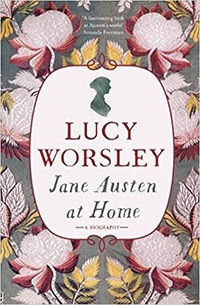 Jane Austen at Home: A Biography

Author: Lucy Worsley
Lucy Worsley is a historian who's written several other enjoyable books about domestic life in centuries past, and now she turns her attention to the England of Jane Austen's time. From Austen's childhood home and schools to the places she lived, wrote, and traveled, Worsley digs into the past and examines the physical history that informed Austen's writing about homes — as symbols of status, places of refuge and deprivation, and reflections of their residents' inner lives. Home, and all that it represents, is an inescapably central theme in Austen's writing, so it only makes sense to explore how Austen's own living situations affected her point of view. Plus, of course, plenty of color pictures to drool over!
The Genius of Jane Austen: Her Love of Theatre and Why She Works in Hollywood

Author: Paula Byrne
So why is it, exactly, that Hollywood keeps churning out the remakes, adaptations, and updates on Jane Austen's handful of novels? Author Paula Byrne breaks it down by looking at Jane Austen's lifelong passion for the stage and how the theater influenced her writing. Austen enjoyed acting in amateur theatricals, was a frequent playgoer, and even wrote a few scripts herself when she was a young author. It's her familiarity with the narrative pacing and dramatic tension of the stage that make Austen's novels so perfectly suited for adaptations. This book, originally published in 2003, was never widely available in the U.S. and went out of print, so this new version — including an introduction and a new chapter on recent Hollywood remakes — will be a welcome addition to the Austen lover's bookshelf.
Need more historical reading? You might also like:

Stephanie P. is a writer, editor, and blogger. Her secret shame is dystopian YA fiction. You can find her wherever the books and food are.

Latest posts by Stephanie Perry (see all)