Webs we weave…
Author:  Claudia Rowe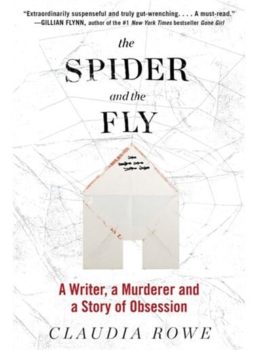 It's hoarding with a truly morbid twist.  If you're a hoarder show enthusiast, you may think you've seen (and imagined smelling) it all, from piles of used adult diapers to carpets strewn with cat feces.  But there's one thing those shows have never featured, a collection of human corpses.   In The Spider and the Fly, journalist Claudia Rowe tells of her unique relationship with a serial killer who hoarded his victims, stashing bodies wherever he could find some space.
Between 1996 and 1998, twenty-something Kendall Francois hid the bodies of eight women in the cluttered Poughkeepsie, New York home he shared with his parents and sister.  One at a time he'd strangled a local prostitute that he'd lured into his rank lair.  It's not that the authorities didn't suspect anything – he'd been accused of violence against the women he'd hired for sex for years – they were even allowed to search his appallingly filthy and malodorous home.  They just didn't think he fit the profile of a serial killer.
A fellow Poughkeepsie resident and struggling journalist, Rowe was strangely intrigued once Francois eventually turned himself in, so she started up a correspondence with the man.  But as their relationship evolved, it became clear that her obsession was starting to take a disturbing turn, jeopardizing her relationships and her mental health.  In fact, it took about 18 years for the author to finally gain control of the storyline and share her experience with the general public.   In the end, she presents an introspective and insightful exploration of both her own motivations and those of her homicidal neighbor.  The manipulative dance both parties perform as the narrative proceeds is particularly fascinating.
A delicately balanced combination of true crime story and dark memoir, The Spider and the Fly is a riveting attempt to make sense of evil.  While any work that delves so deeply into the human psyche is necessarily incomplete, the book is an undeniably unique take on the topic.  A strong addition to the increasingly popular true murder genre.
— D. Driftless
Spider photo by Adam Inglis, Poughkeepsie photo by Daniel Case (both CC BY-SA 3.0)
Check out Dave's other true murder book reviews:  The Man from the Train   /   The Murder of the Century  /   The Devil in the White City   /   The Killer of Little Shepherds