Creepy Charisma…
Author:  Erik Larson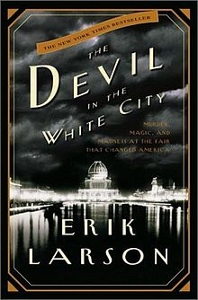 I don't generally consider nineteenth century architecture to be a source of great drama, but throw in some murder and mayhem and I'm willing to reconsider.   The scene is Chicago 1890 – in the midst of the Gilded Age – and the city has just been named the site of the upcoming World's Columbian Exposition, designated by Congress to celebrate the 400th anniversary of Columbus' arrival.  City officials are hoping to finally put Chicago on the map culturally, tired of playing second fiddle to more established locales, like New York City and Philadelphia.  At the same time, taking advantage of the resulting economic boom and influx of new and naïve migrants, Dr. H.H. Holmes is making people disappear, quietly dispatching numerous victims at his "murder castle" just down the road from the new fair grounds.  The sordid – entirely true – saga plays out in The Devil in the White City, by Erik Larson.
The Chicago World's Fair of 1893 faced some formidable challenges.  Political machinations, time constraints, labor unrest, financial obstacles, Midwestern weather, even the local geology seemed to conspire against the organizers.  Moreover, the fair was following close on the heels of the Paris World's Fair in 1889 which astounded the world with the unveiling of the Eiffel Tower and seemed to set the bar much too high for the "hog butcher for the world."  Larson skillfully stacks these many difficulties into a fully suspenseful edifice, revealing how events at the fair impacted the future course of US history in significant ways.
He also tells a good serial killer story, exploring how Holmes used his almost supernatural charm to manipulate everyone he encountered to bend to his evil whims.  Setting the story against the backdrop of the dark, noisy, smelly and brutal bustling of 19th century urban life, Larson creates a truly creepy tale of horror.
Although the two stories don't actually cross paths much, Larson makes the most of their eerie proximity, taking the reader back and forth between the profound, often altruistic, achievements of men like Daniel Burnham, John Root and Frederick Law Olmstead and the utter degradation of a bizarrely charismatic serial killer.  I've enjoyed the author's historical story telling in both Isaac's Storm and The Garden of Beasts and once again, Larson excels at bringing important historical characters to life, however boring they may appear at first glance.
In the end, The Devil in the White City is an entertaining read by a talented storyteller, worthy of its many awards.  Enthusiastically recommended for 19th century history buffs, serial killer enthusiasts, Chicago fans or anyone who likes good history writing.
— D. Driftless
museum photo by Urbanrules
[AMAZONPRODUCTS asin="0375725601″]