Want a wedding that truly reflects you and your spouse-to-be's personalities? It doesn't have to cost tens of thousands of dollars — especially if you save money by doing it the homemade, DIY way. Everything from save-the-date cards to the wedding favors guests take as they leave can be done by hand, if you want to put in the time (and if you don't want to spend dozens of hours etching souvenir wine glasses, that's totally understandable!). These helpful guides not only give you style inspiration and project ideas, they break down the cost in time and money to help you decide if it's worth the savings, and give you timelines for how far in advance you'll need to start making those 50 metallic-spray-painted mason-jar floral centerpieces.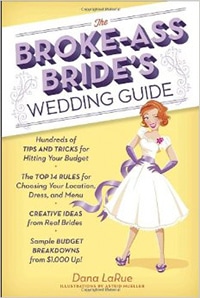 The Broke-Ass Bride's Wedding Guide

Based on the website TheBrokeAssBride.com, this wedding planning book lays it all out: you can have a personalized, stylish wedding and stay within the budget you want! They'll show you how to save money on must-haves like the venue, dress, food, and music, together with sample budgets at different levels. They also give ideas for DIY projects that won't trigger a bridal party meltdown, and most importantly, 7 ways to keep your booze budget under control. Dana Larue's fun, creative approach keeps it low-stress and reminds you not to give in to what the wedding industry tries to make you feel you have to have.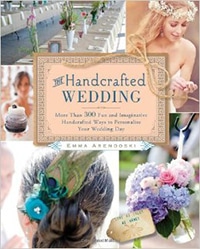 The Handcrafted Wedding: 340 Fun and Imaginative Handmade Ways to Personalize Your Wedding Day

Hundreds of creative DIY ideas for everything from save-the-dates printed on vintage tea towels to brooch bouquets fashioned from costume jewelry and silk flowers. The book also provides advice on planning your wedding, helpful tips from brides, and style inspiration for wedding themes and decor. Author Emma Arendoski runs the blog Emmaline Bride and has plenty of wise guidance to share.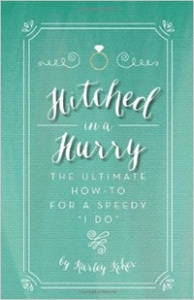 Hitched in a Hurry: The ultimate how-to for a speedy "I do"

So your wedding is less than six months away? Not to worry, it's entirely possible to put together a wonderful wedding on a tight timeline. Full of stories from real couples who made their quick weddings work, plus humor and encouragement, this slim guide packs in lots of useful information that's specifically tailored for brides getting married in a hurry. It even has checklists and charts to help you get started. With careful organization and a solid plan, you can do it, too!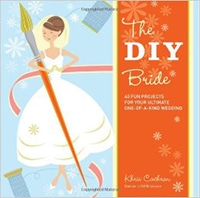 The DIY Bride: 40 Fun Projects for Your Ultimate One-of-a-Kind Wedding

This guide may be from 2007, but the ideas inside still look fresh and stylish. Based on the wedding website DIYBride.com, it offers projects to cover every step of your dream wedding, and breaks down the costs to show you how much you'll save. Invitations, programs, decorations, and wedding favors are all covered. It also tells you the skill level and time required, so you can decide what's realistically possible vs. what might be better to delegate to professionals. A handy timeline also tells you when to start each project in order to have everything done on time.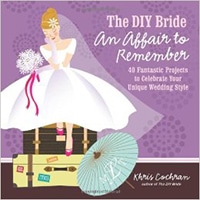 DIY Bride An Affair to Remember: 40 Fantastic Projects to Celebrate Your Unique Wedding Style

The 2012 update to The DIY Bride, this follow-up book features 40 new projects organized into eight wedding themes. As in the previous book, this includes a cost breakdown to show the savings (and to help you decide whether it's worth it to go handmade), and new sidebars give you options for customizing the project to your personal taste. While it's presented as a bridal craft book, many of these ideas would also work well for birthdays, anniversaries, costume parties, or other special occasions.

[/fusion_builder_column][/fusion_builder_row][/fusion_builder_container]

Latest posts by Stephanie Perry
(see all)