Book lovers rejoice! It's fall, aka reading season, and that means it's time to load up your TBR pile. And whether you're looking for suspense, romance, science (or science fiction) or memoir, our fall 2018 book preview is full of new releases you're sure to love. Put on a cozy sweater, pour yourself a hot beverage, and start picking out your next favorite fall book.
SEPTEMBER
The Dinosaur Artist: Obsession, Betrayal, and the Quest for Earth's Ultimate Trophy (available now)
Author: Paige Williams
For some super-wealthy collectors, the ultimate prize isn't diamonds or fancy cars, but dinosaur fossils. And what could be more desirable than having your own personal T. rex? In 2012, a New York auction house listed something very special: an almost-complete T. bataar, a close relative to T. rex. The 24-foot-long fossilized dino had been excavated in Mongolia (the Smithsonian has a great article about the recent Chinese boom in fossil-finding), and it sold for over $1 million. The seller was Eric Prokopi, a paleontologist and fossil dealer who made his fortune unearthing, assembling and selling dinosaur fossils to everyone from natural history museums to A-list Hollywood actors. But this time, Prokopi had gone too far, and an international custody battle ensued. Full of drama, dinosaurs, poaching and ill-gotten cash, this true story is more entertaining than a science book has any right to be.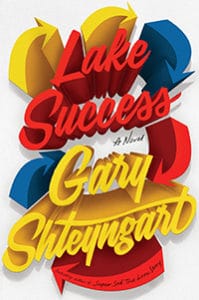 Lake Success (available now)
Author: Gary Shteyngart
The morosely funny Gary Shteyngart (Little Failure) returns with this absurdist skewering of the American dream. Hedge-fund manager Barry Cohen lives the high life of the 1%, overseeing $2.4 billion in assets. Emotionally distressed by an ongoing SEC investigation into his finances and his young son's recent diagnosis of autism, Barry escapes New York on a Greyhound bus, theoretically in search of a simpler, romantic life with his college sweetheart. Back in New York, Barry's wife Seema, a driven first-generation immigrant whose deepest desire is the luxurious trappings that come with riches, is learning that money doesn't equal happiness. As chaos swallows their comfortable existence, Barry and Seema are forced to confront the consequences of their choices — and to rethink what being "American" really means.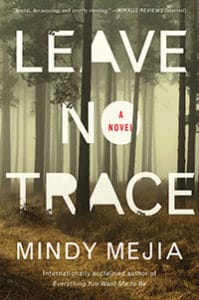 Leave No Trace (available now)
Author: Mindy Mejia
Just because summer is over doesn't mean I'm going to stop with the beach reads! Ten years ago, a man and his son hiked into the wilderness and never came back. Their campsite seemed to have been destroyed by a bear, and the two were declared missing and presumed dead… until the son reappeared a decade later. Violent and unresponsive, he's sent to a psychiatric facility, where Maya Stark, a language therapist, tries to make a connection with him. But no matter what she does, he won't answer any questions about his father or where he's been for the past decade. Maya knows what it's like to lose a parent, and she can't let this case go. But is she putting herself in danger by trying to reunite the boy with his vanished father?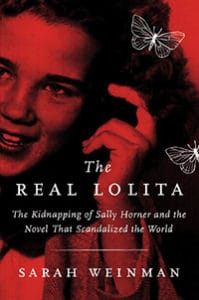 The Real Lolita: The Kidnapping of Sally Horner and the Novel That Scandalized the World (available now)
Author: Sarah Weinman
Whether you've read it or not, you've undoubtedly heard of Nabokov's Lolita, the infamous literary classic about a middle-aged man who develops a criminal obsession with his preteen stepdaughter. But you might not know that the story was inspired by the real-life 1948 kidnapping of Sally Horner, abducted at age 11 and held against her will for years. Part true-crime investigation, part literary exploration, this book tells Sally's full story and reveals how familiar Nabokov was with the notorious case — and his efforts to conceal his knowledge of the source while writing and publishing the book. This sizzling investigation gives Sally Horner the recognition she deserves as the inspiration for one of the 20th century's greatest works of literature.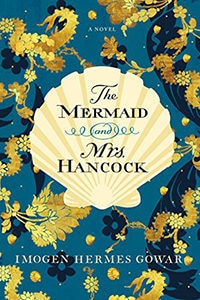 The Mermaid and Mrs. Hancock (available now)
Author: Imogen Hermes Gowar  
Looking for a paranormal romance with a touch of mermaid magic? Step right this way, folks, for a very different kind of tale. In late 18th-century London, Jonah Hancock is a successful merchant with a comfortable life. Then, one day, the captain of one of Jonah's trade ships shows up at his doorstep with a shocking announcement: he has bartered away the entire ship in exchange for a mummified mermaid. News of the discovery spreads like wildfire, and soon Jonah is taking his mermaid around town and exhibiting her for profit. At one such event, he meets Angelica Neal, an elegant and cunning courtesan who's making a splash in high society. Their meeting leads to a connection that threatens to destroy the carefully constructed lives each of them has created. But could the romance of a lifetime be worth losing everything for?
The Infinite Blacktop (available now)
Author: Sara Gran  
Oh, I do love Claire DeWitt, the strangest and most hard-boiled detective of them all (Claire DeWitt and the City of the Dead, Claire DeWitt and the Bohemian Highway), like if Veronica Mars was an alcoholic tarot-card reader. She's been solving cases since childhood, when she and her two best friends, Tracy and Kelly, became obsessed with the crime-solving manual written by legendary French detective Jacques Silette — until Tracy disappeared forever. Claire never solved that case, and it continues to haunt her, decades later. In her twenties, Claire worked for the LAPD on a cold case involving the death of a has-been artist whose more successful artist girlfriend had died just a few months before. Now, Claire is heading to Las Vegas from San Francisco when she's run off the road by a reckless driver. Injured and fleeing the scene, Claire tries to figure out who wanted her dead — but that doesn't exactly narrow it down. When the three timelines come together, Claire may finally solve the biggest case of her career: the case of her missing friend. But if she does, what will she have left to live for?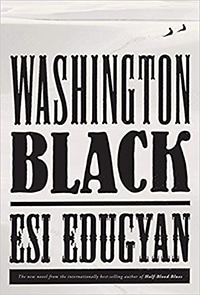 Washington Black (available now)
Author: Esi Edugyan  
George Washington Black, known as "Wash," is an eleven-year-old slave at a Barbados sugar plantation. When his master's brother chooses Wash as his personal servant, Wash fears the worst, but he's surprised to find that Christopher Wilde is an explorer, an inventor, a scientist… and an abolitionist. For the first time, Wash sees possibilities for his life — until a man is killed, a bounty is placed on Wash's head, and Christopher and Wash must flee. Escaping to America, and then to the distant Arctic, the two are forced close by circumstance and then torn apart. Wash must travel even further, on his own this time, to discover his true self — and what freedom truly means.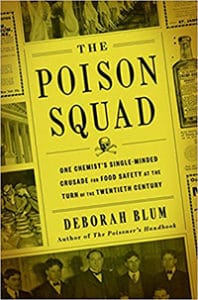 The Poison Squad: One Chemist's Single-Minded Crusade for Food Safety at the Turn of the Twentieth Century (available now)
Author: Deborah Blum
I can't tell you how glad I am not to be living in Victorian times, where people knew little about health and safety and cared less. Following up on the delightful The Poisoner's Handbook, Deborah Blum returns with a history of the beginnings of food safety and regulation in America. From adding formaldehyde to milk to treating rotting meat with industrial chemicals, even the most basic food could kill. And don't even get me started on the medicine! When thousands of children died from tainted milk, outraged citizens began protesting. But it wasn't until Dr. Harvey Washington Wiley was named chief chemist of the agriculture department — and they began investigating food and drink fraud — that the beginnings of modern consumer protection were born. With the help of an unlikely dream team — journalist Upton Sinclair, famed cookbook author Fannie Farmer, and Henry Heinz, one of the few manufacturers who advocated for pure food — the first Food and Drug Act was born. An eye-opening history into something we take for granted, and an inspiring reminder about the importance of fighting corporate greed and government corruption.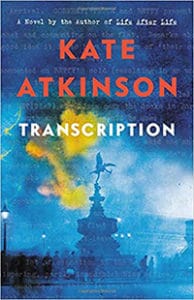 Transcription (available now)
Author: Kate Atkinson  
What could be better for fall reading than a thrilling wartime tale of suspense? In 1940, Juliet Armstrong becomes a reluctant spy at the age of 18. She works for MI5, surveilling the activities of British Fascist sympathizers, and once the war is over, she's ready to close that chapter of her life. A decade later, Juliet is a radio producer at the BBC when she's confronted with unwelcome reminders from her wartime past. The world has changed… or has it? Now, Juliet is in danger, and she suddenly realizes that her war isn't over yet — and she may not survive it.
OCTOBER
All You Can Ever Know: A Memoir (available now)
Author: Nicole Chung  
What happens when everything you thought you understood about your identity turns out to be wrong — and how do you rebuild a sense of self? Nicole Chung was born severely premature and placed for adoption by her Korean parents. Adopted by a white family in a sheltered town in Oregon, Nicole accepted the rose-tinted story her adoptive parents told her: that her biological parents had made the greatest possible sacrifice in hopes of giving her a better life. But as an adult, she began to question her assumptions, embrace her Asian-American identity, and wonder about the people who gave her up for adoption. As she prepares to give birth to her own child, Nicole goes in search of her birth parents, knowing that she may learn things she doesn't want to know — and that she can never go back to not knowing them. A thought-provoking read for anyone who has felt like they don't
really belong. Which is pretty much everyone, right?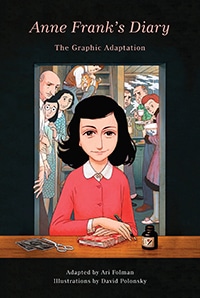 Anne Frank's Diary: The Graphic Adaptation (available now)
Author: Anne Frank, Illustrator: David Polonsky
Everyone should read The Diary of Anne Frank, but each generation experiences this classic a little differently: new pages are discovered, redacted passages are restored, and current events shed light on history in shifting ways. This new adaptation is the first graphic-novel version of Anne Frank's WWII diary of living in hiding with her family from the Nazis. While it doesn't contain the full text of the diary, the illustrations should give it a strong visual impact that's sure to be a fresh take on this must-read memoir.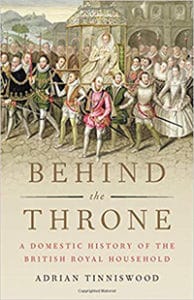 Behind the Throne: A Domestic History of the British Royal Household (available now)
Author: Adrian Tinniswood
Given all the American tabloids' fascination with British royalty, a gossipy behind-the-scenes look at the British royal household is an easy sell. Historian Adrian Tinniswood (a very British name in itself) explores the gritty reality of life in the royal court over the past 500 years. From the head that wears the crown to the lowliest courtier, this book covers everything from soothing the royal ego to ensuring a hot dinner served to a crowd of thousands. And, of course, plenty of royal pets! Pull back the red velvet curtain for a glimpse of palace life, warts and all.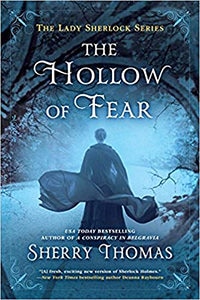 The Hollow of Fear (available now)
Author: Sherry Thomas  
The latest installment in the Lady Sherlock series, featuring Charlotte Holmes as the brilliant English sleuth, brings our lady detective an intriguing new mystery. Her shadowy nemesis, Moriarty, is drawing closer in this book: first, Charlotte's half-brother vanishes, and then Lady Ingram — the estranged wife of Charlotte's, ahem, close friend Lord Ingram — is found dead on the family estate. Even though the signs point to Lord Ingram as the killer, Charlotte doesn't believe it, and sets out to solve the mystery… but this case may throw her dangerously close together with Lord Ingram. (The first book in the series was also featured in our Sherlock Holmes retelling list.)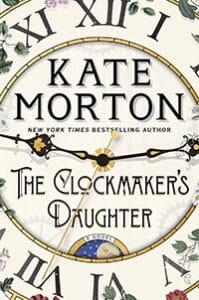 The Clockmaker's Daughter (available now)
Author: Kate Morton  
Kate Morton's gothic romances are ideal for cozy fall nights, and her new book promises to be no exception. In 1862 England, a group of young artists, led by the dreamy Edward Radcliffe, arrives at Birchwood Manor to spend a sexy month making art and being bohemian. But their stay leads to unexpected drama: one woman is dead, another has vanished,  a priceless heirloom has disappeared, and Radcliffe's life has fallen apart. A century and a half later, Elodie Winslow, a young archivist in London, finds a leather case containing two unusual items: an olde-tymey photograph of a woman in Victorian clothing and a sketchbook with a drawing of a gabled house on a river. Why does Elodie feel deja vu when she looks at the picture of Birchwood Manor… and who is the mysterious woman? Filled with romance, murder, mystery, and art, this time-traveling tale will keep you so busy turning pages that your pumpkin spice latte will go cold.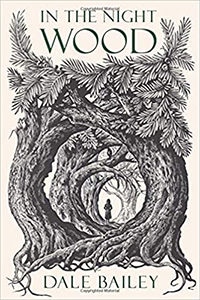 In the Night Wood (available now)
Author: Dale Bailey  
This spooky fantasy has an irresistible hint of fairy-tale magic. Charles Hayden is a failed father, husband, and scholar who's desperately trying to get his life back on track with a new project: a biography of Caedmon Hollow, the author of a famous Victorian children's book, In the Night Wood. And, as it happens, Hollow is also an ancestor of Charles' wife Erin. Still mourning the loss of their young daughter, Charles and Erin flee America and resettle in Hollow's distant Yorkshire estate. In the nearby village, Charles meets a woman he could have fallen in love with, a girl who could have been his daughter, and is forced to confront his own mistakes. Meanwhile, Erin, lost in grief, takes too many pills and paints frightening pictures of a horned monster in the woods. Deep in the forest, something is waking up… an ancient king who invades the Haydens' dreams. It's only a matter of time before Charles and Erin obey the call of the night wood and face their darkest nightmares.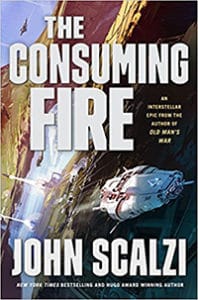 The Consuming Fire (October 16)
Author: John Scalzi  
John Scalzi is one of my favorite contemporary sci-fi authors, for his inventive world-building and his wisecracking dialogue. This is the sequel to The Collapsing Empire, the first volume in a universe-hopping space opera about the far-distant future of humanity. Humans have settled on many planets throughout the galaxy; trade and travel are possible because of the Flow, a multidimensional portal that makes interstellar travel feasible but which, it turns out, humans totally did not understand the implications of. Now the Flow is collapsing, threatening to strand people on the planets where they happen to be, which is causing hugely disruptive problems for families, corporations, trade alliances and, of course, criminal enterprises. While the Emperox Grayland tries to unite the empire in finding a solution, plenty of people are looking to their own selfish interests — and willing to start a war to protect them. I can't wait to see what happens!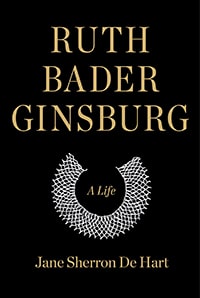 Ruth Bader Ginsburg: A Life (October 16)
Author: Jane Sherron de Hart  
Everything you ever wanted to know about the Notorious RGB is surely captured in this comprehensive new biography of the Supreme Court Justice. From the foundational experiences that shaped Ginsburg's call to the law to her personal background and upbringing, you'll find out how her Jewish upbringing during WWII and the Holocaust permanently affected her sense of justice. Her introduction to feminism, her educational background and trailblazing efforts on behalf of women all contributed to a stellar law career and led her to her current position on the Supreme Court. Get ready to be amazed and inspired at the living history Ginsburg represents, as well as the legal history she's helped to create for America.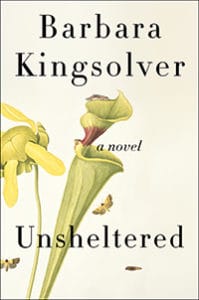 Unsheltered: A Novel (October 16)
Author: Barbara Kingsolver  
This time-traveling novel explores how two sets of people in very different times face strikingly similar problems, navigating what feels like the end of the world to them. In the present day, Willa Knox and her husband are mystified by how a life of hard work and responsible living has left them with nothing: mounting debts, a crumbling old house, and jobs that vanish out from underneath them, along with any promise of security in retirement. When a disabled father-in-law and irresponsible daughter join them, the strain will push them even further, but it's the troubled return of their most successful son that threatens to pull the family apart. Meanwhile, in another era, Thatcher Greenwood is a science teacher who finds himself in a sticky situation when his employer forbids him to talk about Charles Darwin's ideas in class. Thatcher tries to keep his young bride and status-hungry mother-in-law happy, but some risky friendships with a woman scientist and a rogue journalist put him in a dangerous opposition to some of the town's most powerful men. An insightful exploration of how family obligations, ethical struggles, and the fight against corruption is the same in every generation.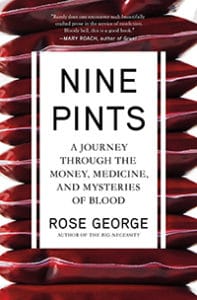 Nine Pints: A Journey Through the Money, Medicine, and Mysteries of Blood (October 23)
Author: Rose George
Having become a regular blood donor this year, I've found myself getting interested in its complexities (despite my ongoing and extremely rational fear of needles). It's essential to life, but the mere sight of it makes people queasy, to say nothing of the hysteria and disgust surrounding menstrual blood. Author Rose George sets out to demystify blood, starting with the ancient rituals of bloodletting to 21st-century scientists who track blood-borne diseases around the globe. You'll learn where and when blood donation became common, and peek behind the scenes of the lucrative plasma-transfusion industry. Someday, synthetic blood could offer affordable, widely accessible options for developing countries, but for now, this book shows why the nine pints of blood swooshing around your body are one of your most precious possessions. (P.S. Donate blood!)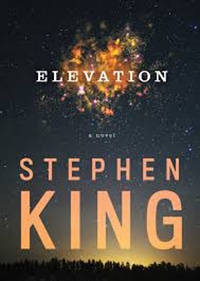 Elevation (October 30)
Author: Stephen King
Just in time for Halloween, a spooky new story from the master of horror, Stephen King. Scott Carey has been experiencing some weird stuff: he looks the same, but he keeps losing weight, and he weighs the same no matter how many clothes he's wearing. Meanwhile, Scott is battling his annoying neighbors, a lesbian couple whose dog regularly poops on Scott's lawn. But the couple has bigger problems: their new restaurant is struggling in the face of prejudice from small-town residents who refuse to patronize a gay-owned business. When Scott finally gets why they're so stressed, he tries to help… and the consequences will have startling effects on his mysterious ailment.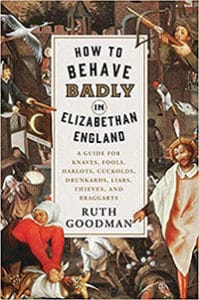 How to Behave Badly in Elizabethan England: A Guide for Knaves, Fools, Harlots, Cuckolds, Drunkards, Liars, Thieves, and Braggarts (October 30)
Author: Ruth Goodman
I'll happily read any book that fun-loving historian Ruth Goodman (How to Be a Tudor) cares to write, but I especially like her research on Elizabethan and medieval English society. And bad behavior is even better! The Elizabethan era was particularly outrageous, since court society was so hierarchical and status-conscious, and insults were practically an art form. From bad table manners to cutting curses — with a lengthy detour into off-color humor — this lively etiquette manual will help you become as badly behaved as you want to be.
NOVEMBER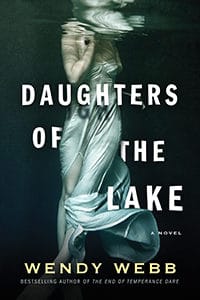 Daughters of the Lake (November 1)
Author: Wendy Webb  
Who doesn't love a mysterious gothic romance for a cold fall night? Kate Granger has fled to her parents' home on Lake Superior to lick her wounds after the failure of her marriage. But to her horror, she discovers the body of a murdered woman, wearing an oddly old-fashioned gown and holding a newborn infant. Nobody can identify the victim — but Kate is sure she's seen the woman in her dreams. Meanwhile, a century before, a love story that ended in tragedy is finally coming to light. It's up to Kate to listen to the dead, solving an old mystery and righting the long-ago wrongdoing… before Kate herself is arrested for the anonymous woman's murder.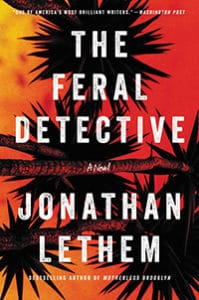 The Feral Detective (November 6)
Author: Jonathan Lethem
It's been a long time since Jonathan Lethem wrote a detective novel (Motherless Brooklyn), but I'm ready for it! Phoebe Siegler meets Charles Heist in a run-down trailer on the outskirts of Los Angeles because she's looking for her friend's missing daughter, Arabella, and hires him to help. Together, they search the strange, isolated clusters of desert-dweller weirdos outside L.A., only to learn that Arabella is in deep trouble — caught in a dangerous standoff that only Charles has the power to end. Guaranteed to be weird, clever, and twisty, this myste
ry will take you on a bizarre journey.
Nine Perfect Strangers (November 6)
Author: Liane Moriarty  
Grab a glass of wine and crack open this page-turning domestic drama from the prolific Liane Moriarty. Nine guests show up at a remote health resort: some want to lose weight, some are in need of life coaching, and some don't even know what they want — or they refuse to admit it. When Frances Welty, a romance novelist with a broken heart, comes to Tranquillum House for some healing, her curiosity is piqued by her fellow guests — but most of all by the house's strange and charismatic owner. Should Frances stick it out for the full ten-day stay, or get out while she can? With twists and turns, overlapping stories, and perhaps a dash of romance, this is sure to be another satisfying read.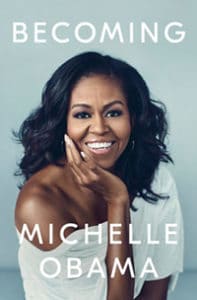 Becoming (November 13)
Author: Michelle Obama  
In case you haven't heard, former First Lady Michelle Obama is releasing a new memoir next month, and her book tour is filling arenas like a concert tour. This book follows her life from a childhood on Chicago's South Side to a busy professional life as an executive to one of the most famous faces in the world. You'll learn about her triumphs and disappointments, memorable moments both public and private, and her many roles — wife, mother, First Lady — all in her own words. If you find yourself missing our 44th president, this wise and affirming memoir is the perfect antidote.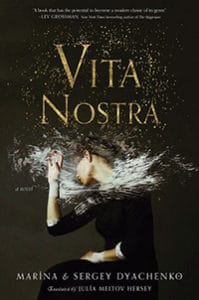 Vita Nostra (November 13)
Authors: Sergey and Marina Dyachenko
Ready for a strange and magical foray into speculative fiction? Take a trip to Russia with this unusual tale. When Sasha Samokhina goes to the beach with her mother, she meets the sinister Farit Kozhennikov, who orders her to perform a risky task and rewards her with a golden coin. All summer long, Sasha works for Farit, earning more gold coins in return, and at the end of summer, Farit tells her to move to a distant village and use the gold to enroll in the Institute of Special Technologies. Sasha's not sure she wants to go, and at first, the school seems to confirm her opinion: the books are impossible to read, the lessons are frustratingly obscure, and the school uses terror and coercion to enforce student obedience. But Sasha sticks with it, and soon discovers that the potential rewards transcend space and time beyond her wildest dreams. A story of adventure, science, and magic — sometimes all at once — that will enthrall fantasy lovers.
You might also like:

Latest posts by Stephanie Perry
(see all)