Accessories are the best. We've been waiting all summer to get our scarves, boots, and gloves back out again! Bonus points if your accessories do double duty looking good AND letting the world know how much you love books. These book lovers' accessories will jazz up your fall wardrobe in a highly literary way! And since they're all under $20, you can afford to get them all.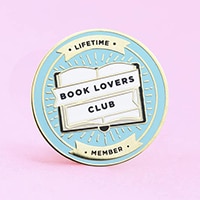 Book Lovers' Club Pin ($10)
Members only! We love this elegantly designed Book Lovers Club Lifetime Member pin, suitable for wearing on your jacket, backpack or lapel. It even comes with a super-official membership card! And at $10, it's affordable enough to treat your whole book club to one.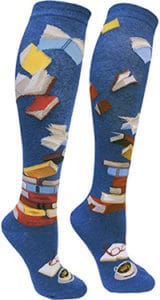 Bookshelf Socks
(Men
and Women
, $14)
These socks are an accurate representation of my house: books flying everywhere, glasses strewn about, a forgotten cup of coffee sitting on the floor. But it's much cuter in novelty sock form, trust me. With two color options and men's and women's styles, these socks are perfect for keeping your toes warm through the chilly months ahead.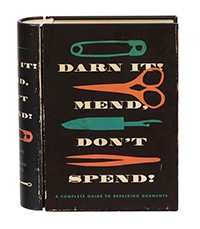 Darn It Sewing Kit ($18)
You say you've already got way too many books lying around? Well, how about a sewing kit that looks like a book? Everyone can use a handy mending kit for reattaching buttons, fixing holes or repairing hems, and with one this adorable, you'll actually want to reach for it next time you need a quick stitch.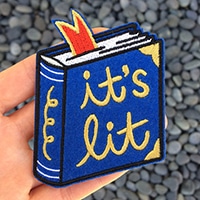 It's Lit Iron-on Patch ($8)
This one is for you Kids Today, since we understand that "lit" is the hip new way to express enthusiasm for something. And what could be more lit than… well, lit(erature)? The bold primary colors are eye-catching and will look great on your backpack, tote or hat. This Etsy store has lots of other cute patches, too, so check them out!
Book of Sticky Notes
($7)
Need some organization in your life? This "book" of sticky notes for all occasions has you covered. From shopping lists to to-do lists and flags of varying degrees of urgency, these sticky notes will help you keep track of it all. And it goes without saying that the notepad is perfect for making lists of books to read and buy!
You might also like: 

Latest posts by Stephanie Perry
(see all)