This post is sponsored by Abrams Books, as part of the Abrams Dinner Party.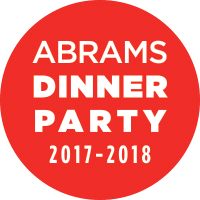 Summer's fine, I guess, if you like being sweaty and gross all the time and only eating cold food because just thinking about turning on the oven gives you heat stroke. But I'll take fall anytime: the season of sweaters and tights, cozy evenings on the couch, and baking every weekend. And here comes a parade of tasty new fall cookbooks to enable me! Whether you like to take it low and slow with all-day stews, or fire up the pressure cooker for easy weeknight meals, these cookbooks will keep you inspired until next spring. Plus, one lucky reader will win a copy of The Dinner Plan in our giveaway! Scroll down for your chance to win.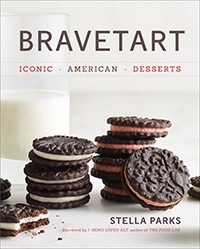 BraveTart: Iconic American Desserts

Author: Stella Parks
I love cookbooks, but rarely buy them for myself. So I was thrilled to receive this one as a gift recently. Based on the blog of the same name, this cookbook covers all kinds of classic American desserts, but author Stella Parks seems to particularly relish the challenge of replicating store-bought cookies and sweets at home. If you've ever wanted to reverse-engineer Pop Tarts, Milanos or Nilla Wafers, she'll show you how. But there are plenty of traditional desserts, too, from fudge brownies to angel food cake. You can check out many of her recipes on the blog, but the book is worth browsing through just for the mouth-watering pictures.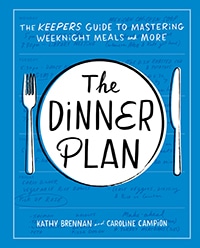 The Dinner Plan: Simple Weeknight Recipes and Strategies for Every Schedule

Authors: Kathy Brennan, Caroline Campion
Who's got time to cook? Well, you — with a little help from this smart cookbook. The authors understand that busy modern lives don't always allow for everyone to sit down and eat together every night. So they've created a collection of recipes that work for your schedule. From make-ahead breakfasts to big-batch, one-pan dinners — even versatile dishes that are good hot, room-temperature, and cold for staggered mealtimes — these are straightforward dishes that are intended to offer lots of flexible options for home cooks. See below for your chance to win this book!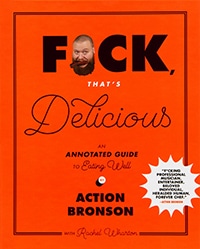 F*ck, That's Delicious: An Annotated Guide to Eating Well
(available now)
Author: Action Bronson
I never thought I'd be recipe-testing a cookbook written by a rapper, but life is full of surprises. To be fair, author Action Bronson was actually a chef first, trained at his family's restaurant and now on the third season of his show, "F*ck, That's Delicious." I can't speak for his music, but his recipes are solid: my first-ever challah loaf came out sleek, glossy, and perfectly golden-brown. We may not have much else in common, but Action and I could definitely share a dinner table.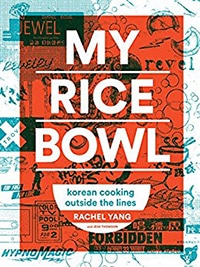 My Rice Bowl: Korean Cooking Outside the Lines
(available now)
Authors: Rachel Yang, Jess Thomson
In Seattle, Rachel Yang's restaurants — Joule, Trove, and Revel — are well-known to the eater scene. Now, she's created a Korean fusion cookbook with 75 recipes inspired from cultures all over the world. Starting with the basics, there's her kimchi recipe, but the chipotle pad thai, Korean fried chicken, and lamb curry rice bowl all sound delicious, too. With layers of flavors, culinary traditions, and cultural influences, this is a truly global take on Korean cuisine.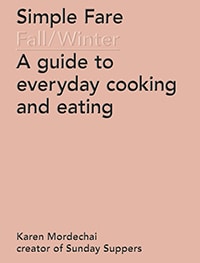 Simple Fare: Fall and Winter
(available now)
Author: Karen Mordechai
This may be the most artsy cookbook I've ever seen. It's enormous (13 inches tall!) and looks like an art book that would be right at home on your coffee table, with elegant photography and clean visuals that are minimalist and unexpected. Propping this thing up on your kitchen counter might be another story, though. The title says "simple fare," but these sophisticated recipes could easily be served at a fancy restaurant. From smoked yogurt to squid ink pasta and blistered black grapes, these substantial dishes take familiar fall flavors and elevate them to fine dining at home.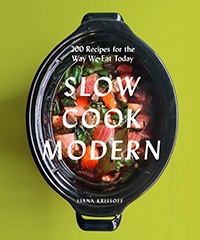 Slow Cook Modern
(available now)
Author: Liana Krissoff
What says fall more than a warm, comforting stew simmering away in the crockpot? If you've always dismissed slow cooker recipes as flavorless slurry, this book will be a revelation: you can make everything from pork ribs to chicken tikka masala to smoky collard greens and black-eyed peas. The recipes are specially formulated for working folks, with minimal morning prep and 8-hour cook times that will have you coming home to delicious dinner aromas wafting out the door. For weekend days when you're around the house, try the bone broth or dulce de leche recipes. Simple steps and pretty color photos, plus how-to techniques, make this cookbook beginner-friendly. (This also appears in our Fall 2017 Book Preview.)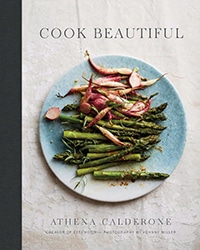 Cook Beautiful
(October 10)
Author: Athena Calderone
It's a good sign when you end up flagging half the pages in a cookbook! This is the debut cookbook by Athena Calderone, based on the blog EyeSwoon. It's based on a year's worth of recipes presented seasonally, but the fall and winter sections include plenty of tempting meals. I've got my eye on the lamb kefte with tzatziki and homemade flatbread, while the orecchiette with kale, fennel, and sausage sounds like a perfect autumn dinner — maybe with the pear and hazelnut tart for dessert! As you'd expect from a blogger, it's beautifully photographed, and there are even notes on presentation and setting a seasonal table. If you're looking for a dinner party cookbook to wow guests, this is the one to get.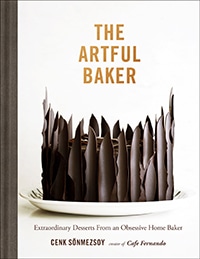 The Artful Baker: Extraordinary Desserts From an Obsessive Home Baker

Author: Cenk Sonmezsoy
I like cooking, but I LOVE baking. And I can certainly identify with anyone who describes themselves as an "obsessive home baker." This collection overflows with intriguing pairings, like the fig, thyme, and blue cheese galette, as well as indulgent fall desserts like pumpkin cheesecake. There's even a Ferrero Rocher dupe called the Fernando Rocher. With chapters on savory breads, ice cream, candies and confections, and jams and jellies, this collection truly has enough to keep even an obsessive baker busy for a long, long time. I can't wait to try them out!
Dinner in an Instant: 75 Modern Recipes for Your Pressure Cooker, Multicooker, and Instant Pot®
(October 17)
Author: Melissa Clark
Instant Pot! Instant Pot! It's all anyone can talk about anymore, and this new cookbook is here to show you even more things to do with your miraculous new kitchen gadget. It's a crockpot, pressure cooker, and rice cooker all in one, but the list of recipes goes far beyond that, with everything from coconut yogurt to osso bucco and creme brulee. Many recipes include alternate directions for pressure cooker and slow cooker settings to give you more flexibility with meal prep. And no matter whether you're paleo, vegan, vegetarian or gluten-free, this book has you covered with handy symbols by every recipe. You might as well give in and join the Instant Pot army now. (This also appears in our Fall 2017 Book Preview.)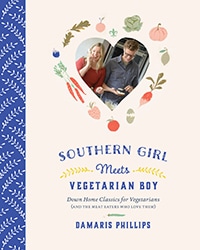 Southern Girl Meets Vegetarian Boy: Down Home Classics for Vegetarians
(October 17)
Author: Damaris Phillips
These days, it seems like everybody you know is going paleo, doing Whole 30, or has become a vegan. This cookbook aims to deliver hearty, Southern-style comfort food that won't make anyone feel like they're missing out. From beet and feta burgers with caramelized onions to cheesy baked grits and greens (not to mention the bourbon vanilla creme brulee), these are rib-sticking meals for cold fall and winter nights. I've always been suspicious of fake meats, but I have to admit that Damaris Phillips makes it all look delicious.
Giveaway!
And now, for the part you've been waiting for. One lucky winner will receive a copy of The Dinner Plan to help make those crazy weeknight meal plans come together! You can enter by doing any one of the following:
Sign up for our free weekly newsletter at

ow.ly/m40i30f2wC3

 

Leave a comment below telling us your favorite cookbook
Leave a comment on our Facebook contest post with your favorite fall recipe
One entry per person, doing any of the above gets you that entry! The contest closes on October 31, 2017, at 11:59 p.m., and we'll select a winner on November 3, 2017. Good luck — and let us know what fall cookbooks you're reading!
You might also like:
Click here to see full giveaway contest rules.

Latest posts by Stephanie Perry
(see all)