Banned Books Week 2017 is September 24-30. While books get banned for any number of reasons, it seems especially relevant for us to focus on black authors this year. It's hard to believe that less than a year ago, our first African-American president was still in office. We live in a new reality now, where it's more important than ever to stand up for free speech, embrace diversity, and resist hatred and bigotry. So, for Banned Books Week 2017, here are just a few award-winning modern classics that reflect African-American voices.
You can find many more banned books with diverse content on the ALA website, plus the top 10 challenged books of 2016 and free resources for reading, sharing and teaching banned books. After all, if people try to ban a book, it's probably worth reading!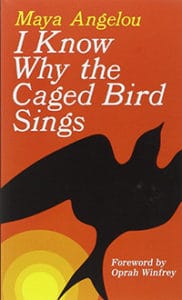 I Know Why the Caged Bird Sings

Author: Maya Angelou
This powerful memoir by Maya Angelou was published in 1969, but many of its issues still strike a chord today. Maya and her brother are sent by their mother to live with their deeply religious grandmother in a small Southern town, enduring discrimination from the "powhitetrash" and the pain of abandonment. Reunited with her mother in St. Louis, Maya is raped at eight years old by her mother's boyfriend, a deeply traumatic event that causes her to retreat deep within herself. But when a mentor introduces her to the joys of literature and writing, Maya finds happiness again — and her purpose in life.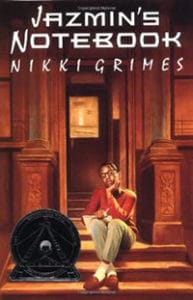 Jazmin's Notebook

Author: Nikki Grimes
In this award-winning young adult book, Jazmin Shelby is a thoughtful, creative 14-year-old in 1960s Harlem who watches her neighborhood go by from her front stoop and fills notebooks with her insightful observations. After bouncing in and out of foster homes when her alcoholic mother is institutionalized, Jazmin is taken in by her older sister Cece, who becomes her role model. She aspires to be a writer and fights for her dream of going to college. Despite the challenges in Jazmin's life, she retains a positive outlook and a determination to succeed that will inspire young readers navigating their own difficulties.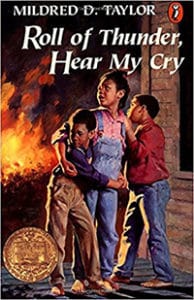 Roll of Thunder, Hear My Cry

Author: Mildred D. Taylor
This Newbery Award-winning classic is required reading in many schools, but I'd never read it until this year. Set in Depression-era Mississippi, this stand-alone book is actually the third in a five-book series about the Logan family — so if you fall in love with them and need to know how things turn out, you can! In this volume, Cassie Logan is a young, strong-willed girl who comes to understand the Logan family's deep connection to their land, and why they're unafraid to stand up against racism and violence to protect it. She also learns some hard truths about race relations in the Deep South — which, unfortunately, are still relevant today.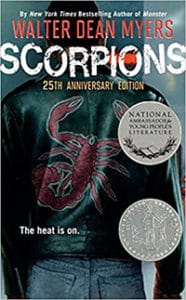 Scorpions

Author: Walter Dean Myers
Poverty, violence, and gangs are the main themes in this Newbery Honor Book. Jamal Hicks is having a hard time in school: he's being harassed by a bully and nagged by the principal. Home life is difficult, too — his mother works day and night to earn money for a legal appeal for Jamal's older brother, who's in jail. Jamal wants to help earn money by working, but he's afraid of defying the Scorpions, the Harlem gang who rules his neighborhood. The more Jamal gets enmeshed with the Scorpions, the harder it seems to ever escape their clutches. Can he get free of the gang life and break the cycle?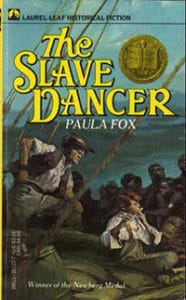 The Slave Dancer

Author: Paula Fox
In this Newbery Medal book, 13-year-old Jessie Bollier is a young musician who plays his fife for coins on New Orleans' docks. One night, he's knocked out and kidnapped onto a slave ship, headed to Africa. The boat is filled with nearly a hundred men, women, and children — and Jessie's job is to play music for the slaves to dance to, so they can exercise and stay strong for the slave market. During the long voyage, Jessie becomes disgusted and horrified with the cruelty he sees, but there's one final, brutal moment that will change his life forever. A sobering reminder of the evils of slavery, and how its toxic effects on American society persist over a century after its abolishment.
You might also like:

Latest posts by Stephanie Perry
(see all)