No more candy, no more hearts, lots of anti-Valentine's Day reading charts!
If you're the kind of person who knocks heart-shaped boxes of chocolates out of little old ladies' hands and hisses when confronted with a teddy bear holding silk roses, have we got the anti-valentine's day reading list for you! Each of these heart-chilling selections is guaranteed to confirm your darkest suspicions about human nature and is perfect for reading blissfully alone, by the light of a flaming Hallmark-card bonfire.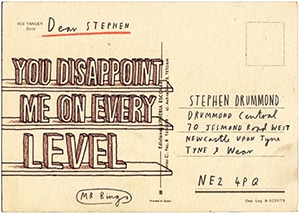 Author: Mr Bingo
This charming little art book is the result of UK illustrator Mr. Bingo's 2011 "hate mail" project: send him £20 plus postage (cheapskate!) and he'll send you a vintage postcard with a personal, illustrated insult! It could be anything from a simple "I hate you" to a drawing of a dog pooping out a filthy phrase (literally). Do a Google Images search for "mr bingo hate mail" to see what we're talking about here. If this is the sort of thing that warms your bitter, greasy little heart, then you'd better get yourself a copy for anti-valentine's day. Because let's face it, nobody likes you enough to buy a copy of it for you.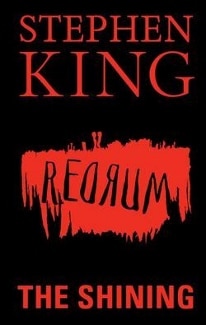 Author: Stephen King
Or maybe romance is more your thing!  What could be more romantic than cozying up in a big old hotel with your loved ones while winter rages outside?  Sounds idyllic, doesn't it? Fortunately for us, however, Stephen King wrote this book and this is no sappy, fairy tale romance.  Jack Torrance is a writer with a foul temper and an alcohol problem.  Hoping to jump start his career and spend some quality time with his family, he takes a job as a caretaker at a big, beautiful, haunted (presumably not listed on the job application) hotel in the mountains.  Socked in by the snow, tormented by the hotel and driven by his demons, Jack slowly loses it as his wife watches in horror and his son is enveloped by the haunted hallways.  The Shining is one of King's earliest, and scariest, novels.  It's filled with dysfunctional family dynamics, creepy and disturbing supernatural events, and (my personal favorite) homicidal hedge animals.  Take that, Valentine.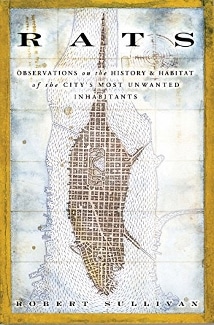 Author: Robert Sullivan
Maybe you dated a rat or you may have married (and divorced) one.  You might consider yourself a rat expert.  But if you want to know more about real rats – the filthy, disease-ridden, disgusting rodent rats – I've got a fun book for you, aptly entitled Rats. With enthusiasm and a sturdy pair of rubber gloves, author Robert Sullivan spends a year getting to know the rats of lower Manhattan, sharing much rat history, biology and behavior along the way.  As much a part of urban life as the taxi cab or the park bench, rats are as fascinating as they are repellent and this book is sure to give you some new respect for these tenacious creatures.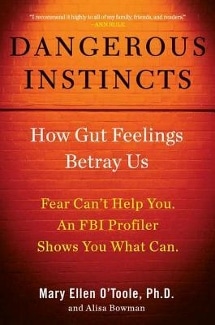 Authors: Mary Ellen O'Toole and Alisa Bowman
If you've recently gone through a breakup, then you know exactly how evil people are — especially your ex. But how could you have been fooled into liking that awful person to begin with? Everyone wants to think they're a good judge of character, but many of us, through no fault of our own, just aren't. Trusting people and wanting to believe the best of others are good qualities, but can lead to unsafe or poorly-thought-out decisions. Former FBI profiler Mary Ellen O'Toole has no illusions about humanity, and will teach you her pro tips for getting to the bottom of who you can rely on (nobody) and who you should be deeply suspicious of (everyone besides you). If you've lost confidence in your ability to sniff out the jerks, or you wish you had a script to follow for dangerous or high-pressure situations, this book can help you assess your risk and plan a logical response. If that means burning everything your ex ever gave you — on his/her front lawn — then at least it'll be an anti-valentine's day to remember. Read our full review for more.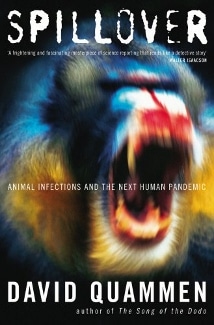 Author: David Quammen
There's no denying that humans are social creatures.  Whether you're into big crowds or simply prefer quiet time with your loved ones, most people like to spend time with others.  But humanity's endless social activities have at least one major downside (in addition to people being horrible – see above).  Dreadful contagious diseases.  Sometimes they're nasty enough to kill millions of people and some experts fear that future pandemics could threaten the very existence of the human species.  In Spillover, acclaimed science journalist David Quammen travels the globe to explore this topic in fascinating detail.  Exhaustively researched, engagingly written and frequently terrifying, this book is guaranteed to prompt you to wash your hands more and it may freak you out enough to convince you to stay in next Saturday night.  You can read our full review for more.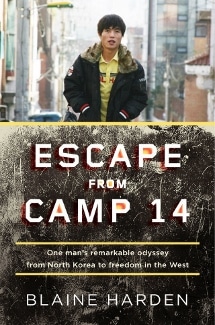 Author: Blaine Harden
If you really want to stoke your anti-valentine's misanthropy, nonfiction about North Korea will crush any fuzzy thoughts about the better side of human nature. Escape from Camp 14 is the shocking story of Shin Dong-hyuk, one of the very, very few people to successfully escape from a North Korean prison camp. Between 150,000 and 200,000 people are kept in the totalitarian regime's political prison camps, for crimes ranging from criticizing the government to getting caught trying to flee the country. Favored prisoners are sometimes granted a spouse in exchange for good behavior, and this leads to children like Shin being born and raised in the camps. Growing up in an environment of distrust, beatings, and starvation, the children learn to eavesdrop on their own parents in the hopes of receiving extra food for snitching. When Shin overhears his mother and brother plotting an escape attempt, he informs on them without hesitating. Even when his act leads to their execution, plus torture for him and his father, Shin merely resents his mother and brother for causing so much suffering. After his nail-biting, nerve-wracking escape, Shin struggles to adjust to Western society, and admits that he has trouble feeling appropriate emotions and living normally. Shin now feels remorse and guilt for having betrayed his family, but believes that the story of North Korea's prison camps is such an important human rights issue that it needs to be told.
Love is in the air!  And that air is toxic and choking the life out of everything it touches.  In Flynn's bestseller, perfect couple Nick and Amy have fallen on some (relatively) hard times as they approach their fifth wedding anniversary.  They've moved from bustling New York City and satisfying jobs to Nick's small Missouri hometown, where he and his sister run a bar and grieve their recently deceased mother.  That's a big change for beautiful and charming Amy.  Now, on the very day they were to celebrate their big milestone, Amy has disappeared. It looks like foul play and as these things often go, Nick is the prime suspect.  Flynn weaves a wickedly masterful tale of love, hate, intrigue and how you should never, ever judge a book (or a romance) by its cover.  If ever you've silently hated that flawless couple you pass on the street, this is the perfect book for some fictional anti-valentine's schadenfreude.  You can read our full review for more.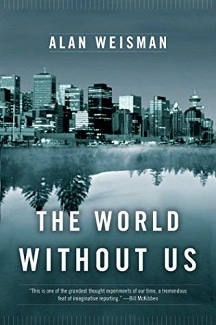 Author: Alan Weisman
So some horrific virus spreads from the ubiquitous rats to the hapless humans, resulting in the sudden extinction of Homo sapiens.  What's next?  In The World Without Us, journalist Alan Weisman considers just that.  What would happen if humankind up and vanished?  He describes how Mother Nature facilitates the rapid decay of our cities and towns and in rather short order there's hardly a sign of us left.  Things like bronze and radiation will last a long time, but by the end of the book it almost seems like the Earth's just patiently waiting for us to leave.  Truly sobering at times, the book is an imaginative and well written exploration of a future that none of us will ever see.  For the true misanthrope, it's the best anti-Valentine's gift of all.
Not feeling quite so Valengrumpy?  Take a look at our 6 Great Romance Novels list!
Image by parthrpatel800 from Pixabay

Latest posts by Sue Millinocket
(see all)