An Interview and Book Recommendations with Debut Author Laura Bird
It's a really exciting day when one of our own publishes her first book. We're so excited to talk with Laura Bird about her delightful middle grade novel, Crossing the Pressure Line. Her story is set in the North Woods of Wisconsin, a place I grew up visiting. Spending a summer with her young heroine was like visiting parts of my own childhood, but with someone much more courageous and determined!
I know Laura well. We live in the same city in addition to sharing a love of Northern Wisconsin. It is such a unique joy to see parts of your own world written into a book populated by new people and a new story. I could close my eyes and see her characters gathering in places I know like the back of my hand.
When Laura told us she was going to be publishing her first novel, we were all excited for her but not surprised. I don't know anyone who loves books more than Laura Bird. That she would find a way to express that love through a story seems like the most natural thing in the world.
It was a pleasure to read Crossing the Pressure Line and I could not be happier to introduce you all to this wonderful friend, reader, and author.
~~~~~~~~~~~
Where did your idea for Clare, the main character in Crossing the Pressure Line?
About 15 years ago, an image flew into my head from out of nowhere. The image was of a tween girl. She was wearing something intriguing,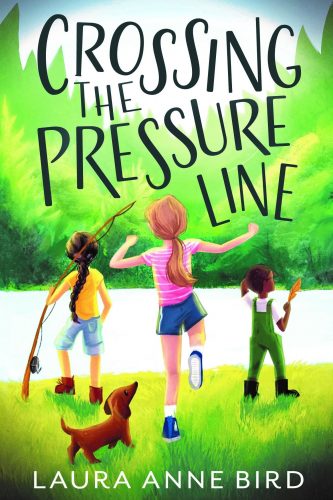 and she was pushing open the door of a very specific place. (No spoilers here!) I immediately wondered, Who is this brave little person? What in her life has brought her here? Ultimately, the girl became my main character of Clare Burch, and the scene became the closing moment of my book.
I developed the details of Clare's story over many years while raising my three kids, who are now teenagers. All the hours I spent making their lunches and folding laundry, I thought about Clare. Invariably, I would end up jotting down frantic notes in my phone or on any scrap of paper I could find. I can't believe I was able to piece it all together.
Talk about the meaning/significance of the pressure line.
When my now-husband and I were dating many years ago, we took our first road trip together to northern Wisconsin. Cruising up Highway 51, just past Tomahawk, he rolled all the windows down and yelled, "Laura, we're crossing the pressure line!" I had no idea what he was talking about. Certainly, the four-lane highway tapered to two, and the trees transitioned from primarily deciduous to coniferous, but he kept on hollering. "Feel it? There's more oxygen in the air! Soak it up!" The funny thing is, I believed him, because somehow—magically—it felt easier to breathe.
I fell in love with this idea of crossing from one thing into another—a different place, a different season, a different mindset. I became so enamored of the pressure line that my husband's words became the voice of Grandpa Anthony, who says the very same things to Clare on their drive from Chicago to fictional Alwyn.
Where did you write Crossing the Pressure Line?
I wrote the majority of my book at a local coffee shop, in my favorite spot in the corner. The white noise of people chatting and baristas frothing milk has always centered me, so it was a very conducive environment. Admittedly, I spent so much time there, I began to imagine the seat of the wooden chair molding itself to my backside.
After the pandemic hit, working at the coffee shop for hours on end was no longer a realistic option for me, which meant I had to finish all my revising and editing work at home, right at my kitchen table. I have no office or desk, so it was a challenge to stay focused, especially when my three kids did online school last year. There was always somebody coming in to ask me what was for dinner or if we had any applesauce. It's a miracle I got anything done.
How did your own life influence Crossing the Pressure Line?

There are so many bits and pieces of my own life woven into Crossing the Pressure Line. Three things come to mind.
Roger, Clare's little blind dachshund, is modeled after Lucy Rae, my own little blind dachshund. I'm obsessed with watching her navigate the world so skillfully, despite not being able to see. She has no clue that she's "handicapped"—she simply uses her other senses to get by. This is a big theme that's woven into my book.
When Clare arrives in Alwyn for the summer, she makes two new friends. We learn offhandedly that Lola and Theo Porter were adopted from South Korea and Ethiopia by their two moms. It's not a big deal—it's just the way their family is. My husband and I adopted our kids from China and South Korea, so I definitely drew on that experience.
Finally, just like Clare, I have a strong connection to the outdoors. I love biking through the woods, swimming in the lake, and observing wildlife. She's my soul sister in that way: we've both watched a mama otter playing with her babies—and we've both run into a bear on a remote trail and couldn't remember what we were supposed to do.
I'd also like to touch on the transition from interviewer to interviewee. How does it feel to be on the other side of the desk as a Readers Lane contributor?
Contributing to Readers Lane over the last five or six years has brought me immense joy and satisfaction. I love writing reviews and author spotlights because books mean everything to me. I can't fathom a world where I'm not thinking about what I just read, what I'm currently reading, or what I'm planning to read next.
Considering this obsession, it feels right and good that I've written and published something of my own. This has been my life goal for as long as I can remember, so I'm deeply thankful for the opportunity to go from interviewer to interviewee—for a few minutes, anyway.
Tell us about middle grade fiction as a genre.
Middle grade novels are geared toward kids who are eight- to twelve-years-old. At this age, readers have outgrown basic chapter books, but they aren't ready for the heady territory of young adult fiction. Middle grade novels don't shy away from big subjects or themes, but there's still an innocence to them, which typically means no swear words or sex.
I acutely remember the push-and-pull of those middle grade years, and I've also watched my own kids go through them. You want to feel independent, but you still want the comfort and reassurance of your family. You want to stand out from the crowd, but you still want to fit in. It's like playing a game of tug of war with yourself.
Do you have any specific recommendations of middle grade fiction that adults will love?    
I'm confident that adults who read middle grade fiction will find comfort and hope in the stories. Some are funny, while others are touching or even tragic, but woven through all of them is a reassurance that kids will find their way. Middle grade fiction reminds readers that they are resilient and have agency in a world that can sometimes feel scary and overwhelming. What adult doesn't benefit from hearing this message?
My favorite contemporary middle grade authors include Katherine Applegate, Kate DiCamillo, Kevin Henkes, Celia C. Pérez, and Brenda Woods, but I've got four fabulous recommendations from other writers that will knock your socks off.
The Remarkable Journey of Coyote Sunrise by Dan Gemeinhart
Twelve-year-old Coyote and her dad, Rodeo, have been crisscrossing the country in an old school bus for five years. Why? After losing her mom and two sisters in a car accident, Coyote basically fell apart—and so did Rodeo. Now, as Coyote tries to get her dad to drive 3,600 miles back to Washington state so she can dig up a buried memory box, she learns what "home" really means. Adults will love the ragtag travelers that climb aboard Coyote's bus, and they'll find themselves laughing and crying at the same time, page after page.
The Deepest Breath by Meg Grehan
Written in lovely free-verse, Grehan's middle grade novel centers on 11-year-old Stevie, who develops a crush on her classmate Chloe. Should she tell her mom about these fizzy new feelings? What do they mean about her identity and her future? Stevie is thoughtful, brainy, and tender, and her story of courage and self-acceptance is nothing short of miraculous. The Deepest Breath is perfect for kids struggling to figure out who they are—and for adults who need a reminder of how excruciating and wondrous it is to be a tween.
Ghost by Jason Reynolds
Jason Reynolds is a middle grade god. Ghost is the first book in his Track series, which focuses on a fast and fiery group of kids (Ghost, Patina, Sunny, and Lu) who have a shot at going to the Junior Olympics. Castle Cranshaw, the main character of Ghost, has a ton of natural talent, but he also struggles with anger, which makes for an explosive combination. (Ultimately, we learn that his rage stems from an act of domestic violence he witnessed as a little boy.) Reynolds offers adults a humbling and heartfelt reminder that our actions as parents go a long way.
Front Desk by Kelly Yang
Ten-year-old Mia manages the front desk of the Calivista Motel (just five miles away from Disneyland) while her parents, who are Chinese immigrants, clean the rooms. Yang's swiftly moving Front Desk shines a light on life in America for people of color and for those living in poverty. Heavy themes are braided into the story, but Mia is feisty as she fights injustice, which lends the book a lightness and warmth. Adult readers will admire Mia for her creativity while at the same time strengthening their own capacity for empathy and kindness.

Latest posts by Sue Millinocket
(see all)