Gumshoe Ghost Series Premier
Author: T.J. O'Connor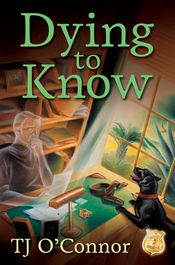 I do love a good haunting.  And while I generally look for my hauntings to be scary, I'm okay with a friendly ghost now and then.  In author T.J. O'Connor's debut novel, Dying to Know, we get a protagonist who is definitely on the wrong side of dead.
Oliver Tucker – known to virtually everyone as Tuck – is a police officer in Winchester, Virginia.  After a long day investigating a possibly mob related murder he comes home to his history professor wife, Angela, and is shortly thereafter murdered.  No spoilers – this happens in the first chapter.  Yet the book is told in the third person from Tucks perspective.  Dead men do tell tales.
We get two things in Dying to Know.  First we have Tuck dealing with being dead – and it isn't an easy transition.  He's confused, doesn't have much control and is naturally quite pissed at having been murdered.  Second, we have the mystery – who killed our protagonist?  Naturally the two weave together as Tuck gets involved in the investigation of his own death.  He doesn't know why he's still hanging around, but he's mad and wants answers.  As he figures out how to operate in his ghostly state, he figures out ways to do just that.
The book proceeds with both Ghost Tuck and the ever more dangerous and complicated situation that led to his death.  Author O'Connor has some good basic premises in Dying to Know (the first book in the Gumshoe Ghost series), including the details of what Tuck experiences as a ghost, including a new kind of relationship with his wife and partner.  There are also kernels of a strong murder mystery with some interesting twists and turns and suitably complex peripheral characters who may be good guy, bad guys or a combination of both.
O'Connor gets a little lost in his own red herrings, however, making the book more confusing than it needs to be.  It gets a little
hard to keep track of how the characters are connected as we jump around between Tuck's supernatural experiences, current crimes, local politics and historical events.  Several of the subplots could have been removed and left more time for examining the quite interesting events directly surrounding Tuck's death and his experiences in the aftermath.
Overall, though, Dying to Know is a pretty good start to a series.  Tuck, Angela and Bear (Tuck's partner) are a solid set of characters with plenty of room to grow and O'Connor does a really nice job creating an interesting ghost world for Tuck.  The mystery is decent if not spectacular and I suspect he will get out of his own way in future installments and give his strengths more space, focusing tighter on the situation at hand without feeling the need to add filler.  A promising start for T.J. O'Connor and his Gumshoe Ghost series.  3 stars out of 5 and a recommendation based on good characters and a potentially interesting future for the series.
— S. Millinocket
Thanks to Maryglenn McCombs for providing the review copy of Dying to Know
red herring photo by Lupo
[AMAZONPRODUCTS asin="0738739502″]

Latest posts by Sue Millinocket
(see all)