Perfectly Predictable
Author: Sarah Strohmeyer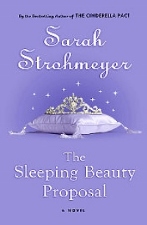 Sometimes, I need Chick Lit.  A little romance, some fairy tale situations, perhaps a sprinkling of decent sex.  Variety, as they say, is the spice of life, and I love mixing up my genres and diving into something really girly.  Sarah Strohmeyer's The Sleeping Beauty Proposal fit my requirements for a light summer read to a T.
The Sleeping Beauty Proposal finds us in the company of one Ms. Eugenia Michaels.  Genie, as she is known, is an admissions officer at a small, prestigious, fictional college in Massachusetts.  She is one of three children, in her thirties and – gasp! – not married.  Not that she has no man in her life, for she most certainly does, in the form of British hottie (and newly famous author) Hugh Spencer.  They've been together for four years and counting.  Sure, Genie wonders when he might deign to propose, but she isn't one of those women, she doesn't need a piece of paper to tell her he loves her.
Well, at least until he tells her he doesn't.  Not directly, mind you, but in a weasel-like, cowardly way that makes us hate him instantly (though we pretty much already did just from her description).  From there we jump with Genie onto the crazy train as she deals with the aftermath of her humiliation by, well, lying about it.  With the help of her best friend, the loud and obnoxious Patty Pugliese, Genie is simply going to bluff her way through an engagement that does not exist.  No one ever said Genie was completely rational, but who would be in her situation?
Sarah Strohmeyer made me laugh twice in the first chapter of The Sleeping Beauty Proposal.  That may be some sort of record for Chick Lit.  Genie isn't really the sassy type, but Strohmeyer is, and we get to know the real Genie, not the demure façade she presents to the world.  We also get to meet her brother, sister and brother-in-law and crazy parents.  Along with Patty, this makes for a fine cast of characters.  Of course, there's also the simpering Hugh to give us someone to loathe and the conveniently gorgeous new "friend" Nick to add some spice to the proceedings.
The story moves along at a good clip and I found myself very entertained despite the plot being absolutely predictable from beginning to end (though Strohmeyer did manage to get me with a few minor twists I didn't see coming).  The writing is witty and silly and just plain fun.  The story bogs down just a little in the middle, but picks right back up as this train wreck nears its destination.
Overall The Sleeping Beauty Proposal is a funny, light, fluffy book with a few things to say about society's treatment of single women, but mostly things to say about romantic revenge, best friends and examining your own butt for moles.  In short, a perfect summer beach read.  4 stars out of 5 and a recommendation for anyone in the mood for a little sassy Chick Lit.
– S. Millinocket

Latest posts by Sue Millinocket
(see all)