Loggers No Match for Serena
Author: Ron Rash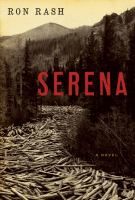 Historical fiction is always more fun when I have a connection with the location of the story.  Having spent several summer vacations in and around Asheville, North Carolina, the events in Ron Rash's Serena felt almost familiar.  Olde tymey, but still familiar.
Serena is the story of Serena Pemberton.  We meet Serena as she arrives at the train station with her new husband, George (though we only ever see him referred to as Pemberton).  Meeting them there are his business partners… and a very pregnant young girl accompanied by her very angry father.  Right away we understand that Mr.Pemberton is a big shot who does what he pleases.  We also understand that Serena seriously gets off on his power and will have no trouble claiming it as her own.  From the station they head directly to the logging camp where the Mister's company is busily clean cutting the virgin North Carolina hardwood forests.
Set in a depression era logging camp, Serena gives us a world where there are more men than jobs and putting food on the table takes high precedence over the newly emerging conservation movement.  That people like the Pembertons are living like kings while their workers are paid almost nothing, treated appallingly and often killed simply for lack of basic observation of humane working conditions are all outweighed by the single fact that they have jobs available when no one else has anything to offer.
Rash never tries to make Serena warm or cuddly.  She is a strong, independent woman in a man's world who isn't afraid to use the resources and power available to her through her husband.  We get a warmer character in Rachel, the unfortunate young woman who bears Pemberton's child out of wedlock.  It is she who, along with one of the logging crews, embodies the spirit of the Great Smoky Mountain forests.  It is they who, through their observations of the Pemberton lifestyle and businesses, set up the central conflict between the haves and the have-nots that frames the story of Serena and her unflinching pursuit of her goals.
Serena as a person is confident, distant and ruthless.  We know little about her past and learn about her only through her actions.  Rash contrasts her with her husband, who we increasingly come to know as a weak, ineffectual leader whose morals are far too strongly informed by his penis.  Their personalities are mirrored by the bleak, ugly destruction their business leaves behind as they strip the forest of trees, foul the water and leave it lifeless and ruined.  The mountain characters, Rachel and the loggers, are tied to that same land in a far different way.  It has for generations sustained them and their way of life.  They all see and participate in the devastation with a sad resignation – their way of life will be sacrificed so that they can survive the depression.  They cannot afford the luxury of imagining what happens to them once the trees are gone and the rich move on to other land.  The careful interactions of the mountain people with the Pembertons shows just how strongly those with resources controlled those without.  The book is narrated in the third person in turns by Pemberton, the logging crew, Rachel, and occasionally Serena herself.  It works well to set up the dynamics of all the various relationships and how the central character of Serena is seen by others as we move through time.
I enjoyed Serena on several levels.  It's an interesting look at a time when the logging industry was shortsighted and the conservation movement was but a twinkle in the eyes of a few politicians and forward thinking citizens.  It's also a very well written character study of not only a lethally determined woman, but those unfortunates she left in her wake as well.  Finally, it's a portrait of the North Carolina forests – the beauty that was destroyed and the preservation of what remained.  4 stars out of 5 and a recommendation for historical fiction lovers, those who appreciate a character with dubious morals and anyone who has spent time in the Smoky Mountains.
— S. Millinocket

Latest posts by Sue Millinocket
(see all)