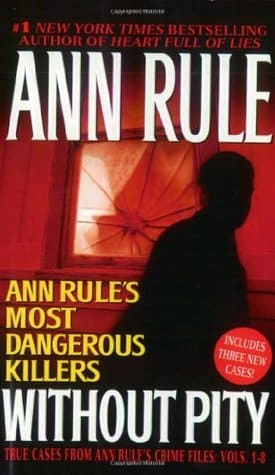 12 Gripping True Crime Stories
Author: Ann Rule
Without Pity is a collection of 12 true crime stories, each focusing on a murderer hidden in plain sight, under the guise of a friend or kindly neighbor, an innocuous do-gooder with an ulterior motive. In this volume, Rule curates nine stories from previous volumes (and provides timely updates on each), grouped around this theme of goodness underpinned by a hidden evil. Without Pity also contains three new stories.
While many of Rule's fans are less than happy with a "new" volume that mostly contains old material, I came to Without Pity as a recently minted true crime reader, having only encountered Rule in The I-5 Killer (an amazing book) and Green River, Running Red (a rambling epic that mostly forgets to get to the crime bit). This was my first time meeting Rule in a shorter form, and I was dubious about her ability to transition from book length to essay length. I was wrong. Without Pity is a fantastic edition for new fans who want to sample some of true crime's most sinister (and sordid) stories in a captivating set of gory snippets.
Rule has a fictional way of writing here, bringing readers back to the time and place where the crimes first happened, giving the events a present tense feeling, immersing the reader, and tantalizing us with the mystery and gradual unveiling. The grim reality – the trueness – of these tales is never lost though, and Rule merges fact and speculation into a well rounded look at lurking evil and famous cases. It's chilling, all together horribly morbid, and yet addictive. This book is true crime at its best and most powerful.
Each of the stories has a brief introduction where Rule explains why this particular crime has stuck with her, why it ranks among the personal worst she has seen. We have stranger danger, weird setups, obsession and betrayal, mental instability, and scheming spouses, to name a few. Each story is engaging, with the most haunting telling the story of a man who murders his family and then himself. There is power in the telling, pathos for those left behind, and turns of phrases that put us into the investigation and the courtroom of the mind. Some stories have answers – some do not. All of the stories are powerful, brutal and beautifully written, and all of them are ultimately sad and disturbing. I highly recommend this as a starting point for readers who want to suss out the true crime genera. Despite my disappointing run in with Green River, Running Red, this collection has lured me back to Ann Rule and reminded me of her power as a story teller.
– Frances Carden
Follow my reviews on Twitter at: https://twitter.com/xombie_mistress
Follow my reviews on Facebook at: https://www.facebook.com/FrancesReviews

Latest posts by Frances Carden
(see all)