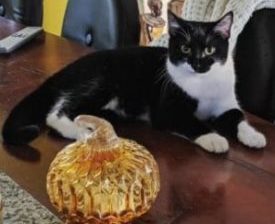 With fall here, pumpkin spice everything in the store (and our collective houses – see my foster kitty Domino getting in the Halloween mood), and spooky time pending, it's time to put away those beach readers and grab a handful of cozies, a nice warm blanket, a purring feline friend, and all the hot coffees you could want. After all, it's a season, with its early evenings and that little chilly bite in the air, that demands some serious reading. So, let the lists begin!
(Includes Death of a Tart, Death of a Trickster, and Death of a Turkey)
Author: Kate Borden
The Peggy Jean Turner trio are the perfect cozy mysteries for fall. It starts with Death of a Tart and then jaunts from the beginning of fall into Thanksgiving and Halloween in the following two books. The dastardly deeds of murder and amateur sleuthing are centered on the quaint little New England town of Cobb's Landing, which in book one is thinking about going back to its colonial roots (for a bigger sampling of the tourist biz that is).
Peggy Jean Turner, single mother, recovering widow, and past mayor runs the show. She's a relatable and empathetic sleuth and the mysteries are complex and well thought out. More importantly, the books vibrate with a sense of place and timing, the swing of the season and the colors and sounds of a New England fall interspersed with friendships and the daily activities that make up a life well spent. Once you read Death of a Tart, you'll immediately start on the next in the series, and the next, and just as fall sunsets into winter you'll be missing Peggy Jean and wishing this series was longer.
Author: Joanne Fluke
Long before Hallmark got their claws into Joanne Fluke's extremely long Hannah Swenson series, there was this little known but soon rapidly loved book. It starts with the Cookie Jar, a quaint shop in an out-of-the-way Minnesota town with residents addicted to chocolate and air punctuated by fresh baking and aromatic coffee. In this shop is our frizzy red-head baker, Hannah, who will soon steal our hearts and make even us non-bakers want to try a recipe or two. Little does Hannah suspect that her genial life of friends and family is soon to get fuller, both with some romance and some early morning murder. With the tables turning and the steaks high, Hannah soon becomes embroiled in something that could take away her cozy life as she knows it. But can she really let go of justice so easily? Perk the coffee pot and grab some cookies, because this is the perfect sweater weather, sitting on the porch read.
Author: Laura Levine
Jaine Austen is one of the most hilarious, lovable, self-depreciating characters you've met in a long time. One little sojourn with Jaine, her ill-tempered kitty named Prozac, her ever scheming next door neighbor Lance, and her out-of-touch mother with the shopping channel addiction, and you're sure to be crying with laughter and turning pages late into the night. Jaine's first Halloween adventure is no exception. It's got ill-begotten romance and some skeletons in the closet. Add in a creepy old house, a Hollywood has been monster mom (named Cryptessa), a killer wearing an ape suit, and Jaine at the top of the police's most wanted list and you have enough sleuthing interspersed with screwball comedy to keep Jaine temporarily employed (until she goes back to making up more jingles for her main client, Tolietmasters).
Author: Connie Feddersen
Ok – so it's at the tail end of a series. Hear me out – you want to read it out of order anyway and guess what, I started the series here too, last Fall. Quite possibly because, you know, pumpkins. Amanda Hazard, CPA, wife of the local law, and long-time pseudo-detective with a hankering for danger and a penchant for sussing out trouble has found yet another corpse, this time sprawled in what was once a cozy little pumpkin patch. Despite being pregnant, and under the watchful eye of her husband, last name Thorn, she sees the upcoming town Halloween bash as the perfect time to get some suspects to dish about that dead body. Cue more danger and shenanigans.
This little series, while it sometimes puts some credibility on the line, is none-the-less fun, romantic, and tongue and cheek. What's more perfect for fall than a little pumpkin patch violence? Don't be surprised if you start buying up the rest of the series afterwards and start at the beginning to follow Thorn and Hazard's seemingly not-meant-to-be romance.
Author: Louise Penny
If you haven't encountered Louise Penny yet, then you are missing the holy grail of both mystery novels and cozy mysteries. Let me explain: deep in the out of the way Quebec village of Three Pines lies a hubbub of aromatic gourmet meals at the antique inn, colorful characters who weave patterns in one another's lives, the soft settling of new snow and the glorious transformation of seasons, and then, the darkness of the human psyche. This darkness is where Chief Inspector Armand Gamache and his team of investigators comes into play. In the first book in this ongoing, absolutely charming series, a dead body in the woods could mean hunting accident . . .  or long awaited revenge. As Gamache and his team comb the woods and meet the residents, they find a certain peace and tranquility in the little village, and Penny uses her talent to bring her characters alive, to introspect on the human condition, and to weave a tale that's just plain good. Like a bag of potato chips, trying one Penny novel will rapidly lead you to settling in with the perfect blanket to indulge in the rest of the series.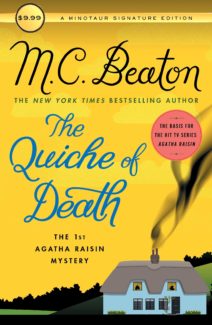 Author: M.C. Beaton
If you like your cozy mysteries with a big bite of humor, look no farther than the acerbic but lovably outlandish Agatha Raisin. Recently, regrettably retired, Agatha has made her way from the rapid pace world of her London PR firm into a quiet little Cotswold village. Only, life doesn't often stay quit when sharp tongued Agatha is around and her entry into the local baking contest (hint, hint, poor Aggie didn't bake it) leaves the lady who snubs her entry stone cold dead. Now Agatha must clear her name, catch a killer, and get a little more embroiled into her cozy little village where, finally, she might make some friends. With a lot of laughs from a heroine who is both tough and oddly self-conscious, Beaton is sure to pull readers in, and even if Agatha doesn't appreciate her village, we soon will!
Author: Cleo Coyle
The Coffeehouse Mysteries, another long running series, remains one of my favorite cozy mysteries. Taking place in the high energy bustle of coffee mad Manhattan, the series follows Clare Cosi, her philandering ex-husband, spunky daughter, and the coffee house she inherited from her still very much around (and very energetic) ex-mother-in-law. Despite the odd relationship dynamics, everything is working out fine in book one as Clare emerges from her suburban life to claim the historic coffee house. But, there is always a glitch in the mission, and this time the assistant manager ends up murdered not even a week in to Clare's new reign. Intriguing, and attractive NYPD Detective Mike Quinn finds nothing amiss but Clare suspects there is more to the death than meets the eye. And thus begins a series with a little of everything: good food, good coffee, romance, mischief, mystery, and of course, murder served hot.
Author: Agatha Christie
What cozy mystery list is complete without a little Agatha Christie and, my personal favorite, Miss Marple. This sprightly, slightly morbid older lady is no stranger to the desires and the darkness of the human heart and when Colonel and Mrs. Bantry discover a dead body in their swank library, only Miss Marple can unravel the possibilities. Everyone is a suspect: the girl's professional dancing partner, her wealthy benefactor, her benefactor's financially ruined relatives, a local film star known to have dealings with the girl, a nervous young man with a crush, and even the possibility of a violent man looking for the thrill of the perfect murder. When a missing car turns up with another charred body, it begins to look as though a maniac is on the loose.  The police remain overwhelmed with possibilities that just don't match the evidence, and Miss Marple predicts that the murders have only just started. Of course, Miss Marple always knows and this crafty old sleuth is never baffled. So pull out your library books, lock your doors, and dig in.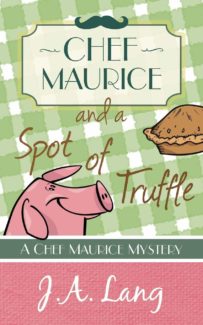 Chef Maurice and a Spot of Truffle
Author: J.A. Lang
It's back to the Cotswolds, a cozy-lovers favorite geographic location, for some village intrigue, a cute micro pig, a Poirot-esque chef, and a dash of murder most foul. Suitably enough, this first mystery in the thus far three book series starts in the Fall with Chef Maurice searching for some mushrooms only to find his trusty supplier (the generally despicable Ollie Meadows) missing in action. Chef Maurice, eccentric gastronome and restaurateur, decides to take measures into his own pudgy hands – he's not missing a delivery, especially if all that's between him and his gastric delights is just a tad of B&E. When he finds some rare, obviously locally grown truffles when he enters Ollie's home, however, Maurice decides to hit the woods himself with his Aston Martin driving friend, Arthur. But first, to pick up a truffle dog or, as the case may be, a micro-pig. But the truffle business is about to take a dive when the pig unearths more than truffles. With a dead body in the woods, it's obvious that the stakes of a well catered meal have just gone up. Can Maurice find the killer and the truffles before the gourmet business takes a dive?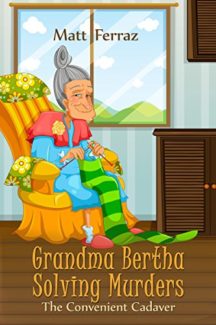 Grandma Bertha Solving Murders: The Convenient Cadaver
Author: Matt Ferraz
With fall in the air and pumpkin-spice everything on the shelves, it's a good season to cuddle up with a kitty or two and indulge in a cozy mystery. The first in the Grandma Bertha Solving Mysteries Series, The Convenient Cadaver pits a quirky old lady with a love for horror movies and a penchant for beer at any time of the day, against a conniving killer. What ensues is a romp that is eccentric, hilarious, and tense, all at the same time, giving readers that essential dose of cozy alongside some daring shenanigans propagated by a witty protagonist. It's basically beer, horror movies, and old lace . . . and it starts with a schmoozefest interrupted by a back alley murder.

Latest posts by Frances Carden
(see all)