Snowy Days and Cozy Mysteries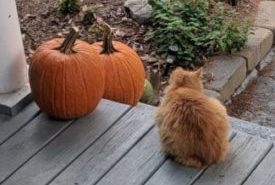 Garfield, the little feral cat who demands food, isn't ready to let go of autumn and is trying very hard to be a pumpkin. Today he is our Cozy Mysteries Mascot.
As we move from the deluge of colorful leaves into bare branches against snowy skies, our cozy game is strong. Here are ten mysteries to keep you gumshoeing as fall gives over to winter and winter over to all things cozy – cocoa and killer hijinks and sleuths with attitude.
Author: Dawn Lee McKenna
Taking a break from all things New England, Dawn Lee McKenna's Low Tide has us out on the Florida coasts where thunderstorms and oysters are the cozy order of the day, with a salt tinted breeze ruffling the tumbled life of Lt. Maggie Redmond. Maggie has to deal with her ex-husband and their painful divorce, her newfound love interest (key – her boss), the suicide of a long lost man from the past whose memory still has her waking up clutching for her gun, and a drug dealer's desperate girlfriend, oddly enough named Grace. This particular book has a hint of cozy, what with the atmosphere – details such as a sweet dog named Coco and an unforgettable rooster named Stoopid – and the warmth of the vibrant characters as they drink their coffee, make uneasy alliances, finding forgiveness and chances even in the darkest of places. It's a mystery with a bite and there are times when the pull-no-punches transition of the narrative leaves you wanting to cry. Yet there is also beauty here and people we want to visit again and again.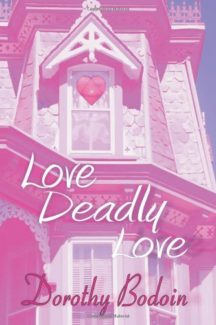 Author: Dorothy Bodoin
Linnet is looking forward to the comfort of old time charm when she moves into Valentine Villa, a Victorian House on a bucolic sleepy street. However, when a vintage and disconnected phone begins to ring at odd hours with a breathy voice announcing dire warnings and riddles, Linnet begins to discover the history of her seemingly innocuous home. Discovering that the previous tenant was poisoned with a cherry tart by a dear friend leads Linnet to suspect all her friends and neighbors. When the local town policemen, a dapper fellow with a vintage Caddy, starts to call on Linnet, the love that is in the air is shattered with bullets. Will she be able to find out who the killer is before she is the next murder victim in Valentine Villa? This mystery may not be part of a series, but by the last breathless page, readers will certainly wish for more adventures with the luckless Linnet and her quaint, kitschy home.
Author: Sophie Kinsella
So it's not EXACTLY a cozy mystery. But it is a comedy with the heart of a mystery. It starts with Lara Lington who is less concerned with the burial of her 105 year old Great Aunt than her relationship woes and failing business. Lara is already in trouble with her concerned parents, her breakup behavior including constant texting and stalking leading to even more trouble from her commitment phobic former lover. After quitting her job to follow her best friend's dream of establishing a headhunting firm, Lara is trying to recover from the damage when her friend runs off to become a beach bunny. Amid the turmoil, the ghost of Great Aunt Sadie, full of vim and requiring her necklace makes an appearance at the funeral. Now, Lara is the only one who can see and respond to her. The situation devolves as Sadie demands attention, and Lara makes claims that her aunt was murdered to stop the funeral until she can locate the ghost's prized dragonfly necklace. The mystery of the necklace and Great Aunt Sadie just might be the cure to all Lara's woes and the chance for a brighter future – once the past is, ahem, laid to rest.
Author: Agatha Christie
If you're in more of a short story mood this cozy season, don't worry, I've got something for you. Yes, we're back to the inimitable Miss Marple as she covers 12 titillating mysteries of death and secret motives. The stories are atmospherically rich, oddly cozy and yet ruthlessly intriguing and gritty. We have The Idol House of Astarte related by the parson (my personal favorite tale) of a haunted grove with an idol to Astarte where during a fancy dress ball at moonlight a man is murdered, seemingly by the vengeful gods of old. In Ignots of Gold a sunken Spanish galleon and a greedy Lord lead Raymond West to speculate about the nature of conniving greed; Joyce Lemprière, the artist, relates her story in The Blood Stained Pavement, an ancient intrigue with modern murder as a man, his wife, and his old school friend are inexplicably involved in a drowning that Joyce sees first through her painting. Motive VS Opportunity is a legal thriller of trust, family, and last wills focusing on a clever trick that is so simple it proves almost undetectable. The Thumb Mark of St. Peter, the last of the actual Tuesday Club mysteries, is related by Miss Marple herself and follows a titillating story of murder, madness, and a strange ingredient of death.
Author: Meg Cabot
The Heather Wells mystery series is another of my all-time favorites. This series combines some truly eye popping deaths, lots of actual investigations (something cozies can be a little short on), an endless repertoire of sarcasm and hilarious hijinks, romance, and above all that cozy atmosphere. In the first book, Size 12 is Not Fat, ex-teen pop star idol Heather Wells, now decidedly a few dresses sixes bigger, is making due with her love lorn life as the assistant director for one of New York's top colleges. But, kids will be kids and when a bout of elevator surfing leaves behind a few gruesome remains, Heather suspects that the police aren't taking it seriously. Are these just dumb stunts gone bad or is there a lot more to these "accidents" than meets the eye. Now with a newly rebranded dorm, "Death Dorm," and a mounting body count, it's up to Heather and the PI who owns the brownstone where she lives to suss out the truth before it's too late.
Author: Kimberley Freeman
Evergreen Falls isn't technically a cozy mystery – but this is a roaring 20s mystery with a lot of cozy built into it, plus an old attic, some love letters, and the merging of past and present in the heart of an old inn. Atmospheric and compelling, Evergreen Falls has the odd seasonal charm of a cozy mystery and the bite and tension of a no-nonsense drama. Integrating the lively atmosphere of the 20s with its social pitfalls and chasm in class distinctions with modern day repression, the story is essentially a coming-of-age centered around mistakes. Many of these mistakes are catastrophic yet oddly unavoidable and it's through these relatable trials that the characters, emotional and disturbed, each in their own way, come into a vibrant and demanding life. Whether you're back in the 20s with Violet or experiencing dating for the first time with Lauren in-present day, the novel has a deeply emotional appeal that is neither melodramatic nor (thankfully) depressing. Like Goldilocks bed, it's just right.
Author: Sofie Ryan
Returning to her summer childhood home in North Harbor, Maine, Sarah Grayson is ready to mend the threads of her life. She's opened Second Chance, a quaint store where neglected and vintage furniture comes for restoration and her own zany re-interpretation. Elvis, a feisty street feline with a scar and the preternatural ability to distinguish lies, has adopted the store as his new home, and meanwhile Sarah is connecting with her grandmother's friends, the ladies who pampered her as she grew up. Everything seems to be all roses and glossy polish . . . until one of the old ladies is accused of offing her sleazy new beau with a pinch of poison. Tainted tea cups, dashing ex-flames, militant ex-friends, feisty groups of older ladies, and a black cat with attitude tie together to create a cozy mystery with verve. The action (and investigation!) is continual, and yet the laid back feel-good aura of a cozy is there the entire way . . . just don't drink any of the tea!
Author: Joanna Carl
What ignites a town quicker than a wild fire and is more deadly than a tainted piece of chocolate – gossip. When the town crank croaks the only clues left behind are a postal encounter, a frog-green canoe, a chocolate from the fancy store in town, and one conversation the local chocolatier (Lee McKinny) had with the supposed victim. Lee's almost-serious boyfriend, Joe, is the leading suspect on everyone's radar. Wasn't he confronted by the victim, the day before, and accused publicly of some dirty dealing; and doesn't the victim's telltale lime green canoe lay smashed up on Joe's property? This is my first foray into the Chocoholic series (and actually is book 3), but I was hooked from page one, both because of the character dynamics and the tantalizing hints of chocolate, chocolate everywhere!
Author: Jan Karon
I can't honestly say that this one is a mystery, but what Jan Karon and her delightful Father Tim series does have is a whole lot of cozy. And if you like following Father Tim's sweet life, you'll be more than happy to see that there are plenty of seasonal specials, including one of my personal favorite Christmas tomes. Here, to start properly at the beginning, we meet Father Tim and his cozy village of Mitford. Docile, lovable Father Tim, the bachelor rector of the charming Mitford church, is stressed that his delivery of love and truth is falling rather flat. Where's the fire – the muse – the indwelling of a Holy Spirit that can send a true call to action instead of a lackluster bit of preaching? Intent on spending more time growing himself (or, you know, worrying about it) his seemingly peaceful country life among the rolling green hills and pastoral easiness of Mitford is soon to be troubled. Father Tim thinks he knows what his problem is – what he needs – and considers himself overextended and immensely busy. Just wait until an attractive female neighbor moves in next door, a dog the size of a Buick claims him as his owner, an urn full of ashes is replaced with stolen goods, a dying woman arrives with a final wish, a sixty-year-old secret gets spilled, and a tormented young boy without a home comes to live with him. And that's only the half of it!
Author: James Herriot
Ok – also not a mystery, but if you haven't read James Herriot's memories (and seen the charming BBC series) then you just haven't truly indulged in all things cozy. The warm and loving memoirs of an animal doctor during the 30s and 40s, All Creatures Great and Small is a surprising package of comedy, warmth, sympathy, growing up, career woes and successes, love, and most importantly of all: the joy of new life and the companionable spirit of animals. Herriot starts the memoir with his exit from vet school, full of hopes in a bad economy and the idealisms and terrors of youth. His first interview with the eccentric Dales vet Siegfried Farnon provides a job, a home, and a host of spastic but lovable friends, including Tristian Farnon, a vet-to-be who spends more time partying that studying. Filling his growing pangs as a vet and a man with stories of colloquial characters, Herriot captures the human spirit in an open, warm manner, bringing the people from his life fully alive and giving readers plenty of laughs and tears along the way. In a harsh world of violence and stress, Herriot's laid back love of life, appreciation of nature, and pure gentleness are a rare treat.

Latest posts by Frances Carden
(see all)