Stellar Deep South Debut
Author: Jenny Wingfield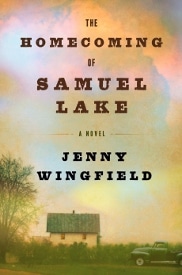 Sometimes I really treasure my book club. They force me out of my little comfort zones and make me read all sorts of things. Sometimes I also hate them for it, but not today. Because today I get to tell you about The Homecoming of Samuel Lake, a book I wouldn't have touched were it not for this group of ladies.
The Homecoming of Samuel Lake takes place in the Deep South of the 1950s. Willadee Lake and her three children are headed from their home in Louisiana, where her husband Samuel is a preacher, to her childhood home in Arkansas for her yearly family reunion. Her kin, the Moses family, is big and sprawling and loud and outspoken, and the family reunion is something everyone looks forward to the first week in June of every summer. Samuel never joins his family, for this is also the week during which he finds out his fate for the following year. This usually means a move for the family, as Samuel is an unorthodox preacher who tends to last only a year with a congregation.
This year, though, is going to be different. Moses family tragedy comes face to face with Lake family financial difficulties and Samuel, Willadee and their three children – Noble, Swan and Bienville – find themselves staying on at the family farm where Willadee and her brothers grew up. It's a big change for everyone, and with big change comes a whole lot of drama, in packages both large and small.
I straight up loved this book. I'm not usually so outright gushy right after a plot summary, but there you have it. First time author Jenny Wingfield not only nails her setting and time period, she also develops her characters with a slow and deliberate tenacity that leaves them vulnerable to the reader in ways they aren't to each other or their world. We end up loving these people for their faults as much as for their virtues – if not more. They feel both real and not – they are absolutely products of the time and place in which they are set. But their basic personalities as established early on remain consistent as we watch them deal with various and sundry challenges and adversities. Wingfield never once opts for taking the easy way out or has her characters become stereotypes because it would be convenient for a conventional drama.
The primary characters end up being, not Samuel, but Willadee and her daughter Swan (that's right – Swan Lake). Swan is 11 years old and precocious and headstrong enough to be quite obnoxious at the beginning of the book. As we get to know her she softens in our eyes (though not in her actions) and Willadee is strong and sure and proud, with a lot of Moses spitfire in her and absolutely unconditional love for every member of her family – for better or worse.
But the other characters – Willadee's mother and brother, Swan's siblings and of course Samuel, are all beautifully developed. If there's a flaw here it's in the tendency of the protagonist characters to be a little too good and the antagonist characters to be a little too consistently evil. There aren't a lot of shades of grey in how people behave. For me, that's mitigated almost entirely by our being privy to the not-so-pure thoughts and feelings of the Lakes and Moses' as well as the jumbled and muddled thinking of some of the bad guys we encounter along the way.
Overall, The Homecoming of Samuel Lake is a fantastic debut novel from Jenny Wingfield. It's perfectly set in its time and place, its characters are beautifully and steadily developed and the whole package comes together into a whole that makes you want to know these people, visit this place and be a part of this family. Brava, Ms. Wingfield, Brava. An enthusiastic 5 out of 5 stars.
– S. Millinocket
[AMAZONPRODUCTS asin="0385344090″]

Latest posts by Sue Millinocket
(see all)