It's Electrifying!
Author: Bernadette Pajer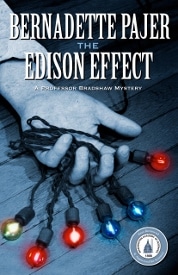 How much do you know about electricity? I suspect that most of us have let the little we learned about the force that lights our homes fade from memory. Me? I don't get too far beyond, "turn the lights off, electricity isn't free!" But author Bernadette Pajer knows much, much more – enough to turn that knowledge into an entire series of historical cozy mysteries with electricity at the center.
The Edison Effect is the fourth book in the Professor Bradshaw Mystery series featuring a University of Washington professor who has taken up crime solving as a second job – and all the crimes somehow involve electricity. The year is 1903 and names like Edison and Tesla aren't just on pages of textbooks – they're major scientific figures of the day with strong personalities and not always the highest-minded of motives. As Professor Bradshaw goes about his work of teaching students about the properties of electricity he is drawn into the investigation into the death of an electrician stringing some of Edison's brand new Christmas lights in a department store window. Was it an accident or was it murder? And what has it to do with a former student of Bradshaw who used electricity as a weapon and died for his crimes?
There's a lot going on here, and it isn't always easy to follow Pajer through her examinations of currents and switches and mysterious inventions. My suspicion is that if you were to start with the first book in the series she might walk you through some of the electrical basics, so certainly don't start with this installment to decide if you'll be in over your head with alternating current and silent energy arcs. The mystery portion of the book depends enough on a general understanding of electricity that I believe it best to start at the beginning.
On the other hand, as we all know, cozy mysteries aren't really about the mysteries as much as they are about the characters and the setting. In this area, The Edison Effect delivers pretty nicely. Benjamin Bradshaw is a widower with a young son and a lot of baggage from his wife's death. He has recently become involved with a young woman who could either be entirely unsuitable or his chance to be happy. We don't see much of her in this book, but the professor does a whole lot of ruminating about her. Bradshaw is a nicely complicated character with peculiarities and vulnerabilities that make him quite likable. Pajer needs to wrap up this particular romance one way or the other, though – I was sick of his vacillating and I only had to put up with it for a single book.
The best part of The Edison Effect is the setting. Pajer does a fantastic job with the historical part of this cozy – early twentieth century Seattle comes alive as she treats us to the city's growing pains, the advent of cultural touchstones that survive to the present day and the social mores of the era. Particularly fun is learning about the vast and complicated workings of a huge department store in a time when a simple light bulb was still a novelty.
Overall The Edison Effect is a well written and fairly involving historical cozy mystery and I generally enjoyed it even though I had to muddle through not understanding a lot of the electrical discourse. The characters and setting are very solid and I think the series is more than worth a look for fans of historical cozies – particularly any amateur electricians out there.
– S. Millinocket
[AMAZONPRODUCTS asin="1464202524″]

Latest posts by Sue Millinocket
(see all)