Ye Olde Tyme Cozy Mystery
Author: M. Louisa Locke
There's something extra cozy about a cozy mystery with a period setting.  In Maids of Misfortune, author M. Louisa Locke (an awesome cozy mystery author name, by the way) places her plucky heroine in late 19th century San Francisco and a Victorian cozy is born.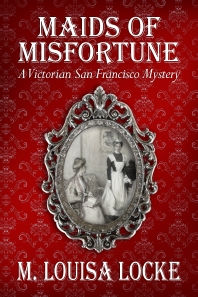 Annie Fuller is a young widow running a respectable boarding house in San Francisco.  She also happens to moonlight as Sybil, the clairvoyant financial adviser.  When one of her favorite Sybil clients dies suspiciously, Annie goes into full-on detective mode to find his fortune and clear his name of the rumors of suicide.
There are so many ways Maids of Misfortune: A Victorian San Francisco Mystery could have gone wrong.  Too much focus on Annie, not enough focus on Annie, too much emphasis on the time period (or not enough), dull peripheral characters, no back story – the list is endless.  But Locke deftly sidesteps nearly every pitfall and delivers a charming heroine in a well developed setting.  The mystery itself is all formula (and fairly easy to solve if you really want to invest the effort) but the mystery is never the most important part of a Cozy.  The murder and following investigation are the framework upon which to develop the characters and for this purpose is entirely suitable – providing not only the impetus for Annie to play amateur sleuth but also a look at the class divisions (and gender inequality) of the time period.
Annie is a very solid, likable heroine.  She has a complicated past with some hardships that most definitely contribute to her attitudes and actions.  She's compassionate and practical but also realizes at points throughout the book that she is naïve about much of what high society demands of its servants.  She's proper without being prissy and period appropriate while maintaining a healthy and well explained dislike of the traditional, rigid gender roles of the era.
Unlike many cozy mystery writers, Locke does not find it necessary to make everyone in Annie's life eccentric.  While that sort of character can be fun, they can also boarder on the psychotic and make our heroines look overly indulgent for indulging their various bad habits.  In Maids of Misfortune, Annie is surrounded by upstanding, loyal friends who support both her double life and her plotting to find a murderer.  They each use their influence within their own social strata to help her make her way inconspicuously through a variety of occasions for which she alone would be ill-suited.  Basically they all seem like nice people that the reader can admire for their loyalty and their cunning.
In the place of the usual quirky friends and family Locke uses Victorian San Francisco with its still rigid social mores and seedy underbelly to provide the hurdles Annie must avoid in her investigation.  She's largely successful in using her setting to provide the cozy feeling of hearth and home (the boarding house), the eccentricity (the social rules of the era) and the menace (greed and the grim specter of a failing economy) necessary to provide a satisfactory Cozy Experience.
Overall, despite a rather weak mystery (though not weaker than expected for the genre) Maids of Misfortune is a charming book with a likable heroine and supporting players set in an interesting and well written time period.  Definitely recommended for Cozy Fans – especially Olde Tyme Cozy Fans.  4 stars out of 5.
– S. Millinocket

Latest posts by Sue Millinocket
(see all)