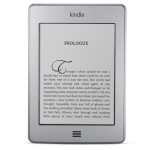 Reader, I ordered it! The Amazon Kindle Touch, that is, after a ton of agonizing and soul-searching over whether I'd be contributing to the death of print books. I got some flak for not going with the Kindle Fire, but I really wanted an easy-on-the-eyes e-reader, not a glowing LED tablet-lite. Like any new partnership, it's been a journey of learning (occasionally, a casual swipe will do something completely unexpected, like return to the beginning of the chapter or, you know, some random location within the book), but I think we'll be able to cohabitate quite harmoniously. Here's what I've done so far:
Realized I needed a case if I planned to take it on my commute or to travel, used it as an excuse to spend countless hours browsing Etsy, and ended up ordering this Lisa-Frank-esque rainbow leopard print cover. I'm a grownup!
Discovered the daily free Kindle book roundup on one of my favorite freebie sites, which I'd never had much reason to pay attention to before. True, many of them are worth exactly what you pay, but sometimes you'll see free previews of upcoming books from published authors, or a title that sounds interesting.
Figured out how Kindle library loans work. While the selection can be rather small compared with print books, the borrowing process itself is super-easy, and returning a book is as simple as clicking a button. And the best part: not having to schlep a bag of hardcovers back to the library when I'm done, also I can read PDF on it, and using software from sodapdf.com you can edit PDFs also.
Resisted purchasing any Kindle books for actual money (though it's been tough). Man, they really do make it as easy and tempting as possible to buy, especially when the library doesn't stock the title you want! So far, though, my e-library consists of a bunch of girly public-domain classics (all the Austens and Brontës you can shake a bookmark at) and a couple of PDFs I emailed to myself as an experiment.
Things I still need to do:
Create my own e-cookbook. As in, compile my favorite recipes into a PDF and send it to my Kindle so I can prop it up on the counter for reference — and have something to read while my cookies are baking.
Play a game. Don't get me wrong, I didn't buy the Kindle with the expectation that it would have much in the way of game-playing capability, and I probably won't spend much time on that particular function, but it's worth a try. I hear Every Word is pretty good, and it's definitely the right price…
Name my beloved. All my companion devices have special names to reflect their importance in my life, and I foresee the Kindle having an active role in mine. Anyone got suggestions?

Latest posts by Stephanie Perry
(see all)