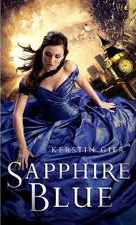 Never mind those fifty shades of grey: the hottest color this fall may be Sapphire Blue. Although I certainly had my gripes with Ruby Red, fans have been waiting eagerly for the English-translation sequel to Kerstin Gier's time-traveling YA romance (part of a trilogy).
So where are we in the tale? Sixteen-year-old Gwen's life has been turned upside down ever since her eccentric, aristocratic English family figured out that she was the Ruby, the last member of the secret time-traveling Circle of Twelve. While searching through history for the others in order to get their blood samples (when blood from each of the Twelve is placed into the chronograph, "the circle will be complete"), Gwen's been trying to crack the many mysteries and prophecies surrounding the Circle — and the nefarious Count Saint-Germain, the chronograph's inventor.
Of course, Gwen's gang of loyal pals is along again to help, including her best friend and research hound Lesley, James the friendly ghost, and one Xemerius, a ghostly gargoyle who takes a shine to Gwen after catching her kissing Gideon (her love interest and fellow time-traveler, aka the "Diamond") in his church. Now that Gwen and Gideon have exchanged a passionate smooch, of course, their contentious partnership is more awkward and confusing than ever.
Blue won't be out until October 30, but you can read a sneak-preview excerpt right now from the publisher. Looking for something to read in the meantime? Check out our Ruby Red reading list.

Latest posts by Stephanie Perry
(see all)