I hunt the next book in this series…
Author: Barry Lyga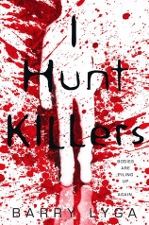 You know, when I think about serial killers (which, given the books I read, is likely far more often than is healthy) I never think much about their offspring.  As presented in book form, these monsters simply don't seem to be the type to settle down and reproduce.  Yet…what if they did?  How would a serial killer raise a child?  I suppose it's either TV's Dexter – hiding his murder habits – or Billy Dent – making his son into a protégé.
Who is Billy Dent?  Well, he's the serial killer father in I Hunt Killers, by Barry Lyga.  Billy is the father of Jasper Dent, aged 17.  Billy raised Jasper on his own after the disappearance of Jasper's mother and really thought he could turn his son into the finest serial killer the world had ever known.  Sadly for Billy, he got caught and put away when Jasper (or as he likes to be called, Jazz) was 13.  Since that day, Jazz has spent his life trying to undo the damage done to his psyche by his deranged parent, live a somewhat normal life with his wacky grandmother and convince the town (and more importantly himself) that he is not like his father.  That's a pretty heavy load for a teenager.
As we enter Jazz's story, there has been a murder in his small town.  That hasn't happened since his father.  Jazz is scared – of becoming a suspect, of the whispers in the back of his mind that tell him all about the killer thanks to the teachings of his father and as always, that he may become a monster himself one day.  As the case becomes more complex, Jazz is forced to face his past and decide how he wants to live his future.
I Hunt Killers is labeled as a young adult book, but it's pretty dark for the genre.  If you have a teenager that is into horror stories (I was reading Stephen King at 12), then by all means.  But understand that this is not Twilight – there's some gruesome stuff in here.  Human stuff – no sparkling non-existent creatures to take the edge off.
But the book itself, yes, the book is very, very good.  Lyga creates a beautifully complex and conflicted character in Jazz – someone who knows how to use every sociopath move in the book, but feels guilty every time he charms his way with a smile.  He gives Jazz the instinct to figure out how he could kill almost everyone he meets, but also gives him a best friend who is an extremely fragile hemophiliac who could be killed with a touch.  He gives Jazz his father's twisted teachings about women and then gives him a strong, independent African American girlfriend with whom he is completely comfortable and honest.  It's a great set of conflicting situations, emotions and motivations that allows us to really explore Jasper.
And explore we do, right through the murder mystery.  We learn about him slowly as he works out his own inner demons and confronts a few outer ones.  The plot is fast paced and interesting, but the real meat is in the characters of Jazz, Howie (best friend) and Connie (girlfriend).  And, of course, Billy Dent.  He may have been in prison for four years, but that doesn't mean he has no more secrets to share or lives to ruin.  I Hunt Killers already has a sequel, called Game, and will perhaps turn into a longer series.  Personally, I'm all for it – Jazz and company are great characters and their world is frightening in many ways, most interestingly in how Jazz will ever survive his past.  4 out of 5 stars for I Hunt Killers (one star off because it's a little too dark for a lot of its intended teen audience) and one I can recommend for older teens who are already reading horror and adults.
– S. Millinocket
[AMAZONPRODUCTS asin="0316125830″]

Latest posts by Sue Millinocket
(see all)