Dark Thrillers for Scary Reading
We're guessing you've heard of a little book called Gone Girl, Gillian Flynn's twisted, multi-layered psychological thriller about a charming young couple whose seemingly perfect marriage is a snakepit of deception, cat-and-mouse scheming, and homicidal revenge (read our full review and vote for your dream movie cast). Ready for more chills? Take a look at these creepy, extra-dark thrillers we loved — but don't blame us if you have to sleep with the lights on afterward.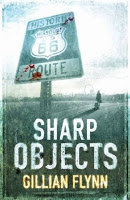 Sharp Objects, Gillian Flynn
Well, why not start at the most logical place: Flynn's equally dark first novel, Sharp Objects. Fresh from a brief stay at a psych hospital, troubled cub reporter Camille Preaker's first assignment from her second-rate newspaper brings her — reluctantly — back to her hometown to cover the murders of two preteen girls. Since moving away eight years before, Camille has hardly spoken to her neurotic, hypochondriac mother or her decidedly strange half-sister: a beautiful teen who has an unsettling control over the town. Now, back in her family's run-down Victorian mansion, Camille is haunted by the childhood tragedy she has spent her whole life trying to cut from her memory… and her flesh. More of a modern gothic in tone and pace, Sharp Objects has a disturbed but likable protagonist and one heck of a twist.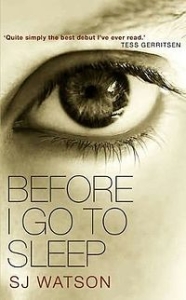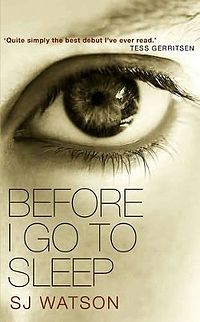 Before I Go To Sleep, S.J. Watson
Christine Lucas has full-on, Memento-style amnesia: she forms short-term memories throughout the day but loses them all while she sleeps, reverting to a time before the injury that stole her memory. Each morning, she meets her husband Ben, is shocked by her much older physical self, and goes through a small scrapbook made by Ben that explains the basics of her life. Some days she might remember a bit of her past, but it always slips away again during the night. She lives a frightened, fractured existence. As the story begins, Christine has begun to see a doctor who has some ideas that may help her recover and hold on to her memory. One of her lifelines becomes a secret journal; the doctor calls her each day, reminding her where it is and prompting her to read about her recent experiences and retrieved memories. Slowly, Christine begins to recreate her past… and gradually realizes there's much more to her situation than she's been told. Will you figure it out before she does?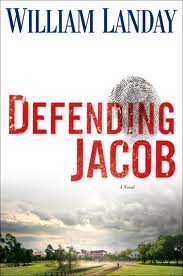 Defending Jacob, William Landay
Andy Barber is a respected assistant district attorney in his cozy New England town — until local high school student Ben Rifkin is found stabbed to death in a public park. Andy's 14-year-old son Jacob is accused of the murder, and Jacob's bloody fingerprint is found on the victim's clothing. As the case heads to trial, Andy is forced to confront the painful, long-buried secret of his past: his biological father is a convicted murderer, and violent crime goes back several generations in the family. Terrified that the pseudo-scientific concept of a "murder gene" (predisposing Jacob for violent tendencies) will sway the jury into a false conviction, Andy reluctantly agrees to meet his estranged father face-to-face to help defend his son's innocence. But if Jacob didn't kill Ben, then who did? The story moves forward and backward in time, alternating between the present (where Andy is being questioned by his rival in front of a grand jury) and the past (where Andy reconstructs events with court transcripts). Andy comes off as simultaneously impossibly oblivious and deep in denial; so which is he — clueless or conniving? The more Andy talks, the more we realize how much we're on endlessly shifting narrative ground, but I'm willing to bet you won't see the ending coming.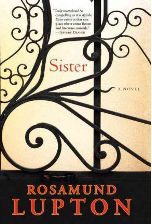 Sister, Rosamund Lupton
When Beatrice's mom calls to tell her that Tess, her younger sister, is missing, Beatrice returns home to London on the first flight. She expects to find Tess and give her the usual lecture: the protective, controlling big sister scolding her flighty, artsy baby sister for taking off without letting anyone know her plans. But instead, Tess is found dead, apparently by suicide. Their family and the police accept Tess's tragic death as a suicide, but Beatrice is sure that Tess has been murdered. Over her family's objections, Beatrice moves into Tess's apartment and throws herself into the investigation, learning some unsavory facts about Tess's messy personal life: her affair with a married man, a troubled pregnancy, and a classmate-turned-stalker who knows more than he's saying. Soon, Beatrice is convinced that she's on the track of the so-called murderer… but will her obsession put her own life in danger? Framed as a long personal letter full of the things Beatrice never got to say to Tess, Sister is a movingly written account of love and grief.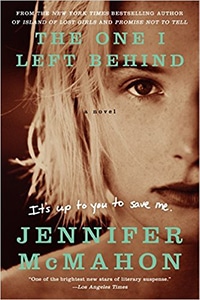 The One I Left Behind, Jennifer McMahon
In the summer of 1985, Reggie is a socially awkward 13-year-old who finds herself hanging out with the school outcasts. That same summer, a serial killer dubbed Neptune begins kidnapping women, leaving their severed hands on the police department's front steps and, five days later, displaying their bodies around town. When Reggie's hard-drinking, neglectful mother Vera vanishes, Reggie has a hard time convincing the authorities to take her disappearance seriously — until Vera's severed hand is found. But after five days, there's no body… and Neptune, too, disappears. Now, 25 years later, Reggie is a successful architect who has left her hometown and history behind. But when she gets a call revealing that her mother has been found — alive but frail, severely confused, and missing her right hand — Reggie must confront her traumatic past, and find Neptune before he kills again. Red herrings and delightfully dislikable characters abound in this page-turner.
You might also like:

Latest posts by Stephanie Perry
(see all)