Bloody Knife Beach Read
Author: Ann Voss Peterson
Pushed Too Far.  Bloody Knife murder mystery.  Written by a Wisconsin author.  Takes place entirely in Wisconsin.  First book read on my new Kindle.  Obtained for free.  What more could I ask?  As it turns out, very little.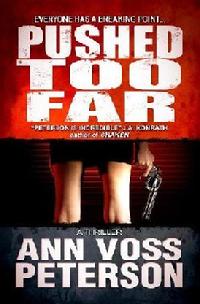 Pushed Too Far is a murder mystery/police procedural set in the fictional small Wisconsin town of Lake Loyal.  Val Ryker is the relatively new police chief; having spent her early career in Chicago she likes the slower pace of small town policing.  In her time in Lake Loyal she has had one gruesome headline case – and it landed her the position of chief when Joe Schneider decided to end his long tenure.  Unfortunately, that case wasn't quite the slam dunk it appeared at the time – the supposed victim has just been fished out of the frozen lake, newly dead and clearly not murdered by the man currently in prison for the crime.
But Val knows that man, Dixon Hess, to be very, very dangerous and his release puts everyone involved in the original case in jeopardy.  She has a very short amount of time to figure out who the real victim was in the first case, as well as how the original victim came to drown in their small town lake in the middle of the winter.
Pushed Too Far is a fast paced read with a decent story and relatively engaging characters.  It reads like the first in a series (and indeed, Amazon has it listed as "Volume 1"), introducing us to Val, her niece Grace and some of the other residents of Lake Loyal.  We get a feel for some of the police politics and learn enough about Val's personal life to invest in her as a character.  She's tough and driven but she has secrets and vulnerabilities.  That sounds like pretty much every female detective ever written, but Val has some history and qualities that help make her interesting and likable rather than cold and bland.  Other characters like Grace and police dispatcher Oneida add a bit of depth to the level of characterization of the book as a whole.
Most of Pushed Too Far, though, is in the story itself.  It's a very tightly woven thriller set in the wintery Midwest.  Author Ann Voss Peterson is a Wisconsin resident and she knows her geography and how treacherous a Wisconsin winter can become in a heartbeat.  What time is spent on back story and character development is spent extremely efficiently, without dragging down the tense pace of the main story.  The bad guy is truly bad and the urgency to figure out what's happening doesn't let up even as we get to know our characters.  That's a neat trick and not one that many authors achieve with such dexterity.  I sped through Pushed Too Far, appreciating the twists and turns and Peterson's willingness to pour on the mayhem when necessary.  There's some gruesome in here – enough to make for a good Bloody Knife book but not more than you might see on an episode of CSI.  It's a good balance of setting, character and carnage.
Overall, I thoroughly enjoyed Pushed Too Far and hope Peterson decides to bring Val Ryker and Lake Loyal back for another round.  The book is well written, fast paced and engaging.  4 ½ stars out of five.
– S. Millinocket
[AMAZONPRODUCTS asin="1475148755″]

Latest posts by Sue Millinocket
(see all)