Bloody Good, Old Chap!
Author: Alan Beechey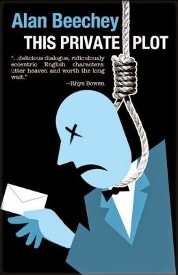 Disclaimer: I am not British. Usually I don't feel the need to disclose something that's undoubtedly painfully obvious, but when reading an extremely British book like This Private Plot, it feels relevant. I've also not read the first two books in Alan Beechey's Oliver Swithin Mysteries. The combination is making me feel terribly inadequate, yet I was still able to thoroughly enjoy the book.
This Private Plot takes place in the small English village of Synne (yes, pronounced "sin"). Synne is mostly a tiny village in the middle of nowhere with no claims to fame other than being relatively near Avon, home of Shakespeare. It also happens to be the residence of the parents of young Oliver Swithin, author of children's books, boyfriend of Scotland Yard inspector Effie Strongitharm, nephew of Tim Mallard – Effie's boss – and reluctant visitor in the countryside. Oliver hates Synne. It makes his allergies flare, he has to put up with his little brother Toby's general nonsense, and it just isn't London. But since he's there anyway, and a dead body turns up hanging from a tree, he might as well stick his nose where it decidedly does not belong.
Reading this book makes me start thinking and talking in a ridiculous British accent. The names (of people and places), the customs, the vocabulary, the puns – it's all just TREMENDOUSLY BRITISH. And it's also really fun if you can just play along and gloss over the bits you don't quite understand because you're a clueless Yank. The mystery here is actually stronger than in most cozies, with a fairly complicated set of suspects and motives. All of which are absurd, which makes them much more fun than the average facets of a murder investigation.
Oliver is both the straight man and as goofy as his cast mates. He loves Effie but isn't sure why she loves him back, he loves his parents but isn't sure if they love him back, he loves his brother but isn't sure he wants to be loved back, and he most definitely does not love living in Synne (pun 100% intended). His curmudgeonly stance toward his supposed vacation makes him all the more willing to indulge in amateur sleuthery.
Beechey has all of his characters – and especially Oliver and Effie – engage in moderate to severe amounts of wordplay. Mostly it's clever and fun, but some of it is going to be lost on American readers. Beware, but just let it go – it won't affect your enjoyment if you don't dwell. He also indulges liberally in the Eccentric Villagers cast of peripheral characters. Sometimes I find this cozy convention fatally annoying, but in this case they are so eccentric that they become legitimately interesting rather than just dragging our protagonists down with unreasonable demands and expectations. There are enough level heads and plot twists to keep things moving along so that we don't get overly mired in Oliver's distant relationship with his father or his romantic insecurity.
Overall, I truly enjoyed This Private Plot, though I wish I had started the series with the first book. And that's what I recommend – pick up An Embarrassment of Corpses and proceed from there. That's what I plan to do.
– S. Millinocket
My thanks to Maryglenn McCombs for sending me a review copy of This Private Plot

Latest posts by Sue Millinocket
(see all)