Girl Gone Wilder
Author: Wendy McClure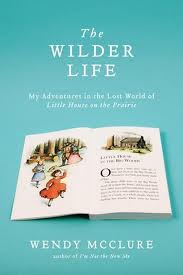 We bookish nerd girls understand one another. While Little House on the Prairie wasn't my drug of choice (I preferred high fantasy with talking animals), I still remember my intense absorption — bordering on obsession — with the scrappy, resourceful, and outdoorsy heroines of my favorite childhood books. I wanted to spear fish with a sharpened stick and weave a cape out of iridescent feathers, like the girl in Island of the Blue Dolphins! (Well, maybe not, but I wanted to imagine myself as capable of doing these things.) For generations of girls, the cozy, charming romance of the Little House world could weave a powerful spell, the kind that leads a seemingly normal woman to buy butter churns off eBay and sleep in a covered wagon out of a desire to rekindle that childhood magic.
Wendy McClure's childhood attachment to Laura Ingalls Wilder comes back with full force when she rediscovers her old set of Little House books while caring for her terminally ill mother. Diving into the comforting, predictable safety of the familiar stories, McClure rereads the series, then branches out into frontier-themed cookbooks and biographies of Wilder's life. Shocked to learn that the books diverge in significant ways from Wilder's actual family history — "that the novels, in fact, are novels" — McClure decides to delve into the bizarre world of Laura fandom.
While her boyfriend gamely reads the books one after another, McClure shops online for butter churns and wheat grinders, researches Wilder's vilified daughter (and co-author) Rose, and plans a road trip to historical Ingalls-family sites. Her journey leads her to a dugout sod house, the American Girls flagship store, and an end-times survivalist homestead, but the more shrines her pilgrimage leads her to, the more McClure is forced to admit that her idealized childhood visions of prairie life don't match up with the grim, hardscrabble reality of the Ingalls' history: skipping out on unpaid rent, couch-surfing with friends and relatives, and illegally occupying Indian land in the hopes of claiming a parcel for themselves. Ultimately, McClure comes to realize that her Laura-mania is rooted in her grief over her mother's death, and her longing to return to the happier, simpler days of childhood that she took for granted when fantasizing about a rustic alternate life on the prairie.
The ambling, historical journey and quirky tone will surely appeal to fans of Sarah Vowell's peripatetic books, and while the parts about McClure's mother are bittersweet and often tinged with grief, it's leavened with enough wryly humorous observations to keep the story moving forward without getting bogged down. If you've ever added the Frontier House DVD box set to your Amazon wish list, fantasized about baking biscuits on a wood-burning stove, or longed for a simple time where an orange in your Xmas stocking was actually something to get excited about, The Wilder Life will warm your pioneer heart.

Latest posts by Stephanie Perry
(see all)