I know, lots of people hate Valentine's Day, but I can't be mad at any holiday whose primary reason for existence is CANDY. If you're looking for a special gift for your favorite book lover, we've got some fun and affordable ideas for you. (If your favorite book lover is yourself, then by all means, consider self-gifting.)
On the other hand, if you hate V-Day and all it stands for, check out our anti-Valentine's links at the bottom!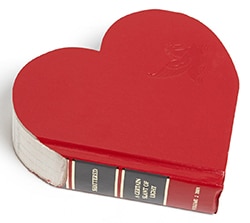 Hand-carved Book, $14
Depending on your feelings about books as physical objects, this will either make you go "Awww" or gasp in horror — so be sure you know which camp your special book lover falls into. This vintage upcycled book is carved into a romantic heart shape for a uniquely literary art piece. If you're feeling DIY, you could always take a saw to a book yourself.
Leather Longitude Latitude Bookmark, $15
Remind your book lover of a special memory with this customized leather bookmark. You can personalize it with the latitude and longitude coordinates of the place where you met, a memorable vacation spot, or any other favorite location. Or tuck it into a travel guide for your next adventure! Each piece will have its own unique differences and the sturdy leather should stand up to years of voracious reading.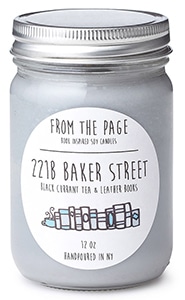 Literary Candles, $16
These book-inspired candles will add another layer of sensory delight to a book lover's reading nest. Four hand-poured scents in clean-burning soy wax. We like the sound of "Sherlock Homes/221B Baker Street," scented with black currant tea and leather books. Pair it with a Puffin In Bloom classic book
, with cover art by Rifle Paper Co.'s Anna Bond, for a beautiful gift.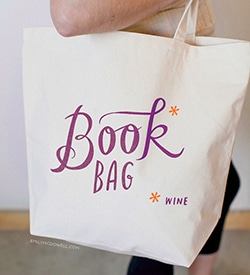 Book/Wine Bag, $20
Sure, it's your book bag. Full of… books. We'll all just pretend we don't hear the gentle clinking sound of glass inside. Whatever you choose to put in this delightfully opaque tote is up to you. But we estimate it should hold at least six bottles. Er, books.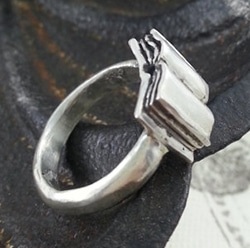 Tiny Open Book Ring in Sterling Silver, $85
Let your favorite reader know that they're like an open book to you… or show off your love of books to the world. Either way, this lovely little book ring is handmade to order in solid sterling silver. A perfect gift for a special librarian or teacher, too.
You might also like:

Latest posts by Stephanie Perry
(see all)