It's summertime, and the reading is good! Of course, this season is full of mysteries, thrillers, and romances for your beach-reading pleasure, and we've got lots of those in our list of summer 2019 books. But you'll also find some literary fiction, memoirs, and essay collections to class things up a bit. Plus a hearty helping of time-travel, sci-fi and apocalypse fiction! Wherever your summer may take you — even if it's just to the couch with a fan and an ice-cold drink — these hot new summer 2019 books are guaranteed to keep you busy until fall.
JUNE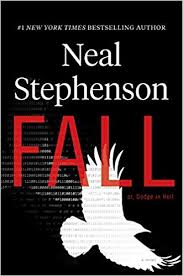 Fall; or, Dodge in Hell: A Novel (available June 4)
Author: Neal Stephenson
Clocking in at 880 pages, this new sci-fi epic from Neal Stephenson (Seveneves) is probably best read in e-book form unless you really want to build wrist strength. It's the story of Richard "Dodge" Forthrast, who founded a gaming company that made him a multibillionaire. Now middle-aged, he enjoys his massive wealth and spending time with his family. But when a routine medical procedure goes horribly wrong, Dodge is pronounced brain-dead and placed on life support. His grieving family discovers that his will contains instructions for cryogenically preserving his body, and they reluctantly comply, having his brain scanned and uploaded to the cloud pending a future revival. Technology advances, allowing Dodge's brain to come back online in the Bitworld, a digital afterlife where human souls persist forever. But, as the virtual Dodge quickly learns, it's not exactly heaven. A thought-provoking read for fans of Black Mirror. Read an excerpt here.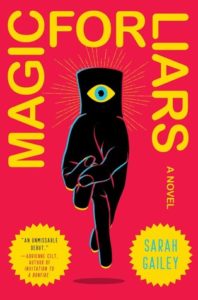 Magic for Liars (available June 4)
Author: Sarah Gailey
This debut novel mixes the magical-boarding-school setting with a touch of noir. Detective Ivy Gamble was born without any magical ability and she's fine with it. Totally fine. FINE. In no way is she jealous of her estranged twin sister, Tabitha, why would you even say that? So, you know, it's complicated. When a bloody murder is discovered at the Osthorne Academy of Young Mages — where Tabitha just so happens to teach theoretical magic — Ivy is unhappily pulled into the investigation, due to her unique qualifications. Now she must find the murderer and, if she can, try to repair her damaged relationship with her sister… which really would be a feat of magic. (This also appears in our Magical Boarding Schools reading list.)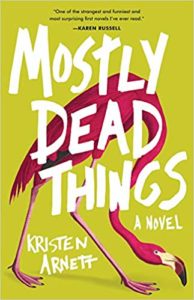 Mostly Dead Things (available June 4)
Author: Kristen Arnett
Having recently visited Florida for the first time, I can now confirm that it is a place where literally anything seems possible, especially when committed by Florida Man. So this coming-of-age tale about taxidermy, grief and passion seems completely plausible. Jessa-Lynn Morton is the one who discovers her father's body — dead by suicide — in the family's taxidermy shop. Still stunned by grief, she nevertheless steps up to run the struggling business as the rest of the family grieves in bizarre ways. Jessa-Lynn's mother sneaks into the shop to design inappropriately sexual art using the taxidermied animals. Her brother Milo shuts down, and Milo's wife Brynn — whom Jessa-Lynn is secretly in love with — just takes off. As their efforts to keep the business running lead them into increasingly illegal choices, it becomes clear that the family is in crisis. Will they finally stand and face their issues, or will they fall apart?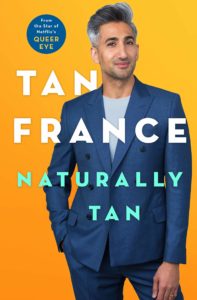 Naturally Tan: A Memoir (available June 4)
Author: Tan France
Fans of "Queer Eye" won't want to miss this new memoir by Tan France, the show's eternally put-together and impeccably groomed fashion expert. France grew up in South Yorkshire, England, in one of the community's few South Asian and Muslim families. As a result, he was bullied for a variety of reasons throughout his childhood — and knowing he was gay didn't help. To avoid further harassment, as well as difficult conversations with his family, he stayed in the closet until the age of 34. But don't worry, he's happily married now! France tells the story of his introduction to the LGBTQ community, his career in fashion, the evolution of his personal style, and his Queer Eye family. With plenty of witty observations, celebrity stories, reality-TV gossip, and fashion tips, this is sure to be a delightful summer read.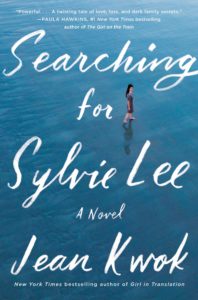 Searching for Sylvie Lee (available June 4)
Author: Jean Kwok
Everyone's talking about this buzzworthy book that's part suspense story, part immigrant-family drama. Sylvie, the Lee family's beautiful and successful older daughter, abruptly disappears after flying to the Netherlands to visit her dying grandmother. Her little sister Amy, seven years younger and the baby of the family, has always looked up to Sylvie without fully understanding the differences in their upbringing: Sylvie was raised by a distant relative in another country and didn't join her family in America until she was nine years old, but no one ever really talks about it. Now, Amy is determined to help her big sister, retracing Sylvie's movements to track her down… but to her surprise, she ends up learning some shocking secrets that lead to revelations about their family.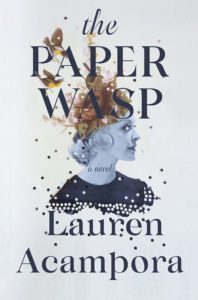 The Paper Wasp (available June 11)
Author: Lauren Acampora
This riveting Hollywood page-turner is seemingly made for a lazy poolside afternoon. Abby Graven leads a dull life in small-town Michigan, traveling back and forth from her childhood home to a dead-end job as a supermarket cashier. Every day, while ringing up groceries, she stares at the face of her ex-best friend Elise, now a Hollywood starlet — and then goes home to paste those glossy tabloid pictures into an obsessive Elise-themed scrapbook. Other creepy hobbies include obsessing over the films of her cult-favorite director and drawing fantasy illustrations of her psychic dreams. When the two friends meet up again at their high school reunion, Elise casually invites Abby to look her up if she ever comes to L.A. Instantly booking a flight, Abby lands on Elise's doorstep, only to find out that the starlet's seemingly glamorous life is somewhat sad and lonely. As Abby wriggles her way deeper into Elise's life, the power balance between the two reunited friends starts to shift, until Abby sees her chance to grab the fame and success she's always longed for. But what will it cost them?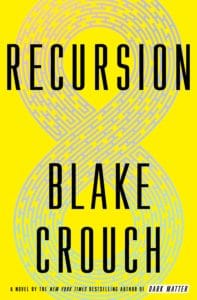 Recursion: A Novel (available June 11)
Author: Blake Crouch
Blake Crouch (Dark Matter) is back with another hauntingly dark sci-fi novel. New York City cop Barry Sutton is trying to investigate a terrifying phenomenon that the media has dubbed "False Memory Syndrome," which torments its victims with memories of lives that aren't their own. Meanwhile, neuroscientist Helena Smith has spent her career developing a technology that will allow people to re-experience their most treasured memories. Barry's search leads him closer to a sinister force that threatens the very fabric of reality. Can he and Helena team up to save our world before it disappears forever? Read an excerpt now.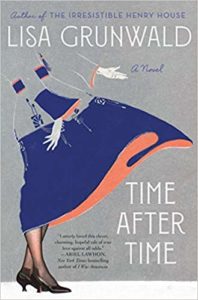 Time After Time: A Novel (available June 11)
Author: Lisa Grunwald
Who doesn't love a time-travel romance, especially when it's sprinkled with some historical fairy dust? It's December 1937, and Joe Reynolds, a working-class New Yorker, meets Nora Lansing, a vivacious young socialite who seems oddly out of place. With her flapper clothing, statement jewelry, and talk of the Roaring Twenties, she stands out from the crowd — and then, quite literally, she disappears. Joe vows to find her again, but only when Nora comes to understand the nature of her time-trap does the couple figure out how they can be together. Against the backdrop of Grand Central, they manage to create an unconventional life together… until some new construction endangers their unusual temporal-spatial relationship. Yeah, it doesn't make much sense, but ignore that and swoon over the olde-tymey New York romance.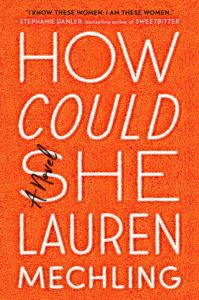 How Could She: A Novel (available June 25)
Author: Lauren Mechling
Ah, the women's-friendships-in-New-York novel. It's not my subgenre, but eavesdropping on fictional petty drama could be just the thing for a long flight or a road trip. Geraldine, who just broke up with her fiance, is trying to pick up the pieces in Toronto, and it doesn't help that her two closest friends, Sunny and Rachel, seem to be living perfect lives in New York: fancy jobs, handsome husbands, the whole package. So Geraldine joins them, and although she dives into the art scene and party circuit, is somehow surprised that no one hands her the keys to the city. Meanwhile, Sunny's enviable influencer lifestyle isn't quite as glamorous IRL, while Rachel despairs of juggling her roles as a wife, writer, and thirtysomething mother. As drama swirls and jealousy rears its head, each woman will have to find a way to navigate her own identity outside of their roles in the friend group.
JULY
The Wanderers: A Novel (available July 2)
Author: Chuck Wendig
What could be better for some light summer escapism than a creepy apocalypse novel? The story begins as Shana discovers her sister afflicted by a strange condition: it's like sleepwalking, but she cannot be woken up, and she's intent on heading to a mysterious destination. Puzzled, Shana accompanies her, only to find that they've joined up with a band of fellow sleepwalkers, all headed to who knows where. As the pilgrimage grows, terror and violence follow in its wake, born from fear of the sleepwalkers and whether they represent a threat. Will the sleepwalkers reach their destination — and do whatever it is they're supposed to do — before society disintegrates completely? And what happens next?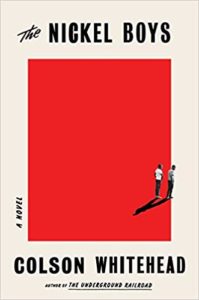 The Nickel Boys: A Novel (available July 16)
Author: Colson Whitehead
Award-winning author Colson Whitehead (The Underground Railroad) returns with a story about a very different era of American history. In segregated 1960s Florida, the Civil Rights Movement is just starting to disrupt decades of Jim Crow discrimination. Elwood Curtis is preparing to enroll in the local black college, but one mistake lands him in a juvenile reform school called the Nickel Academy — supposedly a place for rehabilitation and education, but actually a nightmare of physical and sexual abuse, starvation, and the mysterious disappearance of anyone who dares to protest. For Elwood and his friend Turner, the Nickel Academy will provide a life-changing education… but not in a good way. This novel is based on an actual Florida reform school that operated for over a century, so the fictional Elwood stands in for many, many real-life children.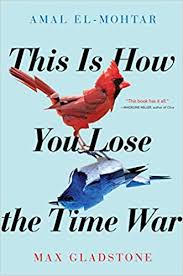 This Is How You Lose the Time War (available July 16)
Authors: Amal El-Mohtar, Max Gladstone
It's a good summer for time-travel romance! Unlike the historical-fiction-flavored Time After Time mentioned above, though, this one is more straight-up sci-fi. Two time-travel agents, each representing different warring futures battling each other for supremacy, have an unexpected encounter while visiting the past. Soon, they're writing each other letters, and from there, it's just a quick temporal jump to falling in love. But their romance is dangerous for many reasons — not only is it treason, but ultimately, only one of their timelines can prevail. This sweeping tale, co-written by two well-known authors, will add a dash of romance to your sci-fi (or vice versa).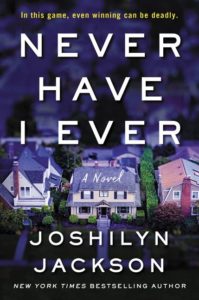 Never Have I Ever: A Novel (available July 30)
Author: Joshilyn Jackson
Amy Whey sounds like a real square: she organizes the book club, she bakes cookies for the neighbors, she gazes adoringly at her husband and children. But there's something nobody knows about Amy — and it all starts to unravel when the sinister and alluring Angelica Roux crashes book club one night, plies everyone with wine and starts getting them to spill their secrets. Afterward, Angelica corners Amy with a bit of blackmail, threatening to reveal Amy's dark past if she doesn't give Angelica what she wants. But what Angelica may not fully understand is that Amy will do anything to preserve the safe, comforting life she's made for herself… including committing a few more sins.
AUGUST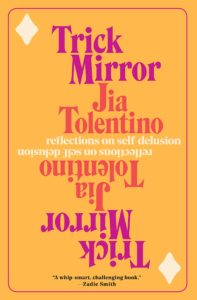 Trick Mirror: Reflections on Self-Delusion (available August 6)
Author: Jia Tolentino
If you're looking for a little more introspection this summer, check out this essay collection from Jia Tolentino, a blogger and now staff writer for the New Yorker. In nine essays, she ponders the current moment in pop culture, from the rise of social media to the alleged self-centeredness of millennials, and the repercussions of being constantly inundated with images of impossible perfection and exhortations to work toward those unrealistic goals. With humor and insight, Tolentino turns the mirror back on the reader, asking us to ponder the self-delusions we carry with us and bring to every interaction. Yikes!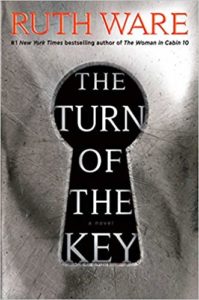 The Turn of the Key (available August 6)
Author: Ruth Ware
Prolific suspense author Ruth Ware (The Woman in Cabin 10) returns with another chilling summer thriller. Rowan Caine wasn't planning on becoming a live-in nanny, but the offer seems too good to pass up: a generous salary, room and board included. When she arrives, the house is equally amazing: a beautiful home in the Scottish Highlands with all the high-tech amenities you could ask for, and a seemingly picture-perfect family. So how does Rowan end up in jail, awaiting trial for the murder of a child? Well, as she writes to her lawyer, nothing was as it first seemed, from the constant video surveillance to the bizarre technical malfunctions that led to loud music waking everyone up and the lights randomly switching off. Not to mention the long, isolating weeks all alone with nightmare children who were nothing like the little angels she first met. Rowan knows she wasn't perfect… but she didn't kill anyone, either. Which means someone else did — and they're still walking free.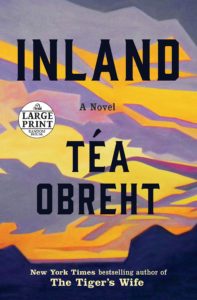 Inland: A Novel (available August 13)
Author: Téa Obreht
Bestselling author Tea Obreht (The Tiger's Wife) returns with a sweeping tale of the American West. In the wild, lawless lands of the Arizona Territory circa 1893, Nora is a tough frontierswoman holding down the fort while waiting for her menfolk to return home: her husband, who's gone to search for water during the drought, and her older sons, who had a blowout fight and then disappeared. Her youngest son, still at home, is obsessed with the notion that a strange beast is hunting the land around their house. Meanwhile, Lurie is a former outlaw haunted by his past; seeking to escape, he embarks on an expedition out west. Nora and Lurie's lives come together in a surprising, suspenseful way that blends myth, folklore, and the romance of the Wild West.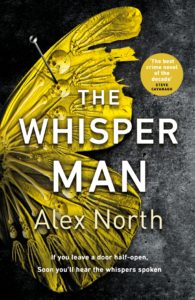 The Whisper Man: A Novel (available August 20)
Author: Alex North
And one last scary story to end your summer! Widower Tom Kennedy takes his young son, Jake, and moves to a new town, hoping the change of scene will be a fresh start. But the town of Featherstone has a creepy history: two decades earlier, a serial killer kidnapped and murdered five people. Frank Carter, the killer, was dubbed the "Whisper Man," because of how he would lure his victims outside by whispering at their windows. As Tom and Jake are unpacking, a young boy suddenly vanishes in circumstances that are eerily similar to the Whisper Man's crimes, sparking old rumors that the serial killer had an accomplice who was never caught — and is continuing their murderous spree. Detectives Amanda Beck and Pete Willis are desperate to do whatever it takes to save the kidnapped boy, even if it means confronting Pete's nemesis, Frank Carter, in prison. Meanwhile, Jake starts saying that he's been hearing whispers at his window. Read this one on a sunny, crowded beach only!
Looking for more like these summer 2019 books? You might also like:

Latest posts by Stephanie Perry
(see all)