Now, I'm not generally a big romance reader, and maybe you aren't, either. But how can you resist rock star romance novels? That's got to be the ultimate taming-the-bad-boy cliche, plus you've got the riches-and-fame glamour element as a bonus. (Sexy cowboys are all very well, but they won't get you into any VIP parties.) For a love story with an edge, try one of these page-turning tales, and prepare to be rocked. And don't forget to check out our list of 2015's best rockstar romances!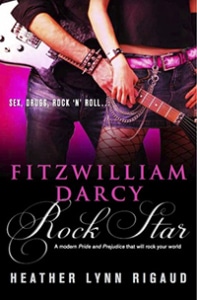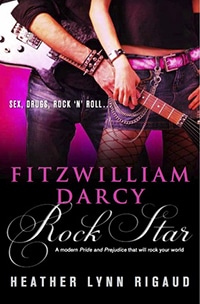 Fitzwilliam Darcy, Rock Star

Author: Heather Lynn Rigaud
Oh yes indeed, it's a Pride and Prejudice retelling with a contemporary rock-star setting. Fitzwilliam Darcy is a bad-boy rocker who's almost as well known for his wild offstage antics as his top-notch guitar skills. But when his band suddenly loses their opening act, their summer tour is in danger of falling apart… until indie girl band Long Borne Suffering saves the day (OK, that name is pretty clever). Elizabeth Bennett, sister Jane, and Charlotte Lucas are ready to rock, and happily snag the gig. It's hard to shake the mental image of a bunch of fancy lady riot grrrls rocking out in bonnets and nightgowns. I have a feeling I already know how this will end, though hopefully with fewer arranged marriages and creepy priests.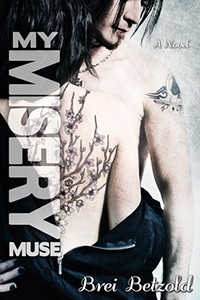 My Misery Muse

Author: Brei Betzold
I really love these terrible fictional band names, which sound exactly like real terrible band names. Devi Porter is a hot new tattoo artist in Dallas who's trying to forget her ex Seth, the bassist of, yep, My Misery Muse. Seth and his bandmates are having their own struggles with the rock 'n' roll lifestyle and agree to return home to Dallas to work on their next album — and their personal conflicts. When Seth and Devi inevitably meet up, they realize that there's plenty of unfinished business, and they both still have feelings for each other. Are a matched set of tattoos in their future?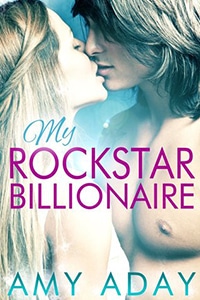 My Rockstar Billionaire

Author: Amy Aday
Curvy girl Belle is still reeling from a painful breakup with her cheating loser of an ex-boyfriend, Mike. When she scores a travel writing assignment to a tropical resort (why don't I ever get assigned these kinds of jobs?), Belle takes the trip expecting no more than some beachy relaxation. To her surprise, she starts a vacation fling with Ricky, a handsome charmer who surprises her with his interest. They agree to enjoy their time together and not think about the future, but Belle can't help wondering who this guy is and what he has to hide. I bet you can figure it out from the title, though. This bestselling 2014 book now has a sequel, so you won't be left hanging about what happens next.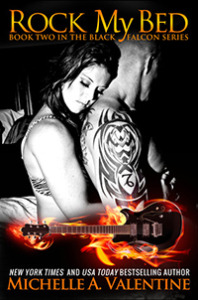 Rock My Bed

Author: Michelle A. Valentine
Rock My Bed won the award for Best Title before I knew a single thing about it. Twentysomething Aubrey Jenson has a history of getting her heart broken by bad boys, and it looks like "Riff," lead guitarist of Black Falcon (!), is just more of the same. So Aubrey decides to be proactive and do the leaving this time, before things turn ugly. Returning to New York, she tries to create that same spark while dating a perfectly nice marketing guy (yawn). But when Aubrey's best friend, Lanie, asks her to be a bridesmaid at Lanie's wedding to the lead singer of Black Falcon, there's no way to avoid seeing "Riff" again. Aubrey can't ignore her passion for "Riff," even though she knows he'll be no good for her. What to do, what to do?
The Rocker Who Savors Me

Author: Terri Anne Browning
A strong contender for Best Title, though with a somewhat icky undertone. Layla has led a rough life for someone who's still so young, but she's always had to rely on herself to get by. Now, with others depending on her, she has to find a job and get some money before they're all evicted. At an interview, Layla meets Jesse Thornton, drummer of Demon's Wings. Wait, that's so good it needs to be in all caps: DEMON'S WINGS. Jesse has his own emotional scars; he's never been able to trust anyone except his bandmates… and the woman who broke his heart. But when Jesse meets Layla, he realizes it's time to make some changes. Can these two damaged souls find love and trust? Not without a few more sequels!
You might also like:

Latest posts by Stephanie Perry
(see all)