It's official: coloring books for adults are the hot trend of 2015. Whether you're expressing your creativity or just looking for a soothing way to relax, coloring is a fun and inexpensive hobby for al ages. In fact, it's so popular right now that Johanna Basford's Secret Garden book has sold out and is backordered. But don't despair! We've got an all-new list of awesome coloring books for grownups that are available right now. See our original post for more ideas.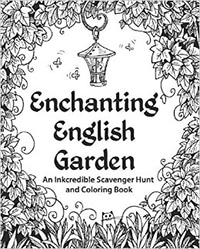 Enchanting English Garden: An Inkcredible Scavenger Hunt and Coloring Book

Until Secret Garden gets reprinted, this coloring book is a pretty close substitute. Whimsical images like teapots, bunnies, and cottages are elaborately detailed for your coloring pleasure, and each page has a few hidden items for the "scavenger hunt." The pages are printed on one side only, so you can tear them out and display your artwork easily.
Outside the Lines: An Artists' Coloring Book for Giant Imaginations

This is the most expensive coloring book on this list, but look at what you get: 100 illustrations from creative masterminds, including animators, cartoonists, fine artists, graphic artists, illustrators, musicians, outsider artists, photographers, street artists, and video game artists. With art by Keith Haring, AIKO, Shepard Fairey, Exene Cervenka, Keita Takahashi, Jen Corace, Ryan McGinness, and more, you might not even want to color some of the pictures! But do it anyway — that's what it's there for.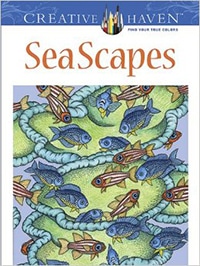 Creative Haven SeaScapes Coloring Book

If you like more realistic nature images, this marine-life coloring book is for you. Detailed scenes of moon jellyfish, sea dragons, sharks, manatees, whales, and other sea creatures will give your blue and green crayons a workout! The 31 pages are printed on one side only and perforated for easy removal.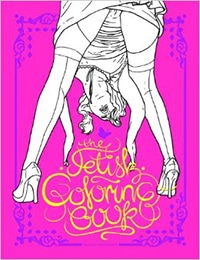 The Fetish Coloring Book

Putting the "adult" in "adult coloring book," this NSFW collection of X-rated images is very definitely not for kids. It features fetishes and kinks of all kinds — who knows, you might even learn a thing or two! Bring it along to a bachelorette party or just color it alone at home with the curtains drawn.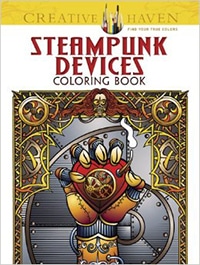 Creative Haven Steampunk Devices Coloring Book

Now that I think about it, a steampunk-themed coloring book makes a lot of sense. All those fussy Victorian details and tiny gears will challenge even the most experienced coloring-book artist! Flying machines, locomotives, submarines, and other curious contraptions fill the 30-plus pages in this book.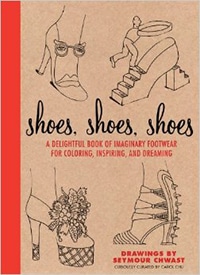 Shoes, Shoes, Shoes: A Delightful Book of Imaginary Footwear for Coloring, Decorating, and Dreaming

For the price of a pair of flip-flops, you can take home this book of 100+ fantastical images of imaginary shoes to color. Ranging from the wish-they-made-that to the impossible-to-wear, these detailed pictures paired with thought-provoking quotes are perfect for the cash-strapped fashionista.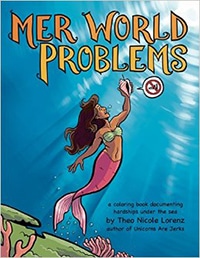 Mer World Problems: a coloring book documenting hardships under the sea

If you think being a mermaid is all treasure-hunting in shipwrecks and combing your hair with forks, think again! Life under the sea isn't so easy: there's socially awkward sea turtles, barnacle breakouts, and don't even get me STARTED on lack of wi-fi. Enhance your understanding of mer-world problems with this funny underwater adventure.
The 1990s Coloring Book: All That and a Box of Crayons (Psych! Crayons Not Included.)

The '90s are now officially "vintage"… let that sink in for a horrible minute. If you were around the first time that slap bracelets, floral pants, and Tamagotchis were trendy, then you'll appreciate the retro images in this sassy book. Everyone else will just have to read the subtitles to understand these historical artifacts of the ancient past.
You might also like:

Latest posts by Stephanie Perry
(see all)