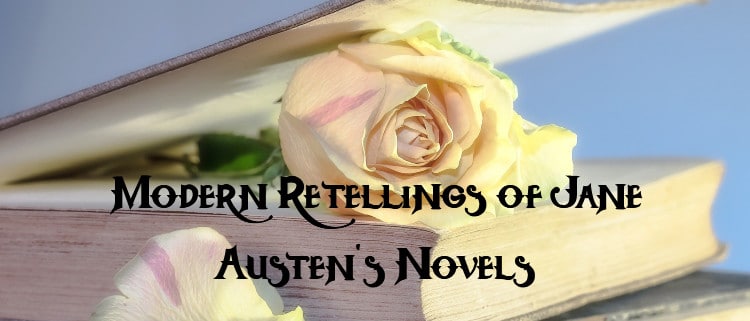 Jane Austen may have only written six novels, but you'd never know it by the sheer volume of updates, retellings, unofficial sequels, and fan fiction that's been written in and around the worlds she created. Here are some of our favorite modern version of Jane Austen's classic romances, from Northanger Abbey
to Persuasion
. Which is your favorite Jane Austen retelling?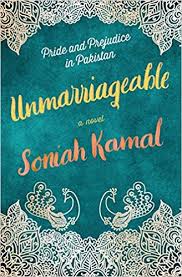 Unmarriageable
Author: Soniah Kamal
This twist on Pride and Prejudice sets the classic romance in modern-day Pakistan. Even though scandal and rumor have destroyed the Binat family's social prospects, their second-oldest daughter Alys has found a satisfying career teaching English literature to schoolgirls. She knows that many of her students will drop out to marry and have children before they graduate, but by teaching them about Jane Austen and her other literary heroines, she hopes to inspire the girls to dream bigger. Meanwhile, when the family receives an invitation to the wedding of the decade in their small town, Mrs. Binat makes up for lost time, coaching her daughters to flirt with handsome, wealthy bachelors. Jena, the oldest daughter, catches the eye of Fahad "Bungles" Bingla – but Fahad's friend, Valentine Darsee, openly talks trash about the Binat family. Alys is indignant, but as the extravagant multi-day wedding festivities continue, and Fahad and Jena seem to have a real connection, Alys begins to see some hidden depths in the harsh, snobbish Darsee.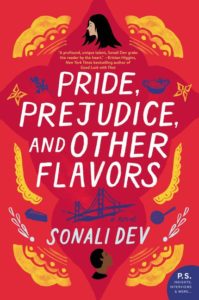 Pride, Prejudice, and Other Flavors
Author: Sonali Dev 
Dr. Trisha Raje is the most gifted neurosurgeon in San Francisco – and she's also the black sheep of her family. Since immigrating to the U.S., they've achieved power and prominence by sticking together no matter what, and Trisha hasn't always toed the line… but they're giving her one more chance. Meanwhile, DJ Caine is a hot new chef who's determined to make his own way with hard work and ambition. He's tempted by the lucrative job that the Rajes offer him, but every interaction with the arrogant Trisha makes him grind his teeth. And then he learns that she's the only surgeon who can save his sister's life. Suddenly, they're both forced to reconsider what's most important in life, and what it truly means to be family.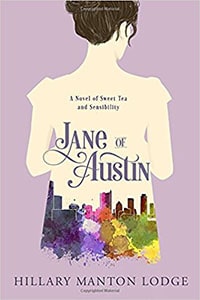 Jane of Austin: A Novel of Sweet Tea and Sensibility

Author: Hillary Manton Lodge
This modern take on Sense and Sensibility is set in Austin (get it?). Jane and Celia Woodward's lives are torn apart by their father's business scandal, but they manage to rebuild their lives by opening a successful tea shop… until a new landlord kicks them out. Jane doesn't want to leave San Francisco, but Celia insists on moving to Austin, TX, for a fresh start. But soon, Jane gets involved with Sean Willis, a charismatic musician who charms everyone — except for retired Marine Captain Callum Beckett, who's dealing with his own personal problems. As tensions rise between the sisters, will their troubled family grow together — or fall apart?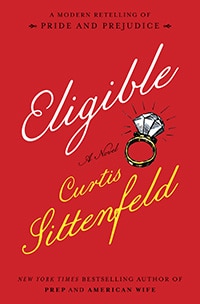 Eligible

Author: Curtis Sittenfeld
The newest Pride and Prejudice
update on our list, released in April 2016, gives the classic a full 21st-century makeover. Liz Bennet is a magazine writer in her late thirties, and big sister Jane is a yoga instructor. When their father has a medical scare, the sisters rush home from New York City to their childhood home in Cincinnati, and are shocked to discover the run-down house and messed-up family. Kitty and Lydia are wannabe Instagram celebrities, floating through the days with trendy diets and workouts. Mary is permanently holed up in her room, earning her third online master's degree and hardly talking to anyone. Mrs. Bennet is frantic to get her useless daughters married and out of the nest — and right on cue, here comes Chip Bingley, a handsome doctor best known for recently appearing on a reality-TV dating show. And what do you know, he has a surly neurosurgeon friend named Fitzwilliam Darcy! You can take it from here, I think. See our full review.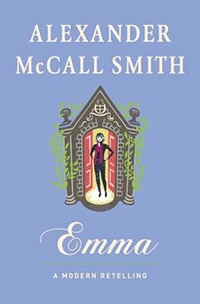 Emma: A Modern Retelling

Author: Alexander McCall Smith
Like Eligible, Emma: A Modern Retelling is part of The Austen Project, a multi-author collaboration to write modern adaptations of Austen's novels. In this version, Emma Woodhouse returns home after university to live with her widower father and start an interior design business. But her real passion is matchmaking and offering personal advice on anything and everything — especially dating and romance. Reactions to this update are decidedly mixed, mostly because all the characters still seem to be lounging on piles of money out in the country. But if you're looking for a very quick, fluffy read and you enjoy McCall Smith's other books, add it to your summer pile.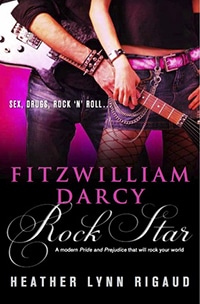 Fitzwilliam Darcy, Rock Star

Author: Heather Lynn Rigaud
Yes, folks, it's a Pride and Prejudice rockstar retelling. I see you rolling your eyes, but hear me out! Fitzwilliam Darcy is a bad-boy rocker who's as famous for his wild offstage antics as his top-notch guitar skills. But when his band suddenly loses their opening act, their summer tour is in danger of falling apart… until indie girl band Long Borne Suffering saves the day. Elizabeth Bennett, her sister Jane, and Charlotte Lucas are ready to rock, and happily snag the gig. It's hard to shake the mental image of a bunch of fancy lady riot grrrls rocking out in bonnets and nightgowns. I have a feeling I already know how this will end, though hopefully with fewer arranged marriages and creepy priests. (This book was also featured in our 5 Hot Rock Star Romance Novels list.)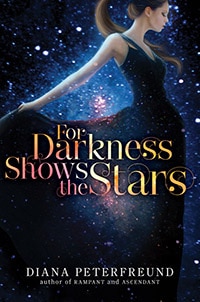 For Darkness Shows the Stars

Author: Diana Peterfreund
Does the distant future count as a modern retelling? Let's go with it. In this inventive sci-fi retelling of Jane Austen's Persuasion, a disastrous genetic experiment gone wrong caused an apocalypse known as the Reduction, with a few human "Luddite" survivors and a large "Reduced" population of people with severe mental disabilities and defects. Generations later, the Luddite nobility has become the ruling class in a feudal system, retaining power by ensuring that technology — and especially genetic manipulation — is strictly forbidden. Elliott North is a Luddite who chose her duty to her ancestral estate over her love for her childhood sweetheart Kai, a servant in the North household, when he ran away four years ago. And now Kai is back in town as Captain Malakai Wentforth, dashing explorer, and all the young ladies are swooning. Can there be a second chance at romance between them, or have their choices taken them too far apart? (This was also featured in our All About Apocalypses reading list.)
Northanger Abbey

Author: Val McDermid
Also part of the Austen Project, this is a retelling of Austen's early gothic satire Northanger Abbey. Cat Morland is a minister's daughter who grew up home-schooled in rural southwest England. She's obsessed with novels — and, this being modern times, her smartphone — and can't wait to strike out beyond her tiny hometown in search of adventure. When her neighbors, the Allens, invite her to come along with them to Edinburgh's Fringe Festival, it's a dream come true. In Edinburgh, Cat makes fast friends with the Thorpe family, especially their oldest daughter Bella… and then she meets Henry Tilney, who lives at the imposing estate of Northanger Abbey with his sister Eleanor. Does everything seem a little too perfect? Or is it just Cat's feverish, novel-fed imagination running wild?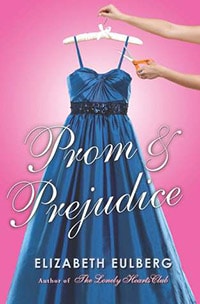 Prom and Prejudice

Author: Elizabeth Eulberg
Nowadays, formal dances are probably the closest any of us get to the grand balls of Jane Austen's time, and nothing is more high-stakes than senior prom. In this YA Jane Austen retelling, Lizzie Bennett is a scholarship student and musical prodigy at Longbourn Academy, an elite Connecticut school. Austen's self-centered social climbers turn out to be a pretty good fit with the wealthy mean girls and rich-kids-of-Instagram stereotypes of today. Younger readers don't have to be familiar with the original to enjoy this update, but it makes it more fun to anticipate each twist and turn of the plot. (This also appeared in our 6 YA Prom Books You Need to Read list.)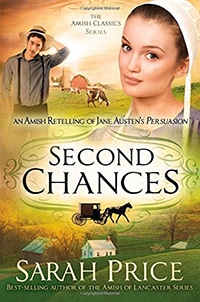 Second Chances: An Amish Retelling of Jane Austen's Persuasion

Author: Sarah Price
It's a little hard to tell whether this Persuasion update is set in the present day or not, because… Amish. But sure, why not? Anna Eicher is 25 and still single, mainly because her parents pressured her to reject her suitor (and best friend) Freman Whittmore at age 17. After their breakup, a heartbroken Freman moved away from their community. Now he's back to visit his sister, who coincidentally happens to be renting the Eichers' house. Freman is a big shot now (owner of the largest dairy farm in his church district, thank you) and he's still single — and still pissed off at Anna. Freman soon begins wooing another lady, but Anna hopes to earn his forgiveness and maybe a second chance. Author Sarah Price has a whole series of these Jane Amish novels, so if you like this one, check out the others.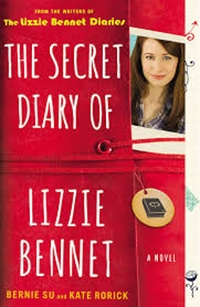 The Secret Diary of Lizzie Bennet

Authors: Bernie Su, Kate Rorick
This Pride and Prejudice retelling is based on the Emmy-winning YouTube series "The Lizzie Bennet Diaries." At 24, Lizzie Bennet is a broke grad student living at home with her two sisters, Jane and Lydia. She records her musings on life for a thesis project and posts them online, little realizing that the "diaries" will go viral, turning the girls into Internet celebrities. But it's when wealthy hottie Bing Lee arrives in town, with his snobby pal William Darcy, that it gets seriously juicy for their viewers. Of course, there's a lot more that happens off-camera… and that's the story this book tells. If you loved the web series, get the full behind-the-scenes gossip with this novelization.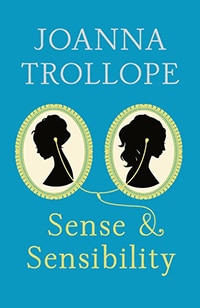 Sense & Sensibility: A Novel

Author: Joanna Trollope
Another in the Austen Project series, this Jane Austen retelling is a contemporary update of Sense and Sensibility. On their father's deathbed, John Dashwood promised that he would take care of his half-sisters Elinor, Marianne, and Margaret. But John's wife Fanny has zero interest in sharing their newly inherited home with some half-sisters-in-law. Despite the iPods, texting, and laptops, some things never change — specifically, awful relatives, flaky guys, and juicy gossip. Bridget Jones fans will find lots of similarities in this modern retelling.
Sign up for our newsletter and get more awesome book lists in your inbox!
You might also like:

Latest posts by Stephanie Perry
(see all)