First published in 1868, Little Women is an American classic that celebrates its 150th anniversary in 2018. So it's no surprise that it has its fair share of modern retellings. Some are more true to the source material than others, but all of these updates are worth checking out for readers who love the original. How many of these Little Women retellings are on your shelf?
Books
The Spring Girls: A Modern-Day Retelling of Little Women
Author: Anna Todd
In this military-flavored Little Women retelling, Meg, Jo, Beth, and Amy Spring are struggling with growing up on the New Orleans military base while their father is deployed in Iraq and their mother is distracted with her own problems. Meg, the oldest, plans to become an officer's wife and join military society, if her impulsive nature doesn't sabotage her. Hard-working Beth is afraid to leave the nest, but doesn't know how else she'll find her own identity. Jo is impatient to skip town and dreams of a glamorous life as a journalist in New York. And Amy, the baby, is watching her older sisters' examples… for better or for worse. (This also appeared in our Winter 2018 book preview.)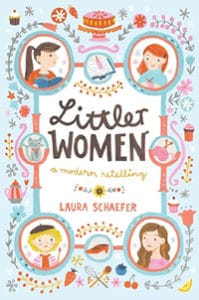 Littler Women: A Modern Retelling
Author: Laura Schaefer
This charming adaptation is the perfect way to introduce younger readers to the classic version. Meg March, age 13, and her sisters Jo (12), Beth (10), and Amy (9), are best friends who stick together through good times and bad. Throughout one eventful year, they go to school dances and sleepovers, get to know their next-door neighbors (the Lawrences), swoon over their first crushes, and become closer despite their differences. There's a recipe or a craft project at the end of each chapter for added fun.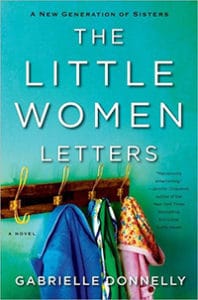 The Little Women Letters
Author: Gabrielle Donnelly
This retelling has a bit of a twist — the main characters are descendants of Jo March. Big sister Emma is planning a wedding, and the youngest sister, Sophie, is debuting a performing career on the London stage. Meanwhile, Lulu Atwater feels like the family dud: she's happy for her sisters' success, but her own life seems stuck in a rut of dead-end jobs and no romantic relationships. But when Lulu discovers a treasure trove of letters written by her great-great-grandmother, Josephine March, she finds unexpected comfort in the wisdom and understanding of her ancestor. Can Jo's guidance help Lulu find her own happiness?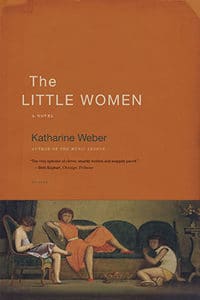 The Little Women: A Novel
Author: Katharine Weber  
It may be a little controversial to include this one, as the author has said it's not a retelling of Little Women, but it's certainly a modern interpretation that wouldn't exist without the original. In this version, Meg, Joanna and Amy Green (Beth is downgraded to a pet turtle who didn't survive) are upper-middle-class girls growing up in New York City. Meg, at 20, is the responsible, quiet eldest; Amy, 15, is the spoiled baby; and Joanna, at 17, is the rebel. The Greens' seemingly perfect family is shattered when their mother's affair leads to a seemingly too-easy forgiveness from their father. In protest, Joanna and Amy move in with Meg at her apartment near campus. Joanna narrates the story, but the other sisters' comments are sprinkled throughout the text, replying to or disputing her telling of the tale. This one won't be for everyone, but the experimental style is definitely a new direction.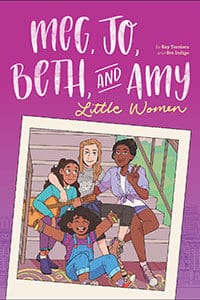 Meg, Jo, Beth, and Amy
Author: Rey Terciero; Illustrator, Bre Indigo
Last, we have something new: a modern-day graphic novel adaptation. This modern-day March family is blended and multiracial; their mother is working two jobs to support the family while their father is deployed. Racism is a major theme, and Jo is LGBTQ, a conscious choice by author Rey Terciero to openly discuss what may have only been subtextually hinted at in the original. New chapters will appear online weekly, with a full paperback and digital release in November 2018. See a preview here: https://tapas.io/episode/1001025 
TV and Movie Retellings, and More
If you prefer viewing to reading, there are several TV and movie Little Women retellings coming soon, too! And if you want to read more about the novel's cultural significance over the last 150 years, check out Meg, Jo, Beth, Amy: The Story of Little Women and Why It Still Matters.
You might also like:

Latest posts by Stephanie Perry
(see all)