If you love a sexy bad-boy romance (and who doesn't?), here's the ultimate fantasy: tattoo romance novels! These books feature tough-looking nice guys, misunderstood rebels, and heartbroken hunks getting a second chance at love. Feeling inspired by all the tattoo romance? Get yourself a little temporary ink with these pretty metallic flash tattoos
, or go hard with these temporary knuckle tattoos
.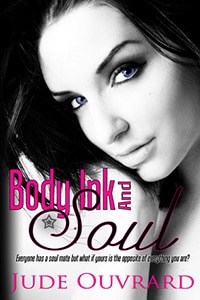 Body, Ink, and Soul
(Ink series Book 1)
Author: Jude Ouvrard
At 21, Phoenix Silverstone (yep) is spreading her wings, moving out of her strict mother's house and escaping her rules and restrictions. "Nix" is working at a bar, having fun with friends, and pursuing Tristan, a smart and sophisticated law student who also happens to be smokin' hot. But when one of Nix's friends moves out, the new roommate is Levi, a sexy, charming, heavily tattooed bad boy straight out of her mother's nightmares. Is Nix throwing her future away by falling for a loser — or taking a chance on real love?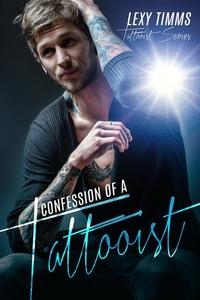 Confessions of a Tattooist
(Tattooist Series Book 1)
Author: Lexy Timms
Hawk Reynolds is a top-notch tattoo artist, not to mention gorgeous, so it's no surprise that women line up outside his shop to get their ink done. But none of them have ever captured his heart… until a regular customer brings her friend Joy along one day. Joy isn't that into tattoos, but she admires Hawk's art — and Hawk himself. She's sick of guys pursuing her just because her father is mind-blowingly rich, but as her romance with Hawk heats up, she starts to regret lying to him about her wealthy background. Will Hawk forgive her deception?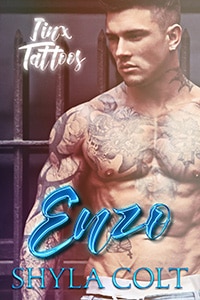 Enzo
(Jinx Tattoos Book 1)
Author: Shyla Colt
Enzo Jordan has had a tough life. Neglected and abandoned by a drug-addict mother and raised in foster care, he doesn't have much use for love. Now 35, Enzo owns a successful tattoo shop and can hook up with any woman he wants. But the one-night stands aren't fun anymore, and Enzo's finding it harder and harder to hide his romantic feelings for his best friend, Aibhlinn. Meanwhile, Aibhlinn has been secretly in love with him for years. Will Enzo's fear of opening up keep them from finding love together? Or can he overcome the abuse that taught him to guard his heart?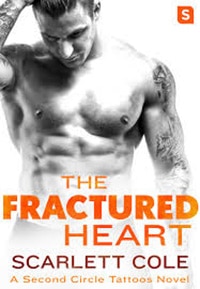 The Fractured Heart: A Second Circle Tattoos Novel

Author: Scarlett Cole
Another abandoned child turned tormented adult, Brody "Cujo" Matthews is a gifted tattoo artist who pours his passion into his work… not into love. But when Cujo is asked to help plan his best friend Trent's engagement party, he's thrown together with the bride's friend Drea, who instantly catches his eye. Meanwhile, Drea has her own problems. After years of taking care of her sick mom, she's up to her eyeballs in medical bills and working two jobs just to get by. She certainly doesn't have time for the distraction of a womanizing tattoo artist, however hot. Cujo is determined to prove himself to Drea, but a shocking crime may kill their romance before it even begins.
Marked
(Tattoos and Leather Book 3)
Authors: Jaymie Holland, Cheyenne McCray
Flight attendant Tracie Bell is too busy flying around the world — and has been let down too many times by shady guys — to bother with sexy times. That is, until she meets sexy tattooed fellas Lucas Connor and Kane Allen in first class on a flight to Hawaii. Still recovering from losing the woman they loved to a violent act a year ago, Lucas and Kane aren't sure they're ready to welcome someone new into their lives. But as soon as they saw the beautiful, sweetly submissive Tracie, everything changed. Will their shared passion convince Tracie that the three of them have a real emotional connection?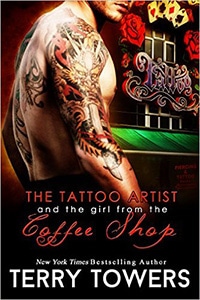 The Tattoo Artist and the Girl from the Coffee Shop

Author: Terry Towers
Tessa Wilcott has been through the emotional wringer, and after the deaths of her parents, she's alone. She decides to get an inspirational tattoo of a phoenix and walks into Chase Gamble's tattoo shop for the design. The two feel an instant spark of attraction, but when Chase doesn't follow up, she shrugs it off. Meanwhile, a coworker sets Tessa up with the pushy Eric, but after a ho-hum date, Tessa's not interested. She's focusing her attention on opening up a coffee shop… and of course her new landlord is none other than Eric. Can Tessa avoid Eric's creepy wooing, and will Chase ever act on their growing romantic chemistry?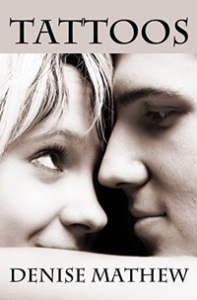 Tattoos

Author: Denise Mathew
This is less of a sexy romance and more of a YA novel for fans of The Fault in Our Stars. At 17, rich girl Marilee Mackie seems to have a bright future ahead of her. But when she's diagnosed with cancer, her life is put on hold while she fights the disease. Jax, a tough-looking and tattooed hospital orderly from the bad part of town, looks like the kind of bad boy Marilee has always been warned about. But when she's losing hope and struggling to find meaning in her life, Jax befriends her and helps her find reasons to keep going. As they learn to look beyond appearances, they find themselves falling in love, and begin a project to show kindness and share happiness with others.
You might also like:

Latest posts by Stephanie Perry
(see all)