Titles and Tiaras
I'll be the first to admit that Downton Abbey has taken some questionable turns lately. But I'm still entranced by the aristocratic old-world glamour of its Edwardian England setting — and the fascinating story of the Buccaneers, the tiara-hungry American heiresses who were absolutely real. Whether you're a die-hard Downton fan or just interested in late Victorian and Edwardian culture, these nonfiction books will give you a glittering glimpse of history.
Despite the title, which sounds like a terrible romance novel, this is an excellent and highly entertaining account of the late 19th-century and early 20th-century buccaneers and their marital achievements. Often from nouveau riche families who'd made their money in manufacturing or trade and would therefore never break into the innermost circles of New York society, these enterprising tycoons jumped ship for England in accordance with the law of supply and demand: they had money, and the impoverished nobility had titles and social clout. Stuffed with fascinating photos, profiles of famous heiresses, and plenty of juicy quotes in the margins, this book is jam-packed with information but never dull. It's like you're reading a tawdry tabloid, but you're actually learning history!
After you've read To Marry an English Lord, and it's quite clear that the real-life Buccaneers were as saucy as anything cooked up for a fictional costume drama, you might find yourself wanting to read a personal account from one of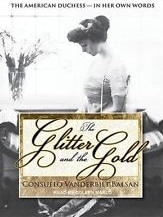 those rich American heiresses who hiked up their skirts and hopped over the Atlantic to find a noble husband. Consuelo Vanderbilt, Duchess of Marlborough, is perhaps the most famous of them all, although in fairness, she wasn't callously seeking a tiara and a title. Beautiful, sophisticated, and unimaginably wealthy, Consuelo was in love with a dashing American suitor, but her socially ambitious mother separated the couple and insisted that Consuelo marry the Duke of Marlborough, and eventually Consuelo, worn down, agreed. It was no love match, and after over a decade of chilly marital relations, Consuelo moved out of Blenheim Palace, got her marriage annulled, and went on to marry again (as did the duke). Of course, you're only getting Consuelo's side of the story here, but there's plenty of top-notch gossip, royal name-dropping, and social sniping to enjoy.
Did you know that Downton Abbey has a King Tut connection? Back in 1922, the fifth Earl of Carnarvon (whose castle, Highclere, is the one used in "Downton Abbey") funded Howard Carter's archaeological expedition that unearthed King Tut's tomb. The Egypt-crazed, cash-poor earl could afford this thanks to the vast wealth of his bride, Almina Wombwell, the illegitimate daughter of an immensely wealthy banker whose money bought her a title and a ticket into high society. Lady Almina is a lively and entertaining read, written by the present Countess of Carnarvon. Part aristocratic tell-all, part archaeological adventure, part WWI military history, and part costume-drama romance, it keeps the story moving without making you feel like you're being force-fed factoids. And you'll come out with several cocktail parties' worth of juicy historical tidbits for your Downton-loving friends. The only downside to the book is that it's eventually going to cost me thousands of dollars, because I'm now obsessed with going to England and having high tea at Highclere! See our full review.
Also written by the present Countess of Carnarvon, Lady Catherine, the Earl, and the Real Downton Abbey picks up where Lady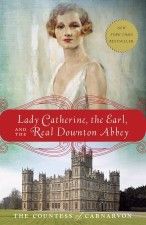 Almina left off. This installment tells the story of Catherine Wendell, an American who married Lady Almina's son, who would become the sixth Earl of Carnarvon. Unfortunately, their marriage wasn't a particularly happy one, and hunting parties and shopping sprees soon gave way to the earl's serial womanizing and Catherine's alcohol abuse. As we've seen in later seasons of Downton Abbey, the post-World War I era was a tumultuous and rapidly changing time for the English aristocracy, as long-held traditions were swept away by rapid political and social change. Just as Lady Almina told the story of Highclere's WWI involvement, Lady Catherine fills in details about Highclere's WWII role as a sanctuary for London children and a training facility.
Oh, how we all love Downton Abbey! And how we hate their English restraint in producing just a handful of episodes per series. Fortunately, The World of Downton Abbey is your glossy coffee-table companion for those difficult, Downton-less times. The book is arranged into themed chapters, including Family Life, Society, Change, Life in Service, Style, House and Estate, Romance, War, and Behind the Scenes. You'll learn a bit of real history, drool over gorgeous photos of dresses and jewels, and learn behind-the-scenes secrets from the costume designers, makeup artists, and set designers. Since it is a companion volume to the series, this book assumes that you've watched Series 1 and 2, so if you haven't, you run the risk of encountering some spoilers (including spoilery cannot-unsee photos) as you read. See our full review.
…and "Downton Abbey"
If you'd rather learn about Downstairs than Upstairs, read this classic memoir by 1920s-era kitchen maid Margaret Powell. Starting out as a lowly scullery maid like Daisy, she began work at 5:30 a.m., scrubbing vegetables and washing pans until well after dark. There's plenty of the titillating soap-opera drama we love in Downton, including lavish luxury, lecherous gentlemen, wild servants' dances, and housemaids being seduced and impregnated by the gentry. Powell tells her story with humor and warmth, bringing a long-ago era back to vivid life.
Part of the excellent PBS "House" series, Manor House is a (non-trashy, educational) reality show that places modern people into a functioning replica of a historical era — in this case, an Edwardian country estate. This series splits participants into "upstairs" aristocracy and "downstairs" working-class servants, who must treat each other in historically accurate ways. Both master and servant are tightly restricted by a suffocating set of etiquette rules governing nearly every waking moment of the day, but the challenges (and the living conditions) are drastically different for each. If you're wondering how you would have fared at Downton Abbey, this is probably the best glimpse at how 21st-century people would actually feel about living in the Edwardian era.
Bonus Viewing, Too: Edwardian Farm (Region 1, U.S./Canada)
Similar to the PBS "House" series, the BBC "Farm" series places modern people into as-authentic-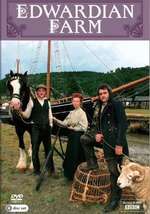 as-possible historical settings to see how everyday life really was. Edwardian Farm, however, uses historians and experts as its subjects, so there's less whining about lack of modern conveniences and more nerdy zeal for period-accurate filth. Capable Ruth, joker Alex, and affable Peter try their hand at everything an enterprising Edwardian farmer might do: raising chickens, milking cows, farming strawberries, brewing cider, growing and harvesting hay, and dangerously primitive mining. They also call in a slew of amazingly authentic old-timers to give them tips on old-fashioned country living. While it's not as glitzy as swanning about Pemberley, these working-class farmers would have grown much of the produce that supplied aristocratic homes across England, so there are interesting insights on how technological advances made a wide variety of products quickly and conveniently available as never before.

[/fusion_builder_column][/fusion_builder_row][/fusion_builder_container]

Latest posts by Stephanie Perry
(see all)