This won't be a surprise to anyone who's plunked down next to a kid to help them color: studies have shown that coloring is linked to lowered stress levels in adults. According to psychologist Gloria Martínez Ayala, coloring combines the logic of filling in shapes and the creativity of mixing and matching colors, thus lowering the activity of the amygdala, which processes (among other things) stress and emotional reactions. Plus, it's just plain fun.
In the spirit of scientific advancement, here are some beautiful and challenging coloring books designed for grownups to flex their creative muscles. Combine these with a nice set of colored pencils or art markers for a fun and thoughtful gift!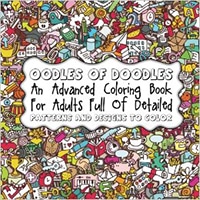 Oodles of Doodles: An Advanced Coloring Book For Adults Full Of Detailed Patterns

If you're not sure how much you want to invest in your new coloring hobby, this is the budget-friendly choice at under $4. The large 8.5 x 11 inch pages are jam-packed with dense layers of charming little objects to color. Best of all, it comes with a printable PDF version, so you can gather some equally stressed friends and throw a coloring party.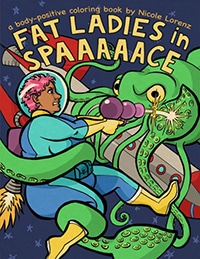 Fat Ladies in Spaaaaace: a body-positive coloring book

The title alone should sell you on this fun, sci-fi-flavored coloring book. You'll have to forgive the author's use of Comic Sans throughout, but that's a minor flaw in this otherwise delightful collection of curvy ladies kicking ass and busting aliens in outer space. Nerdy parents and their kids will enjoy this cute book equally.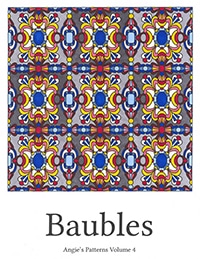 Angie Grace Sampler

Angie Grace has lots and lots (and lots) of grownup coloring books, in four different series. But how will you know if "extreme," "snazzy," "classy," or "wow" is right for you? With this value-priced sampler, of course! For $5, you get a sample page from each of her many themed coloring books to help you pick your personal coloring style. No surprise, I was drawn to the "Baubles
" book with faceted geometric patterns that remind me of glittering jewels.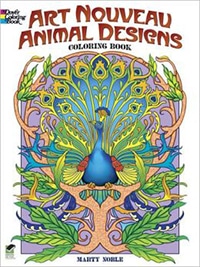 Art Nouveau Animal Designs

If you prefer to color scenes rather than abstract patterns and shapes, this might be the coloring book for you. Elaborate, gorgeous Art Nouveau-styled designs combine graceful animals and stylized botanical and floral elements to make lovely illustrations. The pages are printed on one side only, so you can use markers, and are perforated for easy removal.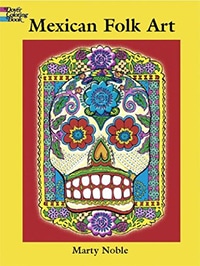 Mexican Folk Art Coloring Book

Get a little art history education with your fun when you embellish the traditionally-inspired Mexican folk art designs in this book. Images include a Mixtec circular design from an incised gourd rattle, religious figures from a Metepec candlestick, and jaguars taken from a Guerrero lacquered chest. Animal, floral, and geometric motifs are fun to fill in with bright colors. If you're looking specifically for sugar skull designs
, there's a coloring book just for that, too.
The Hipster Coloring Book For Adults: You've Probably Never Colored It

Feeling a little awkward about coloring as a grownup? Sidestep the weirdness and embrace the irony with the Hipster Coloring Book for Adults. Its whimsical, humorous animal-themed line drawings recall Ryan Berkley's animal art. With the purchase of the coloring book, you also get a PDF download so you can share it with the other animal-loving hipsters in your life.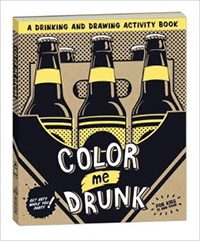 Color Me Drunk: A Drinking and Drawing Activity Book

Friends don't let friends weepily drunk-dial their exes at 1 a.m. Instead, distract your drunk buddy with this boozy coloring and activity book! Color in beer bottles to track your drinking, complete partially drawn illustrations, and take drunk-vs-sober drawing challenges — this book has it all. Keep it on your coffee table at parties, or take it to a bar when you want to make new friends. Just don't be too surprised when inebriated artists snap your crayons in half.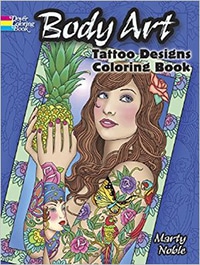 Body Art: Tattoo Designs Coloring Book

Before you fire up the tattoo gun, get some practice inking these bodies with flowers, birds, faces, and abstract designs. This book's clever designs, with illustrations by Marty Noble, spill over from the male and female figures into borders and background designs, letting you get as colorfully creative as you want. If you're looking for a cool coloring book, this is it.
You might also like:

Latest posts by Stephanie Perry
(see all)