I'm a pretty serious thrift store shopper — I do more clothes shopping at Goodwill than any other store, and I owe my extensive holiday sweater collection entirely to thrift stores. You can save some serious cash on high-quality stuff in good condition if you know what to look for. And if you're willing and have the know-how, you can make vintage clothes from a thrift store fit you perfectly with simple alterations.
Thrift stores are a great place to find furniture and housewares, too. Sometimes it takes a little imagination to see the potential hiding under an ugly coat of paint or a dirty surface, and these clever books will help you upcycle and customize old pieces into something that's just your style. Check out these books to get some inspiration for a thrift-store closet or home makeover.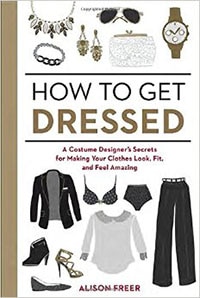 How to Get Dressed: A Costume Designer's Secrets for Making Your Clothes Look, Fit, and Feel Amazing

Author: Alison Freer
What could be better than a professional costume designer giving you advice on how to make your outfit look awesome? Alison Freer offers quick, practical solutions to every wardrobe malfunction you can imagine. This style guide will help you rethink your wardrobe and make the things you already own look great on you. From essential undergarments to stain removal to which alterations are worth having done by a tailor, you'll get the inside scoop on making a thrift store find look like a million bucks. Guys, there are some special tips and hints just for you, too.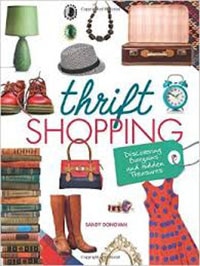 Thrift Shopping: Discovering Bargains and Hidden Treasures

Author: Sandy Donovan
This cute little guide book is aimed at teens and young adults who are new to the thrifting world. Since teens are perpetually short on cash, shopping at thrift stores is an ideal way to help them develop their sense of style and express themselves without blowing lots of money. Thrift store shopping with friends and relatives is a fun, cheap way to spend time together, too. If you've got a younger sibling, niece or nephew, or even a Little Brother/Little Sister mentee that you'd like to teach about thrifting, this little book is a good place to start.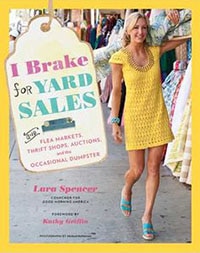 I Brake for Yard Sales: and Flea Markets, Thrift Shops, Auctions, and the Occasional Dumpster

Author: Lara Spencer
Former Antiques Roadshow host Lara Spencer has seen enough old furniture to know the good stuff with the bad, and in this book, she shares her hard-won wisdom. You'll learn the best days to hit thrift stores, estate sale etiquette, and how to identify well-made furniture. Lots of stuff can be completely transformed with new upholstery or a coat of paint — and you can grab high-end designer pieces for a song if you know what to look for. Interviews with designers like Jonathan Adler add an interesting perspective. And finally, fans of Kathy Griffin might be curious to pick this one up, as Spencer is a personal friend who decorated her apartment (shown in an extensive photo spread).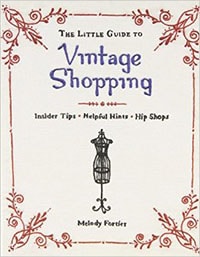 The Little Guide to Vintage Shopping: Insider Tips, Helpful Hints, Hip Shops

Author: Melody Fortier
So you want to take the plunge and invest in some vintage pieces? Vintage shops can be expensive, because they've done all the work for you. The savvy shopper can score handmade couture, designer labels, and classic styles on the cheap — if they know what to look for. This little book offers a wealth of information on identifying styles by decade, how to identify good-quality materials and workmanship, and how much you should pay. Learn what can and can't be fixed, the shapes that will flatter you, and how to care for vintage clothes and accessories.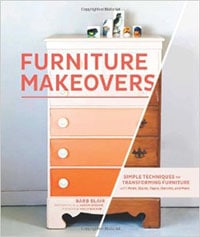 Furniture Makeovers: Simple Techniques for Transforming Furniture with Paint, Stains, Paper, Stencils, and More

Author: Barb Blair
It's easy to roll your eyes at '70s floral-upholstered couches or coffee tables painted in ugly colors and keep walking. But take a closer look and you might be surprised at the high-quality materials or beautiful natural woodgrain hiding under that unfortunate finish. These 26 beginner-level techniques show you how to paint, wallpaper, dip-dye, gold-leaf and more. You'll also get to see 30 real before-and-after makeovers, along with instructions on how to do it yourself. Snag a tacky table for $5, customize it with these home-decorator techniques, and everyone will be asking where you got that amazing designer piece!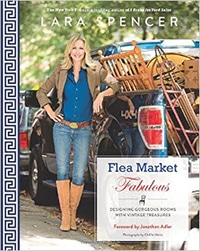 Flea Market Fabulous: Designing Gorgeous Rooms with Vintage Treasures

Author: Lara Spencer
So you fell in love with a wacky velvet painting or a mod 1960s plastic egg chair, and now you're wondering how on earth to make it fit with the stuff you already have? Or maybe, like a lot of us, you started out with hand-me-downs and free-on-Craigslist stuff when you first moved out on your own, and now you want to upgrade to furniture that reflects your personal taste. This book guides you through the process of figuring out the problem areas in each room, developing a plan, choosing vintage items, and updating and tweaking them to fit your home's style. Photo spreads of real rooms will give you plenty of style inspiration.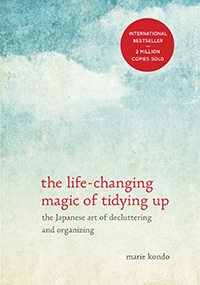 The Life-Changing Magic of Tidying Up: The Japanese Art of Decluttering and Organizing

Author: Marie Kondo
Have you been a little too successful at finding thrift-store bargains? Are you overwhelmed with an overstuffed closet and a houseful of clutter? Japanese cleaning consultant Marie Kondo and her internationally famous "KonMari Method" can help. This best-selling guide helps you sort your possessions by category, identifying the items that bring you joy and eliminating those that don't. Sure, it can be hard to let go of something that was a screaming deal, but if you don't really use it or it doesn't truly look good on you, perhaps it's time to thank the item for its service and release it back into the thrift store circle of life for someone else to love.
Sign up for our newsletter and get more awesome book lists in your inbox!
You might also like:

Latest posts by Stephanie Perry
(see all)