It may technically be spring, but here in the Pacific Northwest (and maybe where you are, too), there's still plenty of rain and/or snow ahead before the weather warms up. The good news is, this is ideal slow-cooker time! True, you still have to drag yourself out into the cold for work or school, BUT you can have a delicious, piping-hot dinner waiting for you when you get home — even on busy weeknights! These handy cookbooks will get you started with slow cooking and even help you choose the right size and model for your needs.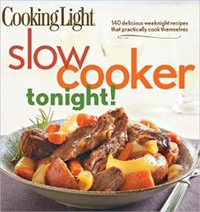 Cooking Light Slow-Cooker Tonight!: 140 delicious weeknight recipes that practically cook themselves
Author: Cooking Light Editors
I'm a regular subscriber to Cooking Light and have torn out many delicious recipes from the pages of their magazine, so I was pleased to see that they've created a slow-cooker-specific cookbook. They specialize in developing lighter, healthier versions of traditional recipes and you get a full breakdown of nutritional info and substitution options. The 140 recipes in this book include things you wouldn't think could be made in a slow cooker, like Indian lamb curry, Brazilian feijoada, chicken and shrimp jambalaya, and Spanish tortilla. Tips on choosing the right slow cooker and slow-cooking techniques are helpful for beginners.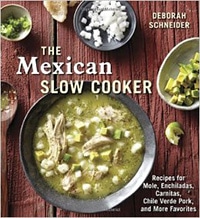 The Mexican Slow Cooker: Recipes for Mole, Enchiladas, Carnitas, Chile Verde Pork, and More Favorites

Author: Deborah Schneider
Just the title of this one makes my mouth water. Anyone who thinks slow cookers mean falling-apart, tasteless slop needs to see the 55 spicy recipes in this Mexican cookbook: tortilla soup, barbacoa beef, mole negro, tamales, and more. The recipes here involve some prep work and last-minute fresh salsa preparation, so it's not a one-pot dump-and-forget slam-dunk, but just imagine spending a lazy weekend day at home smelling the spicy flavors as they simmer.
The New Indian Slow Cooker: Recipes for Curries, Dals, Chutneys, Masalas, Biryani, and More

Author: Neela Paniz
Speaking of spicy slow-cooker cuisine, here's a cookbook I'm really excited about. Neela Paniz puts the slow cooker to work on the traditional dishes of India, mimicking the long braises and low simmers that allow those bold, intense flavors to develop. You'll find dishes like pork vindaloo, yogurt and black pepper chicken, kashmiri potato curry, basmati rice with browned onions, and lamb layered with rice, plus lentil and bean dals and even fresh Indian cheese. And, not surprisingly, there are plenty of vegetarian options here.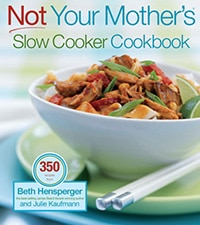 Not Your Mother's Slow Cooker Cookbook

Authors: Beth Hensperger, Julie Kaufmann
If the very words "slow cooker" conjure up horrible images of congealed bean dip and Li'l Smokies bobbing in BBQ sauce, rest assured that slow-cooker food can be much more than greasy dips or Super Bowl food. Hearty, filling comfort food like cinnamon apple oatmeal, French onion soup, over a dozen chili variations, and even desserts like chocolate peanut butter pudding cake fill this impressively large book. With 350 recipes, you're sure to find a winter's worth of dishes that can feed a hungry crowd.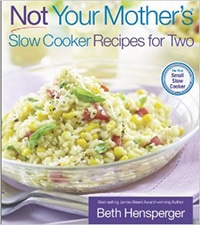 Not Your Mother's Slow Cooker Recipes for Two

Author: Beth Hensperger
OK, OK, I can hear you saying, "But I'm only cooking for myself and I don't want to make 10 gallons of stew that I have to eat for the next month!" This version is specifically created for small-batch cooking, so you don't have to try to scale down a giant recipe or die of leftover boredom. (Let's face it, nobody really freezes and reheats big-batch cooking outside of Pinterest.) Tasty recipes like risotto, polenta, stews, and soups can be prepared for just one or two. Size matters when it comes to slow cookers, and using the wrong size can dry out or overcook your dish, so they also include a guide to buying a smaller slow cooker, plus slow-cooking tips and pantry staples to keep on hand.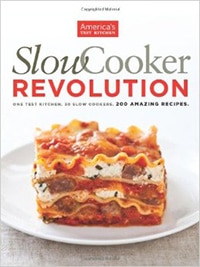 Slow Cooker Revolution
: One Test Kitchen. 30 Slow Cookers. 200 Amazing Recipes.
Author: America's Test Kitchen
If you've ever watched America's Test Kitchen, you know how tirelessly they work in trying every conceivable method for perfecting recipes. So you know the 200 recipes included here have been tested in every possible way. Dishes like Japanese pork and ramen soup, Thai-style chicken soup, butternut squash chowder, and Italian meatball soup come with tips and techniques for getting the most flavor out of your food — plus cheats like adding soy sauce mixed with tomato paste to add meaty flavor without the annoying extra step of browning meat. I don't know about you, but for me, knowing that the test kitchen has already tried every variable I could think of means I can relax and just follow the recipe word for word.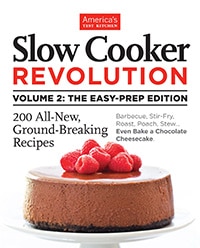 Slow Cooker Revolution Volume 2
: The Easy Prep Edition
Author: America's Test Kitchen
If you feel cheated when slow-cooker recipes call for sauteing or browning prep work that adds time and makes more dirty dishes, you'll like this second cookbook from America's Test Kitchen, which features 200 all-new recipes. Recipes include rosemary and garlic white bean dip, smoky honey-lime glazed wings, garlicky shrimp, and warm marinated artichoke hearts with feta and olives, plus surprising desserts like flourless chocolate cake or cheesecake. Convenience products like canned soups and broth or pre-cooked rice speed cook times along for busy days.
Sign up for our newsletter and be the first to know about our foodie blog posts!
More cookbook-related posts on Readers Lane:

Latest posts by Stephanie Perry
(see all)