The holidays are over, yet there are still months of crappy winter weather howling outside your door. What could be better than treating yourself to a monthly delivery of books, reading-themed gifts and treats? No matter what your favorite genre is, we've got a delightful book subscription box just for you. One less reason to leave the house!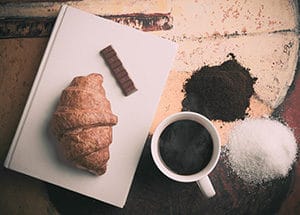 Novel Tea Club ($29.99/month)
The Novel Tea Club comes in romance, fantasy, or young adult genres (you can switch genres from month to month, if you like). Each delivery includes a book, some fancy tea, and surprise extras that could include candles, soap, bath bombs, bookmarks, or sweet treats. This would also be a pretty great Valentine's Day gift for a romantic reader, hint hint.
Uppercase YA Box ($23/month)
YA addicts, this one is just for you! My favorite part about this particular box is that the book selection is a brand-new YA novel, personally selected by a book blogger, so you know you'll be getting something you haven't read. Each book is signed by the author, and the extras look pretty great, too: novelty socks, cute jewelry, tote bags, and more. You even get a personal handwritten note! It's like having an incredibly thoughtful BFF send you a care package every month. You can even join for just one month to see how you like it… but we think you will.
My Thrill Club ($15/month)
Murderinos, you're up next! My Thrill Club is a book box subscription featuring thrillers, crime, mystery, and horror. You get two books and a movie for just $15, which sounds like a pretty amazing deal! If you're less about the girly extras and just want more gory thrills, this is the subscription for you.
LitCube ($35/month)
LitCube is one of the better known book subscription boxes, and rightly so. Their themes are cute and creative, ranging from Sherlock to mermaids to time travel. It's not genre-specific, so it really will be a surprise each month, but if you're open to discovering new authors and genres, this could be a lot of fun. Past boxes have included novelty socks, pens, stickers, tea and hot chocolate, candles, and jewelry as well as books. You can see samples of past boxes on their website to decide if it's right for now, and you can join for just one month to test it out.
BooklyBox ($27/month)
Sure, you're getting books delivered to your door, but that doesn't mean you don't want to be social. BooklyBox offers more of a reading community than most of the book subscriptions. In addition to a newly released book and literary treats, you'll get access to an online book community, a podcast that's all about your book selection, and invitations to online "Netflix and chill" movie discussion nights. A portion of the proceeds goes to charity each month, and you'll get a report of how your donation will make a difference. Genre choices include literary fiction, fantasy, mystery, romance, sci-fi, and young adult, and you can switch genres as often as you like. If you love discussing books with like-minded readers, BooklyBox might be the best all-around offering for you.
You might also like:

Latest posts by Stephanie Perry
(see all)