Looking for a sizzling-hot read for these sultry summer nights? You can't beat a good rock star romance. Check out one of these brand-new rock star romances for sexy stories of bad-boy musicians and the irresistible women who make them want to be good. We recommend pouring yourself a cold beverage before you start reading, in case you need to take a break and ice yourself down!
Turn the Page: Rock Star Romance
Author: Sydney Logan
Corbin James is completely over the hard-partying life of a rock star. After his second session in rehab, he goes home to Riverview, intending to live a quiet life and focus on staying sober and writing new songs. Meanwhile, Jolie Daniels is struggling to keep her little bookstore afloat, and the debts are piling up. When Corbin and Jolie meet, there's an instant connection, and Corbin suddenly has a new reason to straighten out his life. He wants to settle down with Jolie, and brushes off a record label offering him a new contract. But when Jolie's bookstore faces foreclosure over debt, Corbin agrees to go on tour to earn money in hopes of saving the store. Is he ready to face the lonely nights — and many temptations — of being on the road?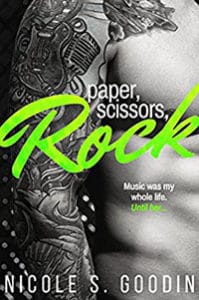 Paper, Scissors, Rock: A Rock Games Novel
Author: Nicole S. Goodin
Parker Sloan is as famous for his womanizing as his music. So when he's caught on camera carrying a beautiful redhead across a crowded nightclub, and then passionately kissing her out on the street, the tabloids and gossip sites go crazy. Could the infamous bachelor finally be settling down? Charlotte Watson — the redhead in question — isn't interested. She had her heart broken once before in a previous brush with fame, and that was enough to last her a lifetime. Will she stay strong and resist the musician's charms? Or can Parker convince her that it's different this time?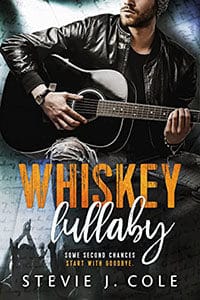 Whiskey Lullaby
Author: Stevie J. Cole
This second-chance romance has a delightfully musical twist. Hannah is a preacher's daughter who moves back home after college to care for her mother, who has cancer. There, she meets Noah Greyson, a boy from the wrong side of the tracks who sings and plays music at the local honky-tonk bar. Despite all the malicious small-town rumors about Noah, Hannah gets swept up in a romance with him — but she feels guilt about enjoying life while her mother is dying, and he feels ashamed of his poverty and unworthy of her. An misunderstanding leads to a split, but are they really over for good?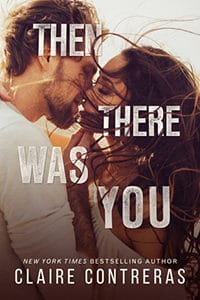 Then There Was You (Second Chances Duet Book 1)
Author: Claire Contreras  
Once upon a time, Tessa and Rowan were teenage sweethearts… but the romance ended painfully. He was the Richie Rich, groomed to take over the family business and value money over everything else, and she was the girl from the wrong side of town. Now, years later, Tessa has returned briefly to her hometown to deal with some family business before heading off to an internship that she hopes will launch her fashion career. But oddly enough, she keeps running into Rowan, much more than could possibly be coincidental. He wants her back — but has she moved on to a life without him? Be warned, this is part 1 of 2, and it ends on one heck of a cliffhanger (but part 2 is available now).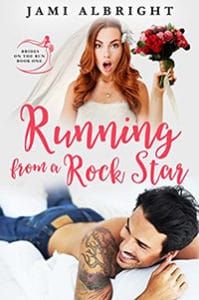 Running From A Rock Star (Brides on the Run Book 1)
Author: Jami Albright
Straight-laced children's book author Scarlett Kelly has made it her goal in life to be the exact opposite of her trashy mom. That is, until she wakes up, naked and hung over, in bed with a sexy rock star… who turns out to be her new husband. Horrified, she bolts. But a drunken Vegas wedding would only further tarnish Gavin's already-rocky reputation, so she agrees to stay in the sham marriage to make him look like more of a family man — and in exchange for a large cash sum, which will go a long way toward fixing her family's money problems. Meanwhile, Gavin has just learned about the existence of a surprise son; a product of the foster care system, Gavin's feelings about parenthood are decidedly complicated. Will these mismatched newlyweds fracture under pressure when real life catches up? Or will they find themselves turning into a genuine couple?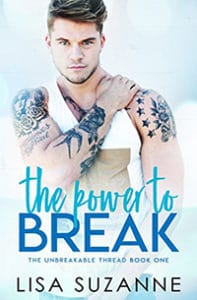 The Power to Break (The Unbreakable Thread Book 1)
Author: Lisa Suzanne
Drummers aren't usually the most high-profile member of a rock band (sorry, drummers), but  Ethan Fuller is making up for everyone else: he's a walking cliche of a bad-boy rock star and doesn't care. The one woman who really got to him is in the distant past, and he's only interested in one-night stands now. Meanwhile, Maci Dane is a rising star who's landed a gig as the opener for Ethan's band on tour. But her deepest, darkest goal isn't money or fame — it's revenge. Years ago, Ethan broke her heart, and she's never forgiven him. Now, her plan is to do the same to Ethan… but once she finds herself near him again, the lines between revenge and rekindled passion start to blur.
You might also like:

Latest posts by Stephanie Perry
(see all)