Holiday coloring books are hot this season, whether you're looking for holiday gifts or just some creative relaxation. If you've seen our lists of coloring books for grownups and more coloring books for grownups, you already know we're fans. And the selection just keeps on growing! Here's a new batch of just-released holiday coloring books that are perfect for giving (since your favorite coloring artist is guaranteed not to already have them). Add on a set of colored pencils
, fine-line coloring pens
, or gel pens
to make it a holiday gift that's fun for the whole family!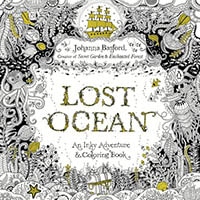 Lost Ocean: An Inky Adventure and Coloring Book

Author: Johanna Basford
We pretty much have to start off with the new coloring book by Johanna Basford, the reigning queen of coloring books for grownups. This time, the creator of Secret Garden and Enchanted Forest goes under the sea with marine designs featuring coral reefs, shipwrecks, sunken treasure and sea creatures. The elaborate designs fill the pages and give you lots of coloring challenges. My favorite is the repeating lobster design, which I'd happily use as wallpaper in my kitchen or bathroom. Maybe I can just paste up black-and-white pages and put my guests to work?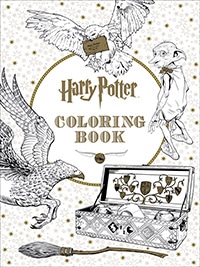 Harry Potter Coloring Book

Author: Scholastic
Really, the only surprise is that a Harry Potter coloring book didn't already exist. You'll be enchanted by these magical scenes from the wizarding world, including Hogwarts, the Forbidden Forest, Quidditch games, and the Sorting Ceremony. Plus, 16 pages of full-color movie art will get you creatively inspired to color. If that's not enough Potterverse fun for you, there's a Harry Potter Creatures Coloring Book
and a Harry Potter Magical Places & Characters Coloring Book
coming in early 2016.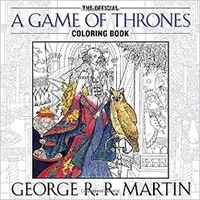 The Official A Game of Thrones Coloring Book (A Song of Ice and Fire)

Author: George R. R. Martin
Here's something to keep impatient fans busy while they wait for the next book and/or the next TV season. This coloring book includes 45 illustrations for you to bring to life, including all the noble houses vying for control of Westeros. A variety of artists contributed their illustrations to the book, so you'll see different artistic styles on display as you work your way through. This is sure to be a keepsake for serious collectors, so you might need two — one to actually color and one to lock away in the royal vault.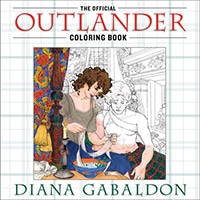 The Official Outlander Coloring Book

Author: Diana Gabaldon
Speaking of coloring books for TV fans, here's one for the time-traveling Scottish romance Outlander. With 45 illustrations, including plenty of British and Scottish historical costumes, there's plenty to challenge even the most expert hand. You'll also find wild landscapes, botanical illustrations of Claire's medicinal herbs, weapons and armor, and intricate fabric patterns and clan devices. Note: the illustrations are based on the book series and don't necessarily reflect the show's actors and costumes, but they're lovely designs on their own.
The Time Chamber: A Magical Story and Coloring Book (Time Series)

Author: Daria Song
If you prefer your coloring books with a little plot, try Korean artist Daria Song. In her second book, we follow the adventures of a tiny fairy who wanders into the human world at the stroke of midnight. Exploring chandeliers, curtains, and everyday objects, the fairy brings along her favorite items, which you'll have to find and color in appropriately on each page. The whimsical illustrations are full of holiday magic, and the book includes a "To/From" page for easy gifting.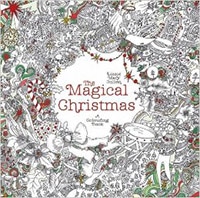 The Magical Christmas: A Colouring Book

Author: Lizzie Mary Cullen
Take a trip around the world for the holidays with this all-ages coloring book. From a Victorian toy shop window to an ice-skating rink at the Rockefeller Center and surfers down under in Australia, you'll get a glimpse at holiday celebrations all over the globe. It's a great way to have fun with kids while teaching them about different cultures and traditions — or inspiring yourself for a future vacation.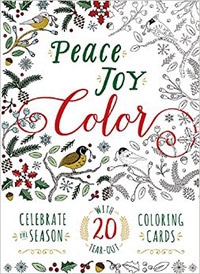 Peace. Joy. Color.: Celebrate the Season with 20 Tear-Out Coloring Cards

Author: Adams Media
Does the thought of sending out holiday cards fill you with stress? Solve two problems at once with these Christmas coloring cards! Your friends and family will love getting beautifully hand-colored notes from you this year. The images include reindeer, decorated trees, snowmen and other familiar holiday symbols. (Note: most cards say "We wish you a Merry Christmas and a Happy New Year," but they're not particularly religious, so that may or may not work for your needs.)
You might also like:

Latest posts by Stephanie Perry
(see all)