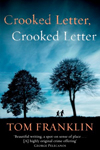 Author: Tom Franklin
It's sad but true that nearly all the books I read don't live up to their hype, so it's such a pleasant surprise when one not only lives up to, but exceeds, expectations. In addition, it's usually not a good sign when a novel says "BOOK CLUB READING GUIDE INCLUDED" on the cover, but even with all that against it, Crooked Letter, Crooked Letter turned out to be the most enjoyable psychological mystery (if that's a genre) I've read in some time.
Larry Ott, aka "Scary Larry," is a socially ostracized and underemployed mechanic in the small town of Chabot, Mississippi. Decades ago, in high school, he was the last person known to have seen troubled teen sexpot Cindy Walker before her disappearance; although her body was never found and Larry never confessed to any crime, everyone assumes that he killed her, and he's been shunned ever since. Silas "32" Jones, a high-school baseball star turned police officer, was once Larry's friend, but has avoided him ever since returning to Chabot as its constable several years earlier. Now, the disappearance of Tina Rutherford, the mill owner's teenage daughter, has the town in an uproar, and many believe Larry Ott is at it again. In addition to the ongoing vandalism of Larry's house and car, and spray-painted messages on his house, someone breaks into Larry's house and shoots him…but is it retaliation for Tina or for Cindy? Hungry for real police work in this sleepy town, Silas begins an investigation into the Rutherford girl's disappearance, only to find out that it's inextricably intertwined with his own shared, strained history with Larry. As secrets come to light — both past and present — both Larry and Silas must face the truth of their broken friendship and the consequences of their actions on the fateful night that Cindy Walker was last seen.
The story is a pleasure to read, and the prose is worth savoring in itself. Author Tom Franklin grew up in rural Alabama and his familiarity with the small-town setting, racial tensions, and regional speech patterns and rhythms gives his writing an unmistakable authenticity. It's a tough trick to pull off southern and/or black dialect in a way that sounds realistic without being patronizing or outright offensive (see: The Immortal Life of Henrietta Lacks), but regardless of race, social class, or education, the characters all speak in a pleasingly thick vernacular that may require you to stop and puzzle out sentences now and then. There are unexpected, refreshing twists on racial stereotypes: Silas, the black son of a poor single mother, is the one who wins a baseball scholarship and goes to college, while Larry, born into a lower-middle-class white family, becomes the failure and town creeper. Reading this book steeps you in the dense, stagnant air of a tiny town where everyone thinks they know everyone's business, even while turning a blind eye to the obvious.
Crooked Letter has been criticized for its slow, meandering pace, but that's only a problem if you come to it expecting the kind of serial-killer procedural that features metallic-foil handcuffs and splashes of blood on the cover. Make no mistake, there are murders and mysteries here, but the real story is the relationships and history between the characters. While the culprit is eventually nabbed, it's almost incidental to the plot's real revelations. There's no grand finale where everyone troops into the drawing room (or the courthouse) to hear the detective give his brilliant reconstruction of the crime, and for the type of story that this is, that's just fine.
If you're looking for an enjoyably leisurely tale of suspense, betrayal, race, and friendship, Crooked Letter delivers a thoroughly absorbing read. I am not responsible for any weight gain caused by the merciless descriptions of diner cheeseburgers, fried chicken, and super-sweetened iced tea.

Latest posts by Stephanie Perry
(see all)