The Doubtful Guest
Author: Sarah Waters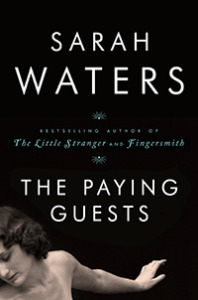 I've read and enjoyed all of Sarah Waters' books and felt like I knew what to expect from this one, too: a suspenseful, twist-filled thriller with a historical setting, gay/lesbian main characters, and complex layers of double-crosses. Instead, I feel like I just read an Emma Donoghue based-on-a-weird-historical-news-story novel — not that that's a bad thing, it's just… different.
Spinster Frances Wray, in her late 20s (ouch), and her widowed mother live in genteel poverty in post-WWI London, gradually failing to make ends meet since the business failure and death of Frances' father. Reluctantly, the women decide that taking in lodgers is the best way to make some money.
Enter Leonard and Lilian Barber, a brash, jovial party couple who are working-class with social-climbing aspirations. The middle-class ladies of the neighborhood collectively clutch their smelling salts, but Frances instantly feels a connection to the uneducated, but refined and artistic, Lilian.
Despite their differing backgrounds, the two women quickly become friends, but when their friendship deepens into romance, it seems there's no way they can ever be truly together — unless they're willing to risk everything and become social outcasts. Naturally, their bold plan goes horribly wrong, and in dealing with the consequences, Frances realizes she doesn't know Lilian nearly as well as she thought.
This being a Sarah Waters novel, I was ready for a leisurely pace, lots of character development, and a last-minute sleight-of-hand revelation that would put an entirely new perspective on the story. Instead, the second half of the book is a drawn-out courtroom drama where nothing much happens. The tension, such as it is, comes from the characters doubting each other's motives and trustworthiness, and their moral agonizing and hand-wringing. The abrupt yet ambiguous ending resolves nothing and felt jarringly sudden after such a slow second half.
Overall, it just wasn't very exciting and there just wasn't enough story to justify the page length. Not my favorite Waters novel by far, and not the one I'd recommend reading if you're new to this author. Start with Fingersmith, a much better example of what this author does best.
[AMAZONPRODUCTS asin="1594633118″]

Latest posts by Stephanie Perry
(see all)