Fantasy Feast
Author(s): Megan Lindholm, Robin Hobb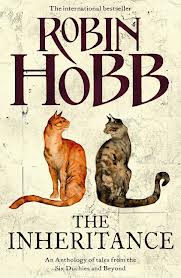 As much as I enjoy Robin Hobb's books, somehow it's never occurred to me to check out the stuff written under her other nom de plume, Megan Lindholm (which is actually closer to her real name, Margaret Astrid Lindholm Ogden). I think I intuitively grasped what Hobb explains in the foreword of her 2011 short-story anthology The Inheritance: they really are two different authors, and there's no mistaking one for the other. When she comes up with a promising phrase or sentence, she says, she knows immediately which author it's for. This collection of classic and new short stories written under both names — seven as Lindholm, three as Hobb — has something for fans of both, but maybe not enough of either.
She started writing as Megan Lindholm, and fiction written under that name tends to be contemporary fantasy with maaayybe a touch of sci-fi. As more of a Hobb fan, I didn't enjoy the Lindholm stories as much, even the Hugo and Nebula Award finalist "A Touch of Lavender" or Nebula finalist "Silver Lady and the Fortyish Man." "Silver Lady" is arguably not even fantasy at all, since it turns out to be more about the "magic" of being open to emotional attachments and new career directions (pretty squishy stuff). "Lavender," at least, definitely features aliens; it's set in a near-future world similar to our own, where purplish singing alien refugees have landed on our planet. Hoping to be rewarded with the secrets of alien technology, the government houses and cares for the aliens for free, leading to resentment among the humans they've displaced; when it turns out that the aliens' skin contains a powerfully addictive drug, transmitted by touch, you have the ingredients for some serious social unrest. Lindholm's writing tends to be a bit clunkier, with less skillful dialogue and more of an authorial presence informing you how you should feel.
Robin Hobb's stories, by comparison, are more satisfying for the Hobb fan who's already familiar with her work, but less accessible to a casual reader. The three stories here are all set in the Realm of the Elderlings, the world of the Farseer Trilogy and its sequels. If you're not already acquainted with her work, though, I doubt these stories will be very interesting, because they rely heavily on the world she's already developed elsewhere for context and background color. My favorite story, "Homecoming," is more of a character study than anything, and fills in some gaps about the origins of the Rain Wilders and their intricate tree cities. "Cat's Meat" is probably the most accessible tale, about a young mother in a rural village who enlists her cat's help in defending herself and her baby from the no-good cad who ruined her. If you're suffering from Realm of the Elderlings withdrawals, these may help to ease your pain until the final book of the Rain Wilds Chronicles comes out in 2013.
One unique feature of this collection is that each piece is prefaced by a short author's note, explaining something about the story — the circumstances that inspired it, real-life events that she drew from, or what the story means to her personally. If you're the kind of reader who likes to get to know the author behind the words, you'll enjoy these little glimpses into her head. (I found them somewhat interesting, but occasionally distracting.)
Although I would have preferred an all-Hobb anthology, I liked the idea of the dual-persona format, especially since I probably wouldn't have sought out Lindholm's work on my own. The author's goal is to introduce you to both of her personas, but I'm guessing that most readers will prefer the one that brought them to this collection; none of the Lindholm stories I read here convinced me to explore more of her stuff. While the stories are uneven in quality and decidedly feline-centric, it's an interesting experiment — the next best thing to spending an afternoon with the author, reading her stories and having a conversation about her life as a writer.
— S. Perry

Latest posts by Stephanie Perry
(see all)