Fool Me Again
Author: Robin Hobb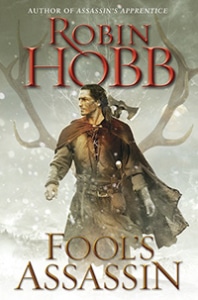 Back in 2013, I attended an author reading with Robin Hobb and her cover illustrator Jackie Morris (who, by the way, lives in Wales and has a bunch of cats and is extremely funny and charming). Hobb was there to promote her then-newest book, the conclusion of the Rain Wilds Chronicles trilogy, but at the Q&A I couldn't stop myself from asking, "Will there ever be another Farseer book?" I'm sure she gets this question constantly, but she answered graciously, if ambiguously, that it was always possible. Sneaky, sneaky… she must have been working on Fool's Assassin, the beginning of the new Fitz and the Fool Trilogy, even then! But I'm so delighted that this beloved story will finally continue that I'll forgive her tiny deception.
(If you haven't read any of the Farseer novels, it goes without saying that you should do so immediately and that this review contains spoilers. This review assumes you're current on the Farseer books already in print.)
Fitzchivalry Farseer is a bastard son of the Six Duchies' royal family, which he served for many years as assassin, guardsman, and Skill-magician. Fitz is also the Fool's (aka the White Prophet) Catalyst, a living locus of possibility and free will who may have the power to change humanity's destiny and avert a disastrous future. But for many years now, Fitz has retired from the drama and intrigue of the royal court, living quietly under the assumed identity of Tom Badgerlock, country squire, and happily married to his longtime love Molly. Although Fitz still misses the Fool, he has reluctantly come to accept the Fool's unsatisfying explanation for their long-ago parting: that, having successfully altered the world's fate for the better, they might risk accidentally undoing all their good work by remaining in proximity to each other.
But of course that's not the end of their story! Fitz's cozy country life is disturbed by a series of mysterious messengers bearing cryptic tidings: a puzzling, desperate plea to find and protect the Fool's child. With no idea where to start, Fitz begins his search, trying to piece together the Fool's missing years and, against his will, being drawn once again into the royal inner circle. I don't want to give away too much, but I will say that Fitz and the Fool meet again — and it's as heartwrenching a moment as any in their long and strange life together.
Fans of Robin Hobb already know that her books are just as much about character development and complicated relationships as they are about dragons and magic, so it won't be surprising that the first half of this book is slow on story, focusing instead on painting a portrait of time's effects on long-term friendships and loves. Since we know there are at least two more books coming, I was happy to let the story develop at its own pace, and get to know some new characters who will, I suspect, be crucial to future events.
If you're not familiar with the Farseer saga, this is definitely not the place to start; you'll be confused by the backstory and frustrated by the meandering pace. Start with Assassin's Apprentice instead (and oh, how I envy you for getting to experience this world for the first time!). And for those who had hoped that Fitz would be allowed to enjoy a happy, peaceful fictional retirement, well, I'm sorry, but you had to know it wasn't going to be that easy for him, didn't you? Still, I'm guessing you won't be able to resist catching up with these old friends, even if we all suspect their tragic, epic love story will only end with (an undoubtedly tear-jerking) death.
[AMAZONPRODUCTS asin="0553392425″]

Latest posts by Stephanie Perry
(see all)