Nancy Drew, She Ain't
Authors:  Rob Thomas & Jennifer Graham
SPOILER ALERT: This book is set after the events in the Veronica Mars movie and contains some spoilers about what Veronica's been up to since the show ended.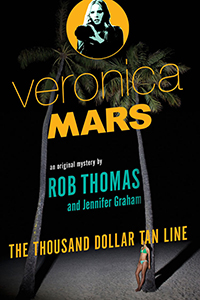 While I hesitate to describe myself as a "Marshmallow" in any respect other than my physique, I'll cop to being a big fan of the Veronica Mars TV show. I own the DVD box sets; I went to see the movie when it came out; and OF COURSE I was going to read the novelization as soon as I could get my hands on it! But if you're new to Neptune, this book (which takes place after the show and movie) isn't the best place to start. In fact, as fun as it is to revisit these beloved characters, I might go so far as to say this book is for fans only.
A decade after graduating high school, former teen sleuth Veronica Mars is back in her beachy hometown of Neptune, CA, where obscenely wealthy families live uneasily side-by-side with the working-class people who serve them. Having abandoned her cushy New York life (job offer at a prestigious law firm, cute nice-guy boyfriend who works for NPR) to defend her old flame Logan Echolls from a murder frame-up, Veronica has plunged headlong into her old life: joining her dad Keith at Mars Investigations, and restarting her tumultuous relationship with Logan — now complicated by the fact that he's on a six-month tour of duty with the Navy.
Neptune is an infamous spring-break destination, and the drunken festivities lead to trouble when a girl disappears from a wild, lavish house party. Veronica is hired to find the missing girl, but things get complicated when it turns out that the mansion's owner has ties to a drug cartel… and enough money and political clout to convince Neptune's corrupt sheriff to look the other way. When a second girl disappears, Veronica discovers an unlikely connection to the victim that makes the case personal.
Many fans feel a personal connection to Veronica, so it's a little sad to see her in the same old dead-end circumstances. I'm not the only one who would have preferred the alternate-universe Veronica-as-FBI-agent angle from the season 4 pilot. Being an FBI agent is a better fit for her character than being a lawyer, and it would have been a plausible evolution of the mystery-solving formula that also allowed Veronica to be a grown-ass career woman. But with fan-funded Kickstarter backing, the movie essentially became a big reunion episode, so that's what the books have to work from.
Which isn't to say that Veronica will be stuck in Neptune forever. A major theme in the book is Veronica's ambivalence about her choices. She butts heads with her openly disappointed father, and is defensive about everyone's assumptions that she was headed for bigger and brighter things after law school. She's conflicted about having influenced Mac to quit her soul-sucking-but-lucrative job with Kane Software and work for Mars Investigations, which can barely afford to pay the rent (why, for that matter, hasn't Mac joined a startup in San Francisco or Seattle long ago?). And she's aware that she's rehashing the same old ground in her relationship with Logan. Veronica is smart, courageous, and always ready to fight for justice — but she's also addicted to danger, a defiant outcast, and prone to self-sabotage. Then again, that's why we love to follow her adventures, isn't it? (I promise, you do not want to read a novel about my thrilling life of borrowing library books, riding the bus, and browsing Modcloth while watching Amazon Instant Video.)
The book's central mystery is satisfyingly complex, with red herrings and twists that will keep readers guessing. It's written in third-person, unlike the first-person voiceover from the show, but still retains that quippy, sarcastic voice — and I hear it's especially satisfying if you get the audiobook, which Kristen Bell narrates. Still, as in the movie, there's a little too much exposition and summarizing, which will likely leave newbies feeling late to the (spring break) party. This novel is enjoyable for long-time fans, but if you've never seen the TV show, start there first.
[AMAZONPRODUCTS asin="0804170703″]

Latest posts by Stephanie Perry
(see all)