Kiss Me, Kill Me
Authors: Rob Thomas, Jennifer Graham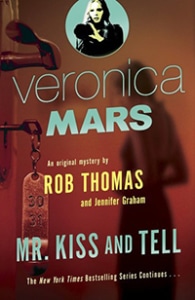 SPOILER ALERT: This review assumes that you have at least seen the TV series and movie, and if you're interested in trying out the books, you should probably start by reading our review of the first title, The Thousand-Dollar Tan Line. With all that out of the way, let's talk about book #2!
Sassy blonde teen-detective-all-grown-up Veronica Mars is trying hard to make a life in her touristy seaside hometown of Neptune, CA. She's become partners with her dad, Keith Mars, in their private-detective business. She's getting serious with her boyfriend, rich-playboy-turned-Navy-pilot Logan Echolls, who finally seems to have found his purpose in life — which, to Veronica's angst, involves long overseas deployments and dangerous flight-test missions. And she's as dedicated as ever to helping Keith expose the corruption that poisons Sheriff Dan Lamb's police department.
When a young woman is found raped, beaten, and left for dead in an empty lot, she blames the Neptune Grand, the luxurious hotel where she began her evening. The Grand, horrified at the negative publicity, hires Veronica Mars to investigate what really happened that night. But nobody seems to want to talk: the victim refuses to name the man she was meeting at the hotel, the hotel's surveillance system has frustrating gaps, the Grand's management refuses to provide data on its guests, and the victim's story keeps changing. Can Veronica convince the victim that they're on the same side and get at the truth? Meanwhile, there's a new candidate for sheriff in town — Marcia Langdon, a retired Army general who shares some long-ago history with Keith Mars. Could Marcia be the key to toppling Sheriff Lamb's power… or is it out of the frying pan and into the fire?
Honestly, I can't imagine why anyone at all would want to live in Neptune if they had any choice. But our little detective gang seems committed to defending their town against its endemic corruption, racism, and socioeconomic disparity. Still, it's clearly taking its toll on them over time. Keith is still fighting, but his war against Sheriff Lamb has already cost him financially, politically, and physically. Veronica respects Logan's career goals, but their prolonged separations and the constant danger are a strain on their relationship. Will they achieve lasting change in Neptune before the town's constant problems wear them down for good?
In its various formats, Veronica Mars has never shied away from tough issues — one major story arc in the TV show was Veronica's own quest to identify the attackers who drugged and raped her, after all. So I'm glad that the characters are aging, evolving, and facing new life challenges in addition to the ever-present sleuthing. But don't worry, fans, Veronica still tells the story with her usual quippy wit and zinger comebacks. To get a sense of the narrative voice, you can read a short excerpt on the Amazon product page. Rumor has it that Kristen Bell will be returning to voice the audiobook version, too, which would be worth waiting for.
The upshot: it's the second novel in a series based on a TV show and a fan-driven movie sequel. So you probably already know whether you want to read this book or not. But if you're wondering whether it does Veronica Mars and her fictional universe justice, I can assure you that Mr. Kiss and Tell delivers more of the same — which I mean in the best possible way.
– Stephanie P.

Latest posts by Stephanie Perry
(see all)