Two-wheeled Triumph…
Author:  Michael Kranish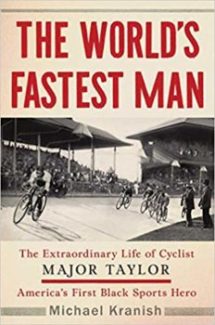 Most people find it hard to believe, but there was a brief moment in history when cycling was crazy popular all across America.  By the end of the 19th century, bicycle technology had become sophisticated enough to allow athletes to propel themselves at dangerously high speeds around a smooth oval track on bikes that are pretty similar to what we ride today.  The arrival of the automobile was still a decade or two in the future, so audiences who were looking for high speed thrills thronged by the thousands to velodromes across the country, watching cyclists risk life and limb for a brief moment of glory.  The sport generated many now forgotten heroes, but there was one man whose extraordinary life has continued to resonate over the decades. He was a small, but well-muscled, unassuming black man named Major Taylor and journalist Michael Kranish tells his remarkable story in The World's Fastest Man.
America has had numerous groundbreaking black athletes over the decades, from Jack Johnson and Jesse Owens to Jackie Robinson and Muhammad Ali, but Major Taylor preceded them all.  Rapidly rising to prominence in the mid-1890s, it wasn't long before his domination of the lesser white riders began to provoke racist retaliation, resulting in frequent bans and disqualifications from prestigious events.  As it was with many of the great black athletes who would follow him, it's hard to imagine how much success he might have had on a truly even playing field.
Known more for his political and historical work, Kranish does a great turn as a sports writer, describing Taylor's important victories in great detail, frequently a pedal stroke at a time.  He also includes plenty of specifics about his sprinting techniques and unique training methods.  While plenty of cycling stars included cigars and whiskey as part of their fitness regimens, Taylor was ahead of his time, emphasizing the importance of nutrition and overall health in athletic success.
While Taylor's accomplishments on the track were exceptional and Kranish's meticulous accounts of his many victories make for truly exciting reading, the most interesting part of the book involve the countless obstacles the great cyclist faced as America's institutionalization of Jim Crow grew and metastasized insidiously throughout his career.  It even followed him across the Atlantic on occasion.  With empathy and insight, the author thoughtfully explores the many ways that racism limited Taylor's career, both on the race track and in hotels and restaurants.  Part of what made the man so brilliant was his ability to use the hatred and prejudice he encountered as a motivator.  In the end, however, there's only so much one man can do in opposition to such gut wrenching injustice.
A thoroughly inspiring narrative of the life a great American hero who fully recognized the role he played as an ambassador for his race, The World's Fastest Man is exactly as good as it should be.  Despite the racism he encountered with every lap around the track, Major Taylor managed to inspire fans of every hue, encountering enthusiastic supporters across the globe.  His story is as important now as it ever has been as racism's horrid legacy continues to echo across the decades.  Highly recommended.
— D. Driftless
Check out Dave's reviews of other books that combine sports and history:  Walk of Ages   /   Road to Valor
[AMAZONPRODUCTS asin="1501192590″]